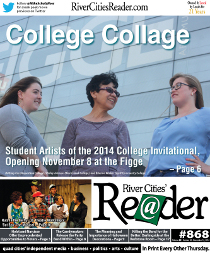 For the seventh year in a row, Davenport's Figge Art Museum will host its College Invitational exhibition, a celebration of visual artwork by students from area institutions Ashford University, Augustana College, Black Hawk College, Knox College, Monmouth College, St. Ambrose University, Scott Community College, the University of Iowa, and Western Illinois University. Works were selected by the art professors from each of the participating schools, and 58 individual pieces will be on display between November 8 and February 8.
As Figge Director of Education Melissa Mohr states, the 2014 College Invitational "showcases the creativity and skill of local art students, and demonstrates the dedication of our arts programs in encouraging young artists to innovate early on in their artistic careers." Seven of the exhibit's invited artists, meanwhile, agreed to share some thoughts on their works, their histories, and their passion for art - everything from biblical inspiration to payment in sweets to the internals of a really gross tomato.
Brianna Walker, Scott Community College: I'll Miss You
"I've always been crazy about art," says Brianna Walker, a 20-year-old in her last semester at Scott Community College. "I've always painted, drawn ... anything artsy. Since kindergarten. My mom's still got finger paintings of mine."
But while Walker says her interest in creating visual art has only increased over the years, she does add a caveat: "I don't like to get my fingers dirty anymore." Consequently, finger-paint is no longer among her media of choice. "But I do love to sketch," she says. "I could sketch all day. And I love to paint. Painting is kind of a new passion."
For her College Invitational submission, titled I'll Miss You, Walker was able to indulge in this new passion while celebrating a longtime friendship. "It's a large canvas painting of me and my best friend," says Walker of I'll Miss You. "We're splitting ways - she has to move to Florida - and I was very upset, so I put together this painting of us to commemorate it." Created, as she says, "mostly from memory and a couple of pictures," the work was a significant leap for Walker. "I've never actually done something so big," she says. "But I thought if it was going in the Figge, I should really push myself."
Walker credits Scott Community College instructor Robert Lipnick and Pleasant Valley High School art teacher Aimee Peters ("She's my idol and my mentor") for being instrumental in her artistic development, and says she's looking forward to continuing her education at the University of Northern Iowa, which she'll attend beginning in January. "I'm so excited," says Walker of the impending move. "I'm going to focus on, I think, painting, or 2D art with pencils. And I'm going to look into computer graphics. I really like doing Photoshop design. I actually made a logo for a company in the Quad Cities called Beautiful Bites. It was, like, three years ago. I won a contest in high school and got to make them a logo. They paid me in cupcakes. It was awesome."
Glen Williamson, Black Hawk College: Dragon
As with many of the student artists represented in the College Invitational, Black Hawk College's Glen Williamson says his interest in art began when he was in grade school. Unlike many of his fellow artists, however, Williamson's grade-school days were in the 1970s. "1976 is the first time I can remember drawing pictures for the kids in class," he says.
But when, after a couple of decades away from school, Williamson chose to again continue his education five years ago, he realized that his artistic interests had shifted. "I went to Black Hawk and was actually pursuing a degree in graphic design," he says, "and a couple of months into it, I decided to change my major to teaching art instead of doing art. And one of the classes that was offered at the college was ceramics. So I took it not really knowing much about it. I'd built scale models since I was a kid, but never really touched base on real ceramics. And once I got started, I just fell right into it and loved it."
Williamson's ceramic piece for the Figge, he says, "is a hand-built coil-and-slab dragon. It's basically a coiled-up dragon that's sleeping, and it's the raku-style firing, which means it has a white-cracked glaze. And it's lidded, so you can take his back off. I doubt they're going to have it displayed with the back open, but if you look at it you can see that part of it is a little darker than the rest, because they were fired at different times."
Williamson adds that Dragon "took me about three days to build, and that's with the help of my daughter," a 20-year-old who he says is also passionate about art. "Each of the scales were put on individually, one at a time, on the body, so she helped me with that - that's what sped up the process to three days."
Rather than attempt to sell the piece after the Figge exhibit closes, says Williamson, "this is one I'm gonna keep. There are a handful of ones I'm keeping for use in a portfolio to hopefully get into either Augustana or St. Ambrose" after his BHC graduation next spring. "But after that," he adds, "I'm not sure what I'm gonna do with it. It's just one of those pieces that really hit home for me, you know? So it's kind of hard to separate from it."
Brittney Cox, Augustana College: Tomato
Visual artists commonly work on representations of people or things they love. For Augustana College senior Brittney Cox, her College Invitational submission is a representation of something she hates. "I'm displaying a digital illustration of a tomato," says Cox. "It was actually for a class project for [associate professor] Kelvin Mason, and the assignment was 'Choose something you don't like and then visually tell why you don't like it.' So I picked a tomato. I don't like tomatoes."
The assignment, however, brought Cox more pleasure than the fruit itself ever did. "I did quite a few preliminary sketches," she says, "trying to figure out what tomatoes were to me. And I finally decided that the two attributes I wanted to focus on were 'they're slimy' and 'they don't taste good.' So the inside is made out of worms - that's the 'slimy' - and all sorts of trash, and the seeds are, like, bottles and other pieces of rubbish." She laughs. "That's the illustration. It's 'the disgusting tomato.'"
A burgeoning artist "since kindergarten," Cox credits her older sister with helping her develop her talent. "She's nine years older than me," says Cox, "and she took all the AP art classes in high school, and when she'd come home and work on projects, I'd sit down and do my own art with her."
But she also acknowledges her brother for influencing her interest in graphic design. "He works in gaming - like software and Web-development stuff - and I've done freelance projects for him. Just banners and logo design and things like that. But that kind of led to me seeking a graphic-design major."
Cox, however, doesn't see Tomato winding up in the hands of siblings after the College Invitational exhibit closes. "It would be nice if I was able to sell it," she says with a laugh. "A little more money to pay for college. But it'll probably end up going back into my portfolio. My family members have too much of my stuff up already."
Tessa Pozzi, St. Ambrose University: In Nell's Garden
Born and raised in Pittsburgh, third-year St. Ambrose University student Tessa Pozzi says she moved to the Quad Cities, with her mother and brother, at age 14 partly because "my mother's from here originally." Yet while it was a family member who brought her here, it was another that brought Pozzi to the Figge, as her College Invitational submission is "a collection of images of my great-grandmother, who passed away a few years ago. She was really influential in my early life, so I did these as a memorial to her."
A collection of nine pieces among some 30 she has created, In Nell's Garden showcases Pozzi's interest in printmaking, a medium she found "expressed my ideas in the best way. I'm not really a painter. I like to draw a lot, but printmaking demonstrates my drawing skills the best."
The process, she says, "took about six weeks to complete. I started working on them on a computer. You make, like, a film, and you print the images on acetate, and then you use that acetate to expose your image onto a fabric that's been coated with cyanotype, which is actually soaked raw canvas. And I rinsed them out - that's what gives you your image - and then I coffee-dyed them. Cyanotype is a very bright fluid, and if you coffee-dye it, it gives you more of a denim color. And then I hung them in embroidery hoops and then hand-embroidered on top of them." With a laugh, she adds, "It was a lot of work."
But Pozzi is used to work, having spent three years in a work-study program for her art department's archives and special collections, and she says she's looking forward to pursuing a master's degree, with the University of Iowa or the University of Florida as her current schools of choice. "I would love to be an archivist," she says, "or involved in preserving works on paper - something along those lines. I've just fallen in love with that work."
Shirley Johnson, Black Hawk College: Harvest of the Earth
Artists will sometimes speak of having an "artistic revelation." But in its abstract way, the work that Black Hawk College's Shirley Johnson has submitted for the College Invitational is a literal "artistic Revelation," as her Harvest of the Earth piece was inspired by a passage from the biblical Book of Revelation.
"I had retired and my husband passed away," says the Silvis resident, "so I thought I'd keep busy and go back to school. And I was always interested in art. Charcoal, oils ... a little bit of everything." Her interest in acrylics, she says, began around 2012, a point at which she had also started studying the Bible. "I love the use of color," says Johnson, "and using that to express what I'm feeling. And I found I could express things really easily, or readily, through abstracts, and not paying attention to too much detail."
Yet Harvest of the Earth, which Johnson says took "about three or four weeks" of Black Hawk College class time to complete, is still detailed enough to suggest numerous visual signposts in Revelation 14: 14-20, including the crown of gold, the sharp sickle, the earth's vine, and the clusters of grapes that all signify God's encroaching wrath.
And while Johnson expresses her delight in having a work included in the College Invitational, she adds, "I haven't really made up my mind" whether she wants to pursue a degree in visual art. She does know, however, that her rekindled passion for art has led to her hopes of having "a studio at home - that's my future. And I'd like to have an exhibit of my own someday. I only have four or five pieces right now, and my teacher suggested that I get 20 of them."
With a laugh, Johnson says, "I've got to get busy!"
Sarah Frachey, Augustana College: Winter Night, Long Shadows
Augustana College senior Sarah Frachey says, "I've wanted to be an artist since I was little," and adds that she always had a particular interest in painting. But like a lot of young people with artistic aspirations, she wasn't sure how to turn that passion into a viable profession, and as a result, "I sort of moved into other avenues."
Enter modern technology. "When I was introduced to Photoshop," says Frachey, "it was for a project I had to do in high school - a digital painting. And that was a new concept for me, because whenever I thought of painting, I thought of, you know, paint. And brushes."
Yet Frachey quickly took to the medium of digital painting, "and once I got older and I was really serious about looking for a career path, I learned about graphic design. And that seemed like a good way to bridge the gap between my love for art and my wanting something that was more, I guess, practical. Something that had more avenues for opportunity." Now pursuing a graphic-design major and an art minor at Augustana, Frachey has blended both passions in her College Invitational submission Winter Night, Long Shadows, a work that she describes as "a nighttime street scene in the winter, with special focus on the streetlamp and the artificial light illuminating the scene.
"I'm doing a whole series of these kinds of digital paintings," Frachey says. "Right now, I'm preparing for my senior art-inquiry project, which is an ongoing process through the year, so I'll be doing this a lot." Currently, that means spending around 20 hours completing a single piece. "I don't work on them every day," she says of her paintings, "but when I do, I do it for maybe two hours at a time over the course of a few weeks."
But Frachey hopes that work of this type will continue past her Augustana graduation this spring. "Ultimately, I'd like to work at a design firm," she says. "If there's a way I could incorporate illustration into my career, that would be great."
Leah Richter, St. Ambrose University: Threshing Floor
For many of the artists showcased in the College Invitational, the exhibit's closing on February 8 will bring with it specific questions: Should I try to sell my piece? Should I keep it for my portfolio? Should I give it away?
For St. Ambrose University alumna Leah Richter, such questions are moot, because her oil painting Treshing Floor, as she says, "was purchased by St. Ambrose over the summer. They actually purchased two pieces of mine, and that was one of them. I was very thrilled! It was in my living room, but it ended up at St. Ambrose!" (As the works in Richter's senior honors show were completed too late for submission in last year's College Invitational, the artist says, "I applied for the following year instead," so despite her being a college graduate, "I made it in.")
Describing her fondness for working on oils and panels, Richter says, "You know when you're a little kid and you're drawing on a white piece of paper on a wooden desk, and it has that really firm kind of feeling? I enjoy that. It sort of makes me nostalgic to draw on, like, a wooden panel, instead of the softer kind of springy canvas."
And Richter adds that Threshing Floor itself inspired nostalgia, both in melancholic and joyful ways. "My husband and I recently became an adoptive family," she says, "and the piece is about our adoption. We adopted a sibling group - two little girls who were three and two at the time."
However, Richter says, "our adoption sort of started out of our sad experience of losing a child. A threshing floor is when the grain falls down and the chaff flies away with the wind. So the painting is sort of this heart that has blown away, and the blessing that dropped into our life is our girls."
Those kids, says Richter with a laugh, are "really good sports, because art takes a lot of my time. But they like letting me take their picture, and they model for me - they sort of get to be part of my process just by being around me all the time."
And now, thanks to Threshing Floor, they're also at St. Ambrose and the Figge. "I wanted to make something that symbolized creating a space for a family," says Richter. "Whatever kind of family you have, whether it's an adoptive family or a biological family, you sort of have to cut out a place for it in your life."
The 2014 College Invitational will be on display at the Figge Art Museum (225 West Second Street, Davenport) November 8 through February 8, and more information is available by calling (563)326-7804 or visiting FiggeArtMuseum.org.