When MidCoast Fine Arts opened the Bucktown Center for the Arts nine years ago, the marketing played up its downtown-Davenport neighborhood's once-upon-a-time reputation as the "wickedest city in America."
Jack Wilhoit of Worldly Views said some artists who leased studios back then followed that lead. "It seemed like there was a lot of partying by emerging artists, but that didn't sell fine art," he said.
From the photography and works in Worldly Views, it's obvious that Wilhoit's muses are the doors and bicycles he's encountered during his extensive travels - hence, his nickname as "The Door Guy." Entering the space, you see an unusual table with a gleaming-refinished-door top that sits on a metal support of repurposed bicycle parts - arranged to look as if the framework is ready to move. The metal table legs on one end bend at an angle, as if to simulate an animal's forward sprint. It successfully suggests futuristic robotic speed blended with the craftsmanship of the sturdy door and meticulously machined parts.
Wilhoit's studio is the sole remaining original tenant at Bucktown. While the building still provides studio-shop suites for artists, there have been many changes. There's a greater number of artists teaching classes in their studios; Bucktown artists talk about how their peers inspire and challenge them; and the tenants now include an animation studio and a store selling an unusual line of paints. When I was hired as Bucktown's building coordinator in June, I was surprised by both the variety and maturity of the artists and artisans.
Wilhoit also noted that MidCoast reorganized its second-floor gallery to provide artists with more-affordable gallery spaces, starting at $30 a month. "Initially that space was treated as four partitioned studios and a changing-exhibition showroom," he said. "About five years ago, the changing-exhibition gallery was kept, but the studios were divided into smaller areas for more artists to have a sales space." Hallway display cases can also be rented.
That emphasis on sales, said Dee Schricker of Boho Chic Gallery, is critical to artists: "If it wasn't important to sell the work, I could create my art at home. My clientele base was built from walk-ins to Bucktown."
More change is almost certainly coming to the building with a pending sale, but a downsized MidCoast presence in the building will allow Bucktown to continue as an outlet for artists - and it should still thrive.
"We Are Not Closing"
MidCoast is poised to sell its portion of Bucktown - roughly 60 percent of the building at Second Street and Pershing Avenue, which includes the first and second floors presently housing artist studios and sales spaces.
The possibility of that sale has led some people to think Bucktown will no longer be an arts venue - which isn't true.
"We are not closing," said Pat Bereskin, who operates Atom Gallery. "We want to convey that Bucktown will continue as a hub for local fine-art creating, learning, and shopping."
Amy Orr, MidCoast's board president, wrote via e-mail that her organization hopes to finalize the sale to Y&J Development - for additional downtown housing - by the end of the year.
"We want to get back to the mission of MidCoast - to support artists and provide quality programming and events to the community," she wrote. MidCoast is presently responsible for 60 percent of building-maintenance fees, and the sale would allow the organization to better support art and art education rather than spending its money on things such as roof repair.
But even though MidCoast is selling its portion of the property, it has an agreement with Y&J to lease Bucktown's first floor for a decade - which it will in turn sublease to artists for studio space.
The amount of space for studios would be basically halved under this arrangement, and the first floor might not accommodate all the current tenants and the building's MidCoast gallery at their present sizes. (There are seven studios on the first floor and five studios and the MidCoast gallery on the second.)
Yet assuming some artists at Bucktown would be willing to combine studios or accept a smaller square footage, consolidating all of Bucktown's artist tenants on one floor appears feasible because of four current vacancies.
All the current tenants contacted for this article indicated they'd like to remain in Bucktown after the sale.
"New Influences and Ideas"
To get a sense of what Bucktown has become, you could start at the first-floor Atom Gallery - which opened in spring 2013. There, you might be greeted by Bereskin, bustling around in a paint-daubed apron over her business attire.
Her enthusiasm bubbles as she introduces recent oil paintings from a group trip to Italy. One canvas is dominated by the signature azure of the Bay of Naples, framed by a few rocky outcrops. A male swimmer relaxes in the foreground, facing toward the early-evening peach-tinted sky. The intelligently applied brushwork and color control elevate the painting beyond a vacation memento.
Bereskin partners in Atom Gallery with several other fine-art practitioners, including a trio of figurative artists. Jason Frank, in his drawings, and sculptor Dean Kugler both produce intensely observed naturalistic figurative works. Dan Johnson, in his acrylic and ink works, strips the body of outer skin to an anatomical essence in an expressionistic pose.
Bereskin and her gallery comrade Brad Bisbey recently challenged each other to complete a painting a day for a month to loosen their brushwork, comparing results as they went.
"Different generations and types of artists intermingle here," Bereskin said. "We bring each other up with new influences and ideas."
For example, casement renter and sculptor Samuel Brown, as a newcomer to the art business, has benefited from suggestions for better display approaches, such as a shelf that Kugler brought in to enhance the lighting on the sculptures.
Weekly life-drawing classes are offered in the Atom studio. Bereskin teaches classes for children, adults, and veterans and sponsors high-school interns.
"Over the past three years," Wilhoit noted, "there has been a greater emphasis on classes taught on location by the artists who use their studios for teaching."
T.J. Collins recently established his Creative Design Academy studio on the second floor with animation classes in mind. Collins has worked for more than seven years as a character designer, storyboard artist, and concept artist. His credits include Ben 10: Omniverse, Turbo FAST, Scooby-Doo! Mystery, Inc., and Space Racers. It's fascinating to watch him digitally fill in the drawing of a panel, then advance to the next shot, and fill in with the sound.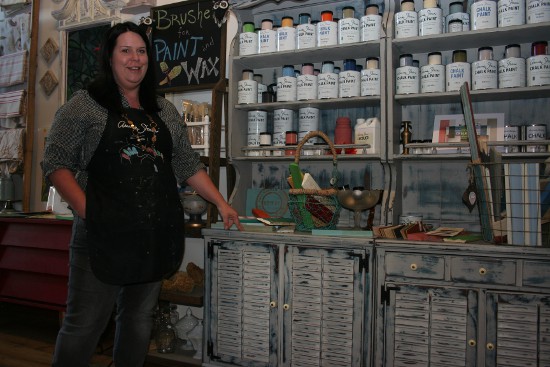 "Focused on Being Creative"
Collins is an example of Bucktown's increased breadth in recent years.
"We have a broader spectrum of artists - more sculpture, especially Dean Kugler's big sculptures," noted Boho Chic's Schricker.
The variety is evident in Schricker's gallery, where she works in ceramics, painting, and fibers. She might be found creating a ceramic relief of maple leaves to be raku-fired, or painting a canvas in an auburn palette. She began her Bucktown association six years ago, as an emerging ceramicist with a few works in a group gallery. Now she shares a studio at the front of the building with photographer Heidi Brandt, whose images include scenes of local landmarks.
Schricker was inspired by her fellow Bucktown artists to return to painting. Her canvases are reasoned balances of shapes and forms, beautifully orchestrated in subtle palettes of warm and cool temperatures.
Felicia Southward of Felicia's Boutique said she has "always been into crafts." She launched her studio because of her work with Doterra non-toxic essential oils for massage. Using the oils, she concocts from scratch a line of bath salts and body scrubs of various fragrances, which are sold in her studio. That led her into creating a range of colorful decorated items, such as footwear, jewelry, and wreaths.
Becky Hausmann, a renter in the MidCoast gallery, had been a Wisconsin art teacher before her husband was transferred to the Quad Cities two years ago. She creates colorful paintings meant to appeal to children. As was the case for several Bucktown artists, a realtor recommended the site as an outlet for her art.
The varied fare of Bucktown also includes the Chalk Paint Gallery of Juliet Stock, open since March. She sells the unique line of Annie Sloan paints that will adhere to a multitude of surfaces, including fabric, plastic, and wood - without the need to prime. "The paints essentially encourage the recycling of worn furniture," she said. "Even more, the water-based organic pigments are better for the environment."
Stock was among the first in the United States to sell this European paint phenomenon. She displays examples of objects she has painted, such as a bookcase covered in a lively, pulsating turquoise faux finish. While Stock avows that she is not a fine artist, that bookcase is a work of art. Beyond her retail business, she presents how-to classes ranging from shabby chic to French Revival, and she takes her class groups on Bucktown studio tours.
Gaye Burnett has had Studio 56 at Bucktown for three years. Her signature works are spray-painted abstractions in glowing gold, black, thalo blue, and red, with forms undulating like the flow of a wild river seen from the air. She has branched out into painting functional objects; her direction, she said with a chuckle, "depends on how I feel that day."
Burnett emphasized that the value of Bucktown lies not merely in its individual artists; it's about the collective energy. A juried regional exhibition is planned for Bucktown galleries later this year on the theme "Angels Among Us." At heart, that's the Bucktown ideal. "It is hard to stay focused as an artist in the face of commercial pressures to earn a living," she said. "There is a synergy in the concentration of artists here that helps to keep everyone focused on being creative."
The Bucktown Center for the Arts is open to the public from 11 a.m. to 6 p.m. Wednesday through Saturday. Upcoming Final Friday celebrations will be held from 6 to 9 p.m. on October 31 (to celebrate Halloween) and November 28 (with an emphasis on shopping locally in conjunction with Small Business Saturday). For more information on the Bucktown Center for the Arts, visit MidCoast.org.
In addition to the artists in this article, current participating artists in the building include members of the Left Bank Art League, David Anderson, Alan Campbell, Danny Conner, Deborah Doehler, Terri Elliott, Kelli Hehlke, Jim Hitesman, Anna Ito, Heat Jones, Ali Kirsch, Terre Klipsch, Joseph Obleton, Jeanne O'Melia, Tony Seabolt, Elizabeth Thoman, Tom Voss, Lanora Welzenbach, Charles White, and Lisa Wright.
Sherry C. Maurer holds an MFA in painting, an MA in art history, and a BFA with a printmaking concentration. She teaches art appreciation at Black Hawk College and is building coordinator for the Bucktown Center for the Arts. She can be reached at sherry_maurer@yahoo.com.