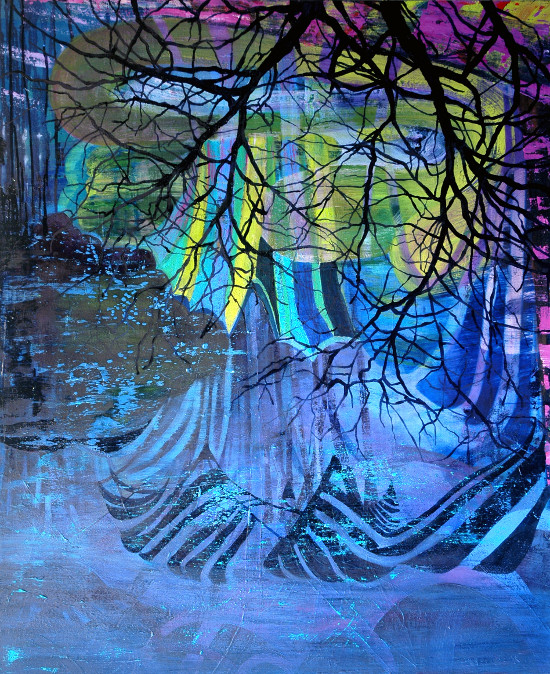 One is a potter, one a painter. Megan and Kristin Quinn are sisters living and teaching on opposite Mississippi River shores of the Quad Cities. Their paths to art were different, and their chosen media put them at polar ends of a visual-arts axis. Kristin said that, in jest, a brother-in-law calls her "Artsy" and Megan "Craftsy."
It doesn't take long in their presence to grasp their deep mutual admiration and friendship. However, Kristin was nine years old when Megan left for college, and the age difference precluded any close relationship in childhood.
As the Quinn sisters look back at their family of five children, they see just a few shared inspirations from their time growing up in Bowie, Maryland. Their parents were educators. He was a physicist and professor at the University of Maryland who specialized in optics and provided access to visually stimulating apparatuses: prisms, lenses, even early holograms. "We played laser tag with real lasers," said Megan with a laugh.
Along with plentiful lessons on the natural world, they were encouraged to ask questions. Kristin explained: "On long car trips, we passed the time with questions to stump Dad: Why was the sky orange, what caused hail, and how were tunnels built under the bay? ... We refer to these questions now as 'Tunnel Talk' questions."
The inquisitiveness fostered in their youth is readily apparent in their art, and they've built similar teaching careers: Megan is a ceramics professor at Augustana College, while Kristin - the painter - is a professor and chairs the art department at St. Ambrose University. They will be jointly honored with the Harley Award at 12:30 p.m. on Saturday, September 20, as part of MidCoast Fine Arts' Riverssance Festival of the Arts at Lindsay Park in Davenport.
As a teen, Megan rode her bike to Annapolis, Maryland, where she visited a studio of potters who held some fascination because they worked and lived in one building. But she fell in love with art during college - although she studied botany at the University of Maryland. "The taxonomy course required lots of drawing of specimens," she recalled. "It seemed drawing was required for everything, so I took a drawing course to improve my skills."
That was her introduction to fine art, and she added ceramics classes. After graduating, she spent two years in an apprenticeship with a production studio, Ridker Pottery in Maryland. She then completed her MFA in ceramics at the University of Notre Dame. Hired by Augustana College, Megan moved to the Quad Cities in 1980.
Kristin, on the other hand, showed an early art interest and was encouraged to pursue it by her mother. Beginning in late elementary school, she said, "I was in an art class every weekend." With the family's proximity to Washington, D.C., some of these classes were in major institutions, such as junior-high classes at the Corcoran Museum of Art. Art camp, art classes, and art exhibitions led to college art studies at Temple University's Tyler School of Art.
Once in Rock Island, Megan purchased a home and procured a renovation grant. Kristin, who had just finished college, came to lend a hand for the summer of 1984. "It was a great arrangement," Kristin said. "I had the attic of the house for a studio and free lodging. ... I think it is important to get undergraduate teachers out of your head." The stay extended to two years.
During that time between undergraduate and graduate schools, Kristin taught art classes for children and adults in Augustana's Kaleidoscope program. I was struck by her lively, inventive teaching. One snowbound mid-winter day, I asked what she was doing with some new, jumbo-sized trash cans. Her laughing reply was: "We are going fishing!" For her class, she set up wooden "rods" to be dipped into an "ocean" can that would be stocked with the "fish" created by her young students.
Others recognized her teaching verve. Teresa Mesich, now a well-regarded Quad Cities artist, took one of her adult classes and said: "She inspired me to continue my foray in painting, something my college teacher had not."
That period was the one time when Megan and Kristin collaborated on making art. Megan threw fairly large and roughly articulated vessels, and Kristin responded with boldly stroked painting on the surfaces. One of the vessels, Judith, was added to the art displayed in Augustana College's library.
Collaboration ceased when Kristin left the Quad Cities to pursue a graduate degree in painting at Indiana University. After completing her MFA and a year teaching in Texas, she was hired in 1989 to join the art faculty at St. Ambrose.
Both artists have maintained a love of teaching undergraduate students. Even students who have gone on in other fields have later told them they valued the class opportunity. Megan chuckled about the medical doctor who, on seeing Kristin in a restaurant, told her that Megan's ceramics class had "changed his life." Megan continued: "Then I saw him in the hospital for something, and he didn't say a word about the class to me! We'd better not name him."
Their approach to teaching reflects the "Tunnel Talk" questions - an exploration of "why." Megan noted: "You have to figure it out for yourself in art; you can't find the answer in a book. Students learn to use their eyes and their arms." The teachers said that students in an art class relax to be experimental, which raises their whole sense of self-awareness. They both said "it is an honor" to see students step out of their comfort zones and commit to trying out art.
Both teach three-dimensional design, and they visit each other's programs for inspiration. Several times during the past decade, they both had a design class create an assignment using altered books, with the resulting art exhibited together in one of the college libraries. They share guest artists and visit art displayed on the other's campus.
When I asked if they critique each other's artwork, they said no - although sometimes Kristin will ask Megan if a work seems finished; Megan insists Kristin already knows the answer.
In their art, the common denominator seems to be their enthusiasm for exploring the natural world. Megan cited early inspiration from Cycladic art, Hieronymus Bosch and other potters such as Hans Coper and Richard DeVore. Kristin cited many artists who have influenced her work as well: "At first when I started painting, I wanted to be Richard Diebenkorn, but now it is Philip Guston who brings me to my knees. ... And I have always loved the [Renaissance] Italians like Mantegna." They both blend bits from multiple sources, moving back and forth from spare to decorative styles, expanding out in challenges.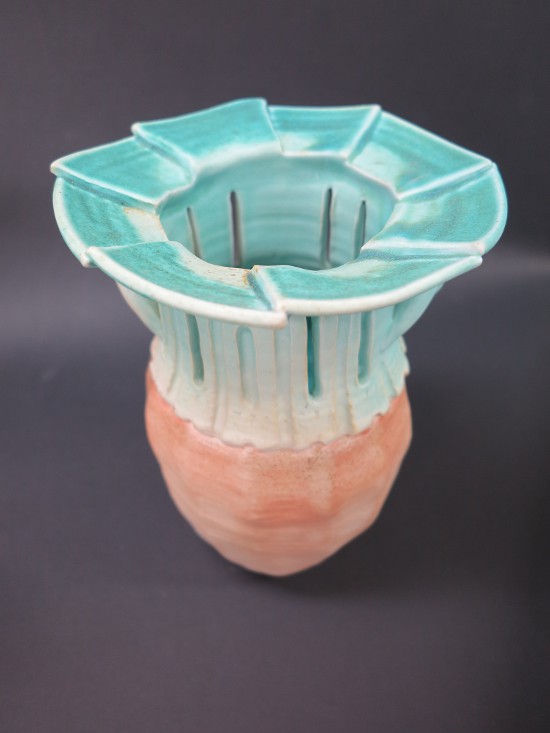 Megan often thinks about building vessels in terms of human characteristics - "figurative references, so 'lip' refers to the top edge of a form, and the words 'belly,' 'neck,' and 'foot' to other appropriate parts." Her vessels take on anthropomorphic leans, twists, and swaggers; she excels at asking the clay to be alive and in motion. When wood-fired, which is her favorite mode of firing, the works have a rosy golden glow.
Of late, she also has built vessels that suggest plant life, such as Blue Poppy (2013). This porcelain jar combines a russet-pod-like base that grows into a serrated flange, topped by radiating flared turquoise "petals." These pieces combine her love of botany and ceramics.
Among several public-art projects Megan has helped create, her most visible is located in Schwiebert Riverfront Park in Rock Island. Last summer, she guided Metro Arts high-school and college students to create a mosaic that was added to the 2005 sculpture by Stuart Morris titled Lloyd's Trek. The sculpture honors Megan's late husband, Lloyd Schoeneman - an instrumental administrator at Quad City Arts. Although she was lead artist on the project, Megan credited the result to the students who toiled in the heat to complete the mosaic, and she said she's delighted by the community's positive reaction to it.
Kristin's current paintings are layered explorations of "competing levels of activity." She works on them over an extended period of time - a year or more. Her process varies between abstraction and representation, using all kinds of tools to move the oil paint - including putty knives, squeegees, and spatulas. "I want the paintings to feel like you are in a space where time is evolving," she said.
At the top of Night Caravan (2013), a smoky yellow-pink arc swirls behind an opaque silhouette of tree branches. Ribbons of color drop from the swirl, stopped by a cloud of blue on the left and truncation on the right. Below, echoes of the stripes play through mysterious blue, luminous glazed passages.
Of her process, Kristin writes: "When I stand on Devonian limestone on the levee of the Mississippi, the barges and riverboats pass; herons fly; behind, a train noisily rumbles by and streetlights flicker on; the smell of diesel fuel wafts by while rain clouds build. It's the density of this kind of experience that continues to raise questions and excite me as a painter."
In addition to teaching, Kristin has been involved with the Freight House Farmer's Market and Quad City Arts. Megan has volunteered for Quad City Arts, worked last year with the Broadway neighborhood association to present a 25th-anniversary art fair, and has helped the Moline High School Empty Bowl Project fundraise for local food pantries. When the sum of their teaching, creativity, and service activities is added to their exhibitions and speaking engagements, it represents a lasting art commitment recognized by the Harley Award. In a news release on these 2014 winners, Riverssance committee member Jenni Venema Swanson states: "Both artists contribute greatly to the community, to their respective states and respective academic institutions."
Sherry C. Maurer holds an MFA in painting, an MA in art history, and a BFA with a printmaking concentration. She teaches art appreciation at Black Hawk College and is building coordinator for the Bucktown Center for the Arts. She can be reached at sherry_maurer@yahoo.com.