Saturday, September 1, through Friday, September 28
Artist Reception: Friday, September 7, 5:30 p.m.
Beréskin Gallery & Art Academy, 2967 State Street, Bettendorf IA
A quintet of superb artists, working in a variety of mediums, will collectively showcase their works in the group exhibition Earth Wind & Fire, on display from September 1 through 28 at the Beréskin Gallery & Art Academy, and boasting new pieces of Dean Kugler, Bill Wolford, Bonnie Grebner, Heidi Grandt, and Karen Brinson.
With his primary mediums sculpture and drawing, Kugler, in his DeanKugler.com Artist Statement, says: "I am an artist that focuses on the beauty I find within our species. I have always been motivated by the human figure and the intricacies associated with it. There is a shared experience between the artist and the viewer that better allows me to convey thoughts, feelings, and emotions than with any other subject matter. Addlitionally, I try to use scale and the juxtaposition of disparate elements in order to engage and challenge the viewer."
Participating in his first Beréskin exhibition with Earth Wind & Fire, Wolford, the husband of area artist Pat Wolford, is a woodwork artist who, according to gallery owner Pat Berskin, "does things I have never seen before." Discussing the use of special wood in his featured work, Wolford states, "When nature strikes a tree with a zillion volts, the growth rings become discontinuities in the flow of power. The tree bursts at its growth rings causing gaps and interesting discolorations. Survivor and Igniting Chaos apply that energy to stress the artist's message."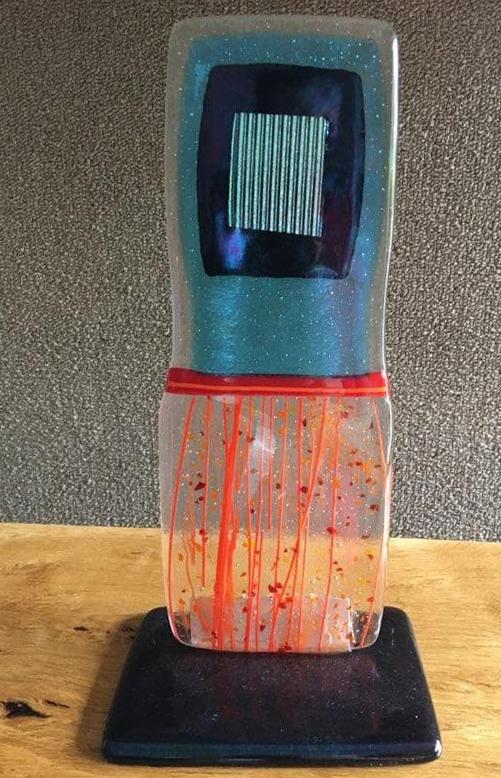 Grebner was a teacher for six years and an engineering analyst at John Deere for 26 years, and has studied photography, pottery, and fused glass with an emphasis on raku pottery. Her work has been shown in Waterloo area galleries, Bishop Hill, Kewanee, Peoria, Galesburg, Kansas City, and galleries throughout the Quad Cities. As Grebner says in her own Artist Statement: "Art has always been a part of my life, but took a back seat to my analytical 'day job.' Retirement now provides the opportunity to explore my creative side. I'm taking a break from raku pottery, doing fused glass. Both glass and pottery are fired to high temperatures, but there are many differences. All of my glazes are a drab gray before they are fired, and each raku firing might produce different unexpected bright colors. With glass, the colors usually remain the same after firing. I'm enjoying this difference."
Davenport native Brandt's nature photography is filled with patterns and textures, capturing the spirit of a leaf, the vanes of a feather, an eagle's call, or the ripples left by a passing pelican. After a 30-year career in graphic arts, Brandt turned to fine-art photography as a full-time vocation in 2005. She was recently honored with the 2017 Eddy Award for her "Art Meets the River" calendar project benfitting River Action, and her works are on display in several Midwestern businesses, with a collection of her botanical photographypurchased for Rock Island's UnityPoint Health Trinity medical campus.
And Bettendorf resident Brinson is a formidable talent in ceramics, paper marveling, and book making, courses on which she also teaches at the Beréskin Gallery & Art Academy. Describing her artistic process, Brinson says, "Everything I need to make pottery comes from the earth. Over time, water softens stone into clay. Glaze chemicals such as flint, bentonite, silica, cobalt, and copper carbonate are also found in the earth. When you fire clay, it becomes hardened into an artifact that embodies our culture. This process will never cease to amaze me!"
A 5:30 p.m. artist reception will be held at the Beréskin Gallery & Art Academy on September 7, and regular gallery hours are 11 a.m. to 6 p.m. Wednesdays through Saturdays. Admission is free, and more information on Earth Wind & Fire, along with additional exhibits, events, and classes at the venue, is available by calling (563)508-4630 or visiting BereskinArtGallery.com.