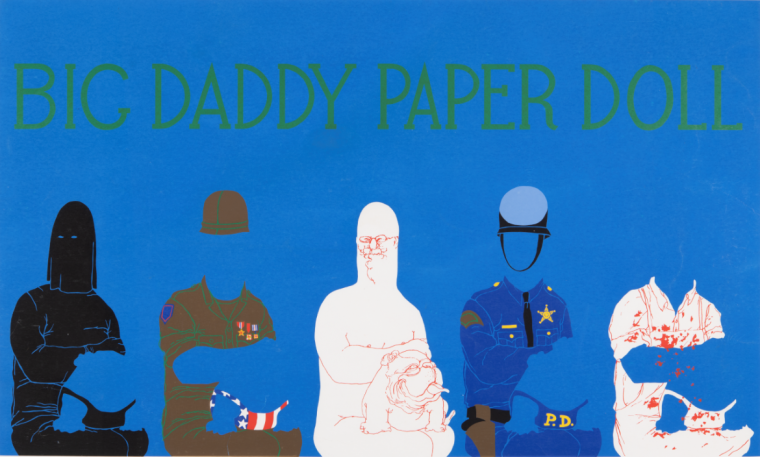 Saturday, November 18, 6 p.m.
Figge Art Museum, 225 West Second Street, Davenport IA
Held in collaboration with the Quad Cities' TMBC at the Lincoln Resource Center, a series of performances by noted community leaders will be delivered in the Figge Art Museum's Empowerment Echoed: Responding to 'Art & Activism at Tougaloo College, the November 18 event held in conjunction with the Davenport venue's current exhibition that explores a distinctive intersection of modern art, education, and social justice.
In the spring of 1963, the New York Art Committee for Tougaloo College established Mississippi's first collection of modern art at Tougaloo, a small liberal arts college located north of Jackson. As civil-rights protests swirled across the fiercely segregated state, the college became an unlikely hub of European and New York School modernism and "an interracial oasis in which the fine arts are the focus and magnet," as envisioned by the collection's founders. Founded in 1869 by the abolitionist-led American Missionary Association, Tougaloo has always been a force in the fight for equality. Throughout the 1960s, its community was at the forefront of the civil rights movement: Activist Medgar Evers held meetings at the school, and in May of 1963 an integrated group of students and faculty participated in the sit-in at Woolworth's in downtown Jackson. The fine art collection at Tougaloo was an important pillar of these efforts.
The touring Art & Activism exhibit, which highlights Tougaloo's evolution as a center for vanguard European and American art shaped by interracial collaboration and the pursuit of civil rights, is organized into three sections. "The Focus and Magnet" surveys the earliest works acquired by Tougaloo, including prints by canonical European modernists such as Pablo Picasso along with artists of the New York School like Hedda Sterne. "Toward a Modern World" highlights the relationship between modernist aesthetics and the ideals of social reform, with works by artists such as Robert Motherwell and Fritz Bultman. As the Black Power movement expanded in the late 1960s and 1970s, Tougaloo students and faculty argued that the collection should better reflect the Black experience. "A New Vision" details the college's response to this charge, presenting works by African American artists who engaged with social issues including Romare Bearden, Jacob Lawrence, David C. Driskell, and Elizabeth Catlett.
Together Making A Better Community (TMBC) at the Lincoln Resource Center is focused on empowering and educating Quad Cities youth, families, and community through providing wholesome opportunities. Located in Davenport, TMBC at the Lincoln Resource Center was founded in 2016 by community leaders at Third Missionary Baptist Church, and is the only program in the Quad Cities region that is Black-owned, Black-led, and focused on empowering the Black youth, Black families, and Black communities in our area. TMBC understands that this country's long history of systemic racism has created massive disparities in the Black community. To fix this, the solutions require a black-specific focus. While its programs are Black-focused, TMBC is open to everyone, regardless of race, religion, age, or disability, its diverse reach offering support and place-making to the Black community and access points into the community for other Quad Cities communities and groups.
Empowerment Echoed: Responding to 'Art & Activism at Tougaloo College will take place on November 18, the 6 p.m. community reception will be followed by 7:30 p.m. performances, and admission is free. For more information, call (563)326-7832 and visit FiggeArtMuseum.org.