Friday, October 19, through Friday, November 30
Opening Reception: Friday, October 19, 7 p.m.
Quad City Arts Center, 1715 Second Avenue, Rock Island IL
New exhibitions of screen prints and photographs will be on display October 19 through November, as Rock Island's Quad City Arts Center presents A Guide to Domestic Measurement, a collection of works by Iowa City artist Alison Filley, and Reconstructing the Rise of Asymmetrical Skylines, a creative assemblage by Davenport-based photographer Matthew Terry.
Filley creates screen-printed patterns that speak to the trappings associated with domestic expectations and contemporary popular culture using elaborate ornamental patterning and photographic imagery. As she says in her Artist Statement: "We often feel pressure to conform to collective norms promoted by advertising, popular culture, and socioeconomic status. These idealized norms … the dream house, perfect children, manicured yards, and home-cooked organic meals … can be beautiful and seductive, but often artificial. This installation combines these symbolic objects to form new elaborate patterns that are equally contrived and alluring."
With her body of work including two-dimensional prints, sculptural objects, and installations that combine glitter, flocking, screen printing, and digital print media, Filley is currently the Coordinator of Studios and Outreach Programs at Davenport's St. Ambrose University. She received her MFA from the University of Iowa and her BFA from Washington University in St. Louis, and since July of 2016, she has created monthly mixed-media installations as the window display designer at Hands Jewelers in Iowa City.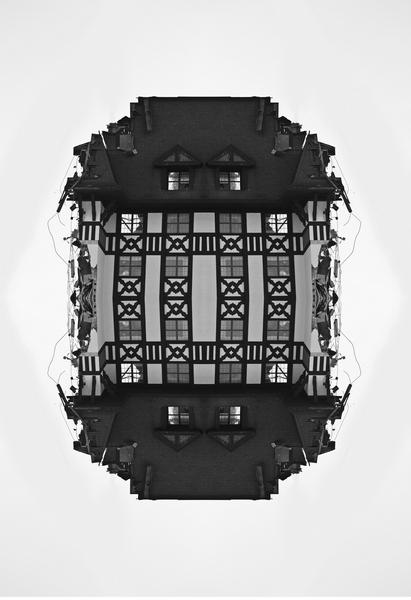 Terry, meanwhile, finds inspiration in structures that are suspended in an incomplete state – buildings that are either partially built or in the process of falling, appearing unfinished, broken, or asymmetrical when he photographs them. He then transforms these scenes into symmetrical images which add a continuity, harmony, and flow to the facets of life that many view as eyesores.
With the artist having received a 2014 BFA from the Academy of Art University's School of Photography, Terry's Web-site biography states: "Utilizing contrasting tones, and a distinctly deliberate perspective influenced by combining the conscious and subconscious as a means to question reality, Matthew showcases conceptual photos which evoke a level of detachment subtle enough for most people to connect with. It is through this connection that Matthew proves on a perceptual level just how related we actually are."
An opening reception for Allison Filley's A Guide to Domestic Measurement and Matthew Terry's Reconstructing the Rise of Asymmetrical Skylines, featuring meet-and-greets with the artists and complimentary food and beverages, will be held on October 19 at 7 p.m., and the Quad City Arts Center's gallery hours are Tuesdays through Fridays from 10 a.m. to 5 p.m. and Saturdays from 11 a.m. to 5 p.m. Admission is free, and more information is available by calling (309)793-1213 or visiting QuadCityArts.com.