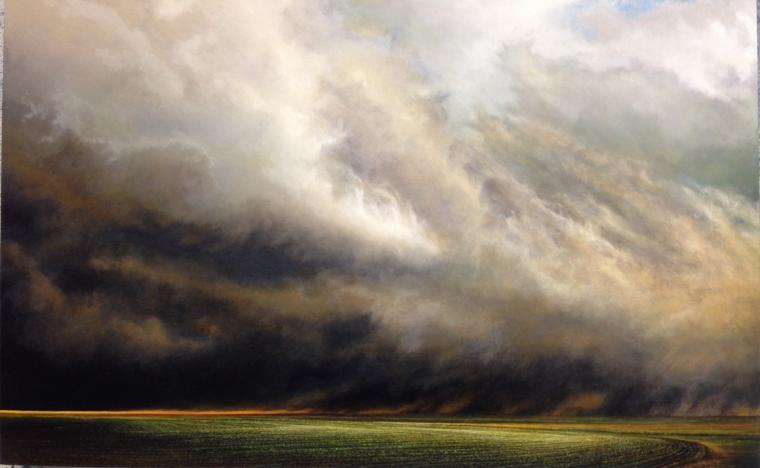 Friday, August 24, through Saturday, October 27
Opening Reception: Friday, August 24, 5 p.m.
Augustana Teaching Museum of Art, 3703 Seventh Avenue, Rock Island IL
For the first exhibition in the college's 2018-19 academic year, the Augustana Teaching Museum of Art will showcase works by artists who honed their skills at Augustana itself, with Five Alumni: Continuing to Create, from August 24 through October 27, presenting works by a quintet of the school's most gifted graduates.
With its invited artists selected by members of the Augustana art faculty, Five Alumni: Continuing to Create will boast pieces by former students whose Augustana tenures range from the late-1970s to the mid-aughts: Drew Starenko (class of '83), Audrey Brown (class of '92), Mark Hansen (class of '00), justin carl hurty (class of '05), and John Vande Walle (call of '06). Their works covering a vast array of artistic mediums, the exhibit will feature examples of oil on canvas, oil on panel, acrylics, ceramics, material installation, graphite, and audio and video. Exploring the ways in which the five alumni view, interpret, and interact with the world around them, the artists draw upon their variety of mediums to reflect the depth and discipline instilled in graduates of Augustana's art program.
"Viewing the work these artists have created in the years since graduating offers an invaluable learning opportunity for our current art, art-history, and graphic-design students," said Rowen Schusshem Anderson, Augustana's professor of art and graphic design. "The range and reach of these visual artists, and their diverse viewpoints, will reveal a distinctive body of work that represents some of the most innovative art in the region and beyond."
An opening reception for Five Alumni: Continuing to Create will take place at 5 p.m. on August 24, with forthcoming related programming including an artist roundtable discussion at 7 p.m. on October 1 and a musical performance by hurty at 7 p.m. on October 2. Museum hours are Fridays and Saturdays from noon to 4 p.m. or by appointment, admission is free, and more information on the venue's exhibits and events is available by calling (309)794-7469 or visiting Augustana.edu/artmuseum.