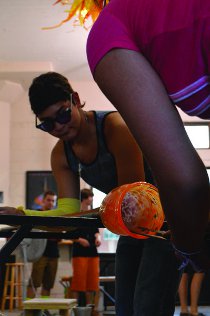 When you first walk in the doors of downtown Davenport's recently opened Hot Glass art studio, there are a few things you might notice right off the bat.
Initially, your eye is drawn to the vibrant splashes of color on the shelving units to the left: multi-hued glass bowls, vases, and paperweights, all located beneath a striking, meticulously assembled, golden glass chandelier that wouldn't look out of place in the ballroom of Beauty & the Beast.
To your right, you see much of the studio's equipment: a workbench and containers of colored glass and a pair of sizable furnaces, one of whose indicators reveals its interior temperature to be just over 2,300 degrees.
On the opposite side of the studio, through the windows facing River Drive, you're treated to a view of Modern Woodmen Park so picture-perfect that the ballpark should consider using it on souvenir postcards. (Hot Glass is located at 104 Western Avenue, in the rear of the Davenport Printing Company facility.)
But if you turn around and face the direction you came in, you'll find what is the most beautiful sight in the entire studio, at least for Hot Glass Executive Director Joel Ryser and his co-founder son Logan: a large sign on the wall listing the names of local organizations, businesses, and individuals who provided the money, equipment, and experience necessary to make their dream studio a reality.
"All those people donated everything we needed," says Joel, pointing to the sign during our recent interview. "Some gave us materials, some gave advice and helped me write grants, some of these folks did all the labor along with myself and Logan ... . It's been a real community effort."
And an effort that its founders hope will also greatly benefit the community. In addition to Hot Glass serving as a downtown art studio with fee-based classes, the Rysers plan for their 501(c)3 charitable organization to be a valuable resource for area students, with youths able to enjoy tuition-free programs and the opportunity to join the studio's "Glass Team" of working apprentices.
"It's been hours and hours and hours and hours of work," says Logan, who, like his father, teaches glass-blowing techniques at the studio. "Starting this business has been a journey and a dream."
But as Joel adds, the dream hasn't been fulfilled quite yet. "We still need help from people in the community. I put my hand out for months to do this, and there's a time and place for donations, but I'd rather earn what I want to do now. It takes a lot to run this place, with the furnaces and oven and everything. I mean, if we don't turn anything on, it's not gonna be very expensive ... ."
Artistic Juices
Many Quad Citians know Joel Ryser from his years of coaching football at Moline High School, serving as the team's head coach from 2001 to 2009. Yet over his 25-year teaching career at the school, Moline High's chair of the Fine Arts Department has also been a fierce proponent of visual-arts education, particularly in the field of glass.
"I fell in love with it in college," says the Eastern Oregon University graduate of his fascination with glass. "I was a potter and a glass artist. But the thing about clay is ... I can make whatever I want at the wheel. But once you make it, you have to let it dry before you do the other steps, and then you have to let it dry again, and then you have to fire it, and then you have to glaze it, and then you have to fire it again ... . I like it, but it's just too slow. And you just don't get those colors.
"Also, with pottery, you're by yourself," Joel continues. "But in glass, you have to work as a team - at least on bigger pieces. And because of all my years as a coach, teamwork was always a big thing, so I felt really comfortable with that."
Joel had implemented flame-working and fusing into the art curriculum at Moline High, and - following his 2009 retirement from coaching - also spent two years honing his glass-blowing skills alongside Quad Cities glass artist Mark Fowler.
"That really got my artistic juices flowing again," he says. "I didn't really do a lot of art when I was coaching and was missing it terribly. And that's when we started to do classes with at-risk kids" that were funded through a Moline High "Lights on for Learning" grant.
"My idea for that was to bring in at-risk students, and bring their parents with them, and to have them blow glass with each other so they could develop a better relationship." Yet while the program, Joel says, "fell through" after two years, he had long been considering an even bigger artistic venture.
"It was probably about 15 years ago," he says. "I was watching Sunday Morning on CBS, and they had a segment about an artist named Dale Chihuly, who started a program in Tacoma, Washington, called Hilltop Artists. It was a program for at-risk teens from a really bad area of town - a lot of drugs and crime and drop-outs. And if they enrolled in the program and got their GED or got back into school, they could come in and learn how to blow glass. Even if they were rival gangs or whatever, they could go there and work together and learn how to communicate with other kids.
"I saw that," Joel continues, "and it just turned me on. I had taped it, and I would show it to the kids in my high-school class. 'Someday, we're gonna do this. We're gonna bring kids in, and show you all how to blow glass, and everyone will work together.'
"I mean, when I was coaching, it was pretty intense. It was high-energy, and I did a lot of character-development stuff with the kids, and I thought I was reaching them pretty well. So I wanted to find another way to do it. And after working with Mark Fowler, I knew I had to blow glass. That was just it. I thought I was in heaven.
"So this," Joel says, with a smile, as he looks around the Hot Glass studio, "seemed like a way to combine everything I loved. What my passions were."
The Glass Bug
At first, says Joel of the studio's origins, "I was about ready to do it out of my house. I have a pretty-good-sized garage where I have my potter's wheel and a kiln and everything where I would do my clay. But once I got the glass bug from Mark and worked with him for a couple years, I was moving everything out of my clay shop at home and was gonna make it a glass place.
"But really, that wasn't a very good locale for it," he adds. "So that's where Logan came in."
Joel's son, who will be entering Drake University as a senior this fall, says his own interest in visual art "always came through my Dad. Back in the day, he would make these huge fish out of pottery, and my friends would see the work and be like, 'Your Dad did this?!'
"So I always knew about it and always respected it," Logan continues, "and about three or four years ago, I started doing a couple workshops with him. And once I actually started blowing glass, I just ... . It was shock and awe. I love it."
But beyond the art, he says, "I've been into entrepreneurship, and have always wanted to get into business to help change lives. So when I caught on with my dad's idea to start a glass shop, I thought, 'Let's do it on a large scale. Let's reach as many people as we possibly can.'"
Joel says, "Logan had a friend who used to rent space here [in the Davenport Printing Company facility], so after they told me about it, I said, 'Let's call the owner and tell him our idea.' Originally, we were gonna look upstairs, where there's a big storage area. But the owner, John Liljequist - a great guy - brought us in here and said, 'You want this space,' because it had its own entrance and would be much more private."
Yet while the Western Avenue space was an appropriate size for a studio requiring several ovens and furnaces, "I still needed a lot of convincing," says Joel, "because once you start something like this, you have to maintain it and sustain it. And I still work full-time as a teacher. I have five more years before I retire. So on top of thinking. 'How are we gonna sustain it?', I thought, 'How are we gonna do it?' Because I didn't have enough money to begin this myself."
Pointing to the sign by the Hot Glass doorway, Joel says, "So I started talking to some of these folks.
"The first ones I went to were GETT Industries," the Milan-based machining company. "A friend of mine named Timmy Edwards owns the business, and I brought him some pictures of equipment and said, 'Could you make me some of this stuff?' And he said, 'Yeah, I think so,' and got me together with one of my old friends from high school, Tim Miner, who's the general manager there. I hadn't seen him in 20 years, and Timmy [Edwards] says, 'This guy's gonna take care of you. Just work with him.'
"And Tim took it by the horns," Joel continues. "They made this furnace - it's called a glory hole. They made two of those, actually. They made two yokes. Two benches. Two marvers. The pipe-warmer. And they donated everything. Probably $80,000 to $90,000 worth of stuff.
"So then I thought, 'Okay, well, if they believe in the idea, maybe I can get somebody to do my electrical.' So I went to an old friend of mine, Jeff Lanum, who owns Electric Doctor" in Bettendorf. "I had his sons in football, and so I had developed a relationship with him, and he said, 'Yeah, I'll donate the electrical.' He donated all the panels, the transformers, all the conduits - everything.
"So then I went to East Moline Glass, where I talked to a friend of mine, Larry Anderson - I had his boys in football, too. He said, 'Yeah, I'll donate some new windows,' and they put in new windows for me.
"So then," Joel continues, now laughing at the ever-growing examples of generosity, "I called Pyxis Refractory and said, 'Here's this project I'm doing ... .' And they donated all the refractory. And then I called up Guardian Glass in DeWitt and said, 'Would you guys be interested in backing this? It's all about glass.' 'Oh yeah, we'll give you some materials.' And they gave me boxes and boxes of materials."
However, Joel says that the process - which took roughly 20 months from the Hot Glass studio's inception to July 2's opening-day celebration - wasn't exactly that simple. "It took a lot of patience," he says. "When you're the guy asking for donations, you can't pressure them, you know. It was tough sitting here waiting for all of the different phases to be done."
Plus, there was the waiting for money. "I probably wrote 15 different grants," says Joel, "and didn't get some." But he did receive them from, among other groups, the Community Foundation of the Great River Bend and Quad City Arts, "and the Hubbell-Waterman Foundation came through with a $20,000 matching grant. And once people saw their name, I had my $20,000 match in about two weeks. So we were able to buy the tools, the color, the glass, a furnace, the blowpipes ... . Some 40-grand worth of stuff we had to buy that really couldn't be donated or made."
Shaking his head, Joel says, "It was very hard. And for a while, I was saying, 'Man, I feel like I'm not gonna get the money. We might have to just give up.' But after I had GETT involved, and Electric Doctor involved, and all these other people, I just thought, 'I can't give up now. Look at what all these people have given. We gotta keep going.' And we did. And look what we made together."
Never Pick Anything Up Off the Floor
Since Hot Glass' opening, the Rysers and fellow glass artist Andrew Lehn - an art instructor and football coach at Davenport West High School - have led several free glass-blowing classes for youths, experiences that Logan describes, in the most positive way, as "absolutely nuts."
Says Logan, "In the first class we had, there was this kid who was pretty quiet at the beginning. But once he was on the bench, and had the blowpipe in front of him, he was totally engaged. And after he made his first piece, he came up to me and said, 'When are we gonna be able to come back here?'"
Laughing at the memory, he continues, "They also get to pick from between three or four different forms. There's a straight bowl, a fluted bowl, and a few different types of vases. And they get to choose out their color schemes - which is sometimes the longest part of the day. 'Wait, what if I want to change it to this color ... ?' But it's so great seeing these kids learning vital skills, and being excited about it, and seeing what creativity young minds can come up with."
But Joel adds that, for glass-blowing novices, appreciation for the art is taught with equal consideration for safety and teamwork.
"The first thing we go over is safety," he says. "We show them how hot everything is, and remind them never to pick anything up off the floor. Anything. Those furnaces run about 2,300 degrees, and even if there's a really cool-looking piece on the floor, you gotta assume that everything's hot.
"And then we demonstrate," Joel continues, "and Logan and Andrew and I work as a team. Three people is best. There's the gaffer - the designer who makes all the decisions. And then you have one person giving air, and another who's either holding tools or taking these wooden paddles and shielding the heat ... . And everyone needs everyone. And we always say 'please.'
"Then we split the kids into groups and let them switch roles, so they get each experience, and that's when they really learn, 'Okay, these kids you're working with? They're counting on you. You can't fall asleep on them. You have to be ready to help.' It's all about being a team.
"One of my favorite sayings is by [motivational speaker] Zig Ziglar: 'You can have everything in life that you want if you would just help enough other people get what they want.' So we've tried to use that message. 'If you want people to help you, you have to be able to communicate with them properly, and you have to be nice to them.' We really work on that. And they realize that."
Yet while the Rysers hope to continue their free courses for students, the materials used, of course, do cost money. Funds for these programs will consequently come not only through grants, but through fee-based instruction for the public - with Hot Glass currently offering two-hour private courses and classes for couples - and corporate team-building programs for area businesses. Plus, says Joel, commissioned artworks will likely bring in added revenue.
"Once we start having more classes," he says, "hopefully we're gonna be able to get some high-school kids that catch the glass bug - that get hooked on it and say, 'I want to come back and help.' And when that happens, we're gonna put 'em on what's called our 'Glass Team.' The Glass Team is gonna be made up of students who want to spend extra time here at the shop as apprentices, and will help us with commissions, like if a hospital or a casino wants to commission us for one of those big chandeliers. It takes a team of people to make that.
"But we also want to be able to let the students make their own things," Joel continues. "And once they accumulate some art of their own, we want them to be able to go to the farmers' market and have a booth, and be able to sell their stuff. We want to give them practical experience in business, as well. Because you can make things that are attractive, but what are you going to do with it when you're done?
"Even if the kids don't end up being professional artists, they'll definitely end up with some skills here. I mean, you can come in and learn something cool, but as you walk out, you're gonna realize you learned about a little bit more than glass."
Hot Glass will host an open house on Friday, July 25, beginning at 5:30 p.m., and more information on the company is available by calling (309)236-9223 or visiting HotGlassArt.org.