Through Tuesday, January 2
Quad City International Airport Gallery, 2200 69th Avenue, Moline IL
Works by three gifted Midwestern artists who employ traditional homemaking skills such as sewing, knitting, and embellishing to create higher artforms will be on display at the Quad City International Airport Gallery through January 2, with the gallery's latest collection boasting knitted portraits by Faith Humphrey Hill, art quilts by Cheryl Lennox, and beaded sculpture by Michelle Williams.
Faith Humphrey Hill presents an optimistic view of technology's impact on human identity and relationships through her knitted portraits of strangers. In her work, she finds the commonalities between all of humanity. Humphrey Hill employs knitting, a form of binary code, to symbolize our interconnectedness through its continuous fiber flow, utilizing both new and modified machines. Her artwork bridges the gap between the organic and inorganic, revealing a profound reflection of the modern human experience.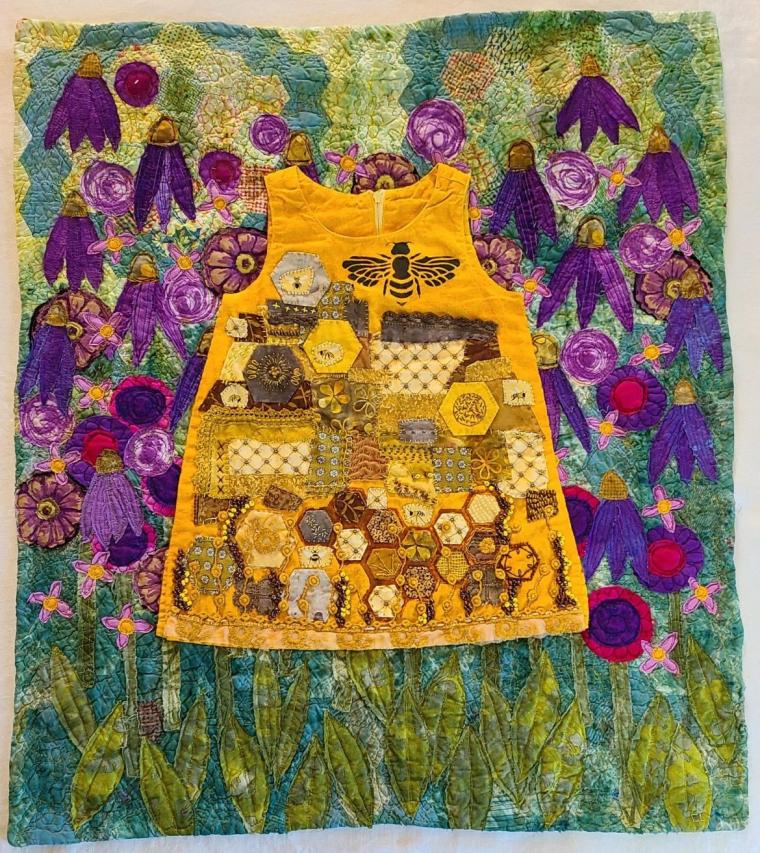 Cheryl Lennox, an artist with a profound dedication to environmental consciousness, presents her Addressing the Earth series – a collection of repurposed clothing delicately integrated into quilted backgrounds. Her passion for traditional sewing techniques, coupled with an advocacy for sustainable practices, shines through Lennox's meticulous layering of fabrics, stitching, and natural dyes, inviting viewers to contemplate urgent global issues such as climate change and fast fashion.
Michelle Williams is a mixed-media fiber artist currently exploring beaded sculpture, and her art is a continuous internal exploration, using glass beads' reflective nature and historical significance. She employs beading as a medium, recognizing its unhurried process as an avenue for introspection, enabling her to delve into the intricate layers of human experience. Williams' sculptures are intricately layered and often feature quartz crystals, infusing them with a compelling energy. Along with those of Humphrey Hill and Lennox, Williams' pieces contain messages about our connectedness to each other, the earth, and our history.
The Quad City Arts International Airport Gallery is located opposite the airport's gift shop and restaurant, there is a $1 fee for parking, and more information on the Humphrey Hill, Lennox, & Williams exhibit on display through January 2 is available by calling (309)793-1213 and visiting QuadCityArts.com.