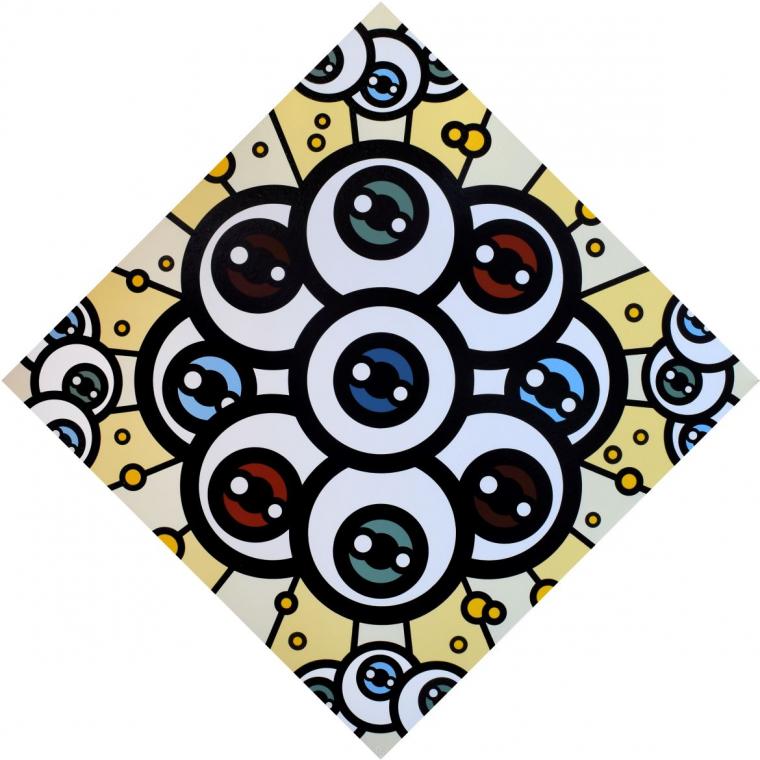 Through Saturday, September 30
Voices Studio, 1585 Central Avenue, Dubuque IA
Through September 30, Dubuque's Voices Studios is pleased to present two solo exhibitions that entice the viewer to drawn on their experiences, ideals, memories, and glimpses from the past through Imagination, featuring the abstractions of Amy Carani, and Mural Microcosms, a collection of photographic works by Becky Sisco.
Amy Carani began painting precise, geometric, and colorful abstract artwork on square canvases with pop-culture influenced themes about 25 years ago. From the beginning, Carani knew she wanted to produce clean and precise paintings with a bold visual impact, and consequently developed a painting system that consists of rulers and compass bows to assist in her desired precision. The final step in her painting process is painting the black outline edges freehand with a small brush. Most suspect the use of tape or masks to create the black outlines due to the precise nature of her paintings, but this is not the case.
Pop culture is a common ground that the artist share's with many. Visual art as a whole does not have the mass appeal of popular culture. To have visual art accessible, Carani adapts popular cultural references by abstracting the themes onto canvas with the solid blocks of color and sharply defined black acrylic paint lines guiding the visual story. When connecting pop culture themes and the colorful geometric painting style, the artist creates an easy accessibility for those that may not be familiar with abstraction in visual art. The accessibility also generates a positive impact for the art community by creating new art enthusiasts and collectors.
Becky Sisco has been passionate about photography for more than 50 years, and she can lose herself in the colors, textures, and lines – as well as the meaning – in whatever she shoots. The downtown murals caught her attention for their artistic value and for what they said about cultural change in Dubuque and the idea that art belongs to everyone. Sisco reflects, "As a photographer, I wanted to create my own compositions from art that already existed, to collaborate with the muralists in a way, even though I wasn't involved in their process and hadn't even met them."
She was also interested in them from a problem-solving perspective, given that they appear two-dimensional from a distance but are created on three-dimensional surfaces. The muralists incorporated and worked around bricks, windows, fire escapes, air conditioners, vents, and gas meters on their "canvases." So rather than shoot them from a distance, Sisco wanted to get up close and capture their three-dimensionality, collaborating in a way with the muralists who brought new life to downtown Dubuque. Her photos are printed with archival quality ink on canvas.
An opening reception for Imagination and Mural Microcosms will take place from 5:30 to 8:30 p.m. On August 4, with guests invited to meet the artists and enjoy complimentary refreshments. Both exhibitions will be on display through September 30, admission is free, and more information is available by calling (563)590-2533 and visiting VoicesStudios.org.