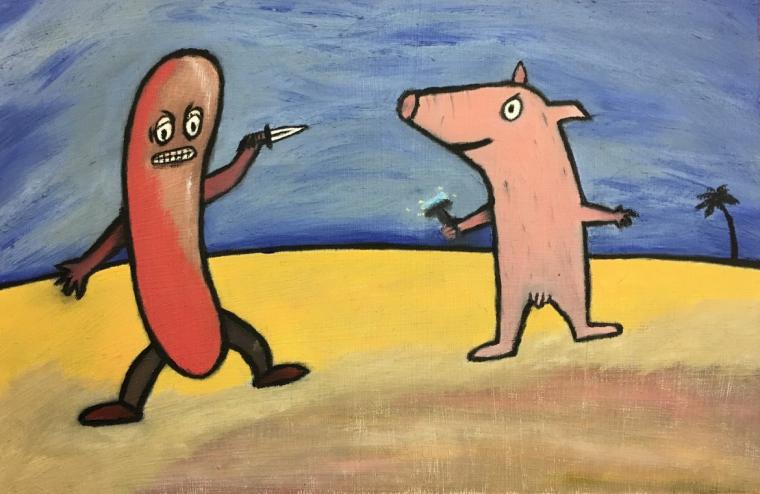 Friday, May 11, through Friday, June 22
Opening Reception: Friday, May 11, 7 p.m.
Quad City Arts Center, 1715 Second Avenue, Rock Island IL
Artworks boasting the strange, the familiar, and the strangely familiar will be on display at Rock Island's Quad City Arts Center May 11 through June 22, with illustrative imagery and bright colors employed to communicate ideas about objects, environments, and concepts in the charming, humorous exhibits Karmageddon, featuring mixed media by David Balluff, and News Anchors with Nabisco, showcasing paintings by Greg Dickinson.
A Bettendorf-based artist, Balluff creates narrative-based works that encourage viewers to journey through fractured scenes of what he refers to as "stolen moments." Composed of paintings, photographs, and other mixed media, Balluff's pieces merge clashing forces within seemingly brief encounters that are both idyllic and odd. As the artist states in his SlowBurn.com biography: "I am especially interested in the intersection of new media, art, communication, and the way that we as a society express cultural truths and fictions. As an artist, my love/hate relationship with mass media has inspired me to graft my own narratives onto familiar plotlines and archetypes as a form of 'cultural counterpoint' to assumed notions of identity, gender, context, and memory. By blurring the lines between certainty and doubt, I create opportunities for the imagination to play."
Inspired by iconic pop master Andy Warhol, the Clinton-based painter Dickinson depicts familiar newscasters, beloved celebrities, and patterns found on name-brand cookies. He explains that his acrylic paintings, which are "filled with a 'weird sparkle,'" are meant to evoke joy in viewers. As Dickinson says in his Facebook.com bio: "I like making people smile no matter what I'm doing. If I can make you smile by looking at something bright and colorful, that's my mission. When you can paint something people know and see in their everyday life, I think that makes them happy. And that's always what I'm going back to … making people happy through art."
An opening reception for David Balluff's Karmageddon and Greg Dickinson's News Anchors with Nabisco will be held on May 11 at 7 p.m., and the Quad City Art Center's gallery hours are Tuesdays through Fridays from 10 a.m. to 5 p.m. and Saturdays from 11 a.m. to 5 p.m. Admission is free, and more information is available by calling (309)793-1213 or visiting QuadCityArts.com.