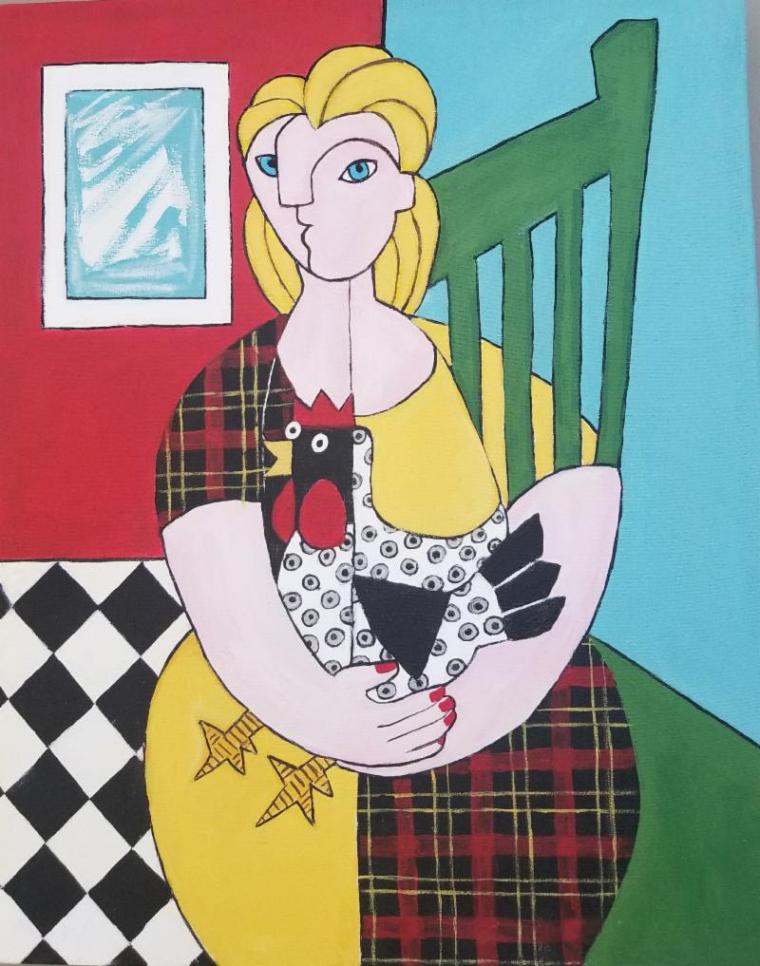 Saturday, December 1, through Thursday, January 31
MidCoast Gallery at Bucktown, 225 East Second Street, Davenport IA
A former Black Hawk College student who studied under famed area artist Jean Tamesia, Kathleen "Casey" Washington will showcase her artworks at Davenport's MidCoast Gallery at Bucktown, with the painter and multi-media artist having prepared three different approaches for the December 1 through January 31 exhibition: "The Essence of Picasso," "Specialized Portraits," and "Art Designed Furniture."
Washington's first approach, "The Essence of Picasso," takes inspiration from the legendary Spanish artist's paintings of Marie-Therese Walter, his mistress and model from 1927 to 1935. Consequently, Washington explores the aspects of the voluptuous woman Picasso portrayed in assemblages of cut wood and acrylic paint.
In the second approach, "Specialized Portraits," Washington paints her model with exacting facial features, but changes that figure with hairstyles, clothing and background settings to tell a story that reflects the facial features and expressions the model displays.
And finally, employing the "Art Designed Furniture" approach, Washington transforms vintage furniture with colorful prints, faux painted tile, wood, tortoise shell, and the like to bring excitement, fun, and color to ordinarily dull furniture. As the artist herself says of these works, "I like to think of the result as your grandmother's furniture on steroids."
Works by Kathleen Washington will be on display at Bucktown Center for the Arts' MidCoast Gallery at Bucktown from December 1 through January 31, with regular gallery hours Wednesdays through Saturdays from 11 a.m. to 6 p.m. Admission is free, and more information on the exhibit is available by calling (563)424-1210 or visiting MidCoast.org.