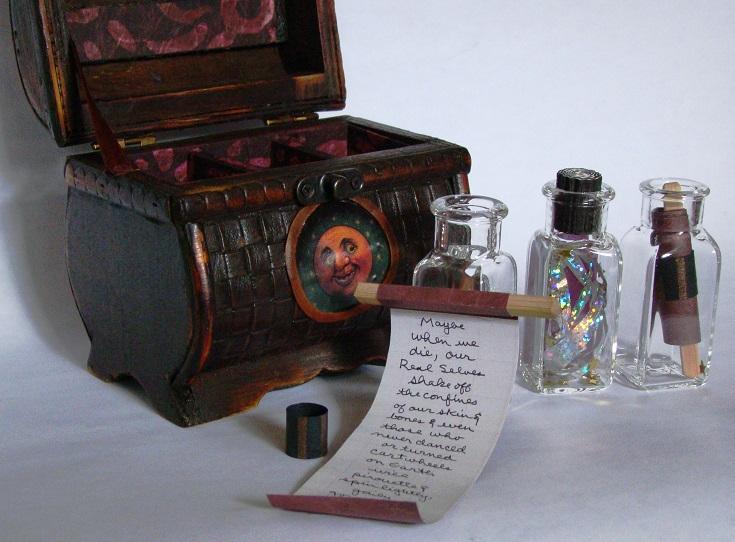 Exhibits: Friday, October 20, through Friday, December 1
Reception: Friday, October 20, 7 p.m.
Quad City Arts Center, 1715 Second Avenue, Rock Island IL
Artworks by a pair of Iowans will soon be on display in Illinois, as Rock Island's Quad City Arts Center hosts exhibitions of photography by Bettendorf native Mike Leinhauser and mixed-media collages by Kathy Svec of Ames.
Leinhauser, who has taught adult-education art courses through Scott Community College and Lincoln Center for the Arts, presents his photography exhibit Observations Along the Road of Life: A Collection of Photographs from Past to Present. Encompassing landscapes, portraits, and stills that reflect the people and places that have caught the artist's eye over the past 40 years, Leinhauser's works capture and document images including fog on a river, frost on weeds in a ditch, the texture of a pear, a wilting sunflower, and a lone tree off Davenport's Credit Island. The displayed works, selected among Leinhauser's favorites, will include black-and-white as well as color photographs.
A retired marketing coordinator who spent 32 years working at Iowa State University and a two-time president of the Ames Community Arts Council, Svec will debut her mixed-media exhibition Boxed Books. Her assemblages in deep frames and boxes incorporate hand-bound books, photographs, postcards, calendars, and similar message-delivering formats that showcase text gathered from fiction and non-fiction books. Svec's assemblages, meanwhile, illustrate the words, and as she explains in her artist statement, "There is always required reading at my shows!"
The opening reception for both Leinhauser's Observations Along the Road of Life and Svec's Boxed Books, featuring complimentary food and beverages, will take place from 7 to 9 p.m. on October 20, and admission is free. For more information on the exhibits, call (309)793-1213 or visit QuadCityArts.com.