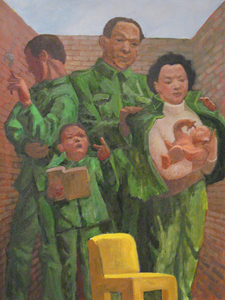 The centerpiece of the current two-person exhibit at Quad City Arts is a collection of four paintings recalling Peter Xiao's childhood in China.
From an artistic perspective, Xiao is rendering people more conventionally in terms of both figure and color, said Les Bell, the other artist in the show. In the past, he said, Xiao worked in a "cubistic" space, bending figures and objects and colors to meet the formal needs of the piece.
Bell called Xiao's use of color in these new works "smoldering," and said: "It's a much more complex level of narrative than I've ever seen in his work. ... I'm completely charmed by the drama of these scenes."
Bell also said that "you'd swear he was working from models to get these individual personalities."
But these works come from memory, and Xiao -- a professor at Augustana College -- said that "I sort of turned [auto]biographical for the first time. I always worked with the figure but was usually shy about putting myself there, because you want to be objective about things."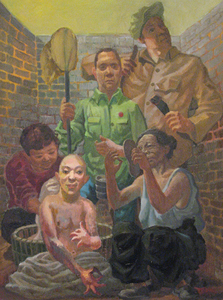 The paintings show four families who shared "a compound, a courtyard with my family" when Xiao was 10 years old, he said. One father is in the military, one is a police officer, one is an engineer, and one is a worker. (Xiao's parents were writers, and, like the educated engineer, they were persecuted.) In a way, the compound was a microcosm of China, with "the pillars of the society, ... forces that moved the country forward" sharing quarters with intellectuals who were shunned.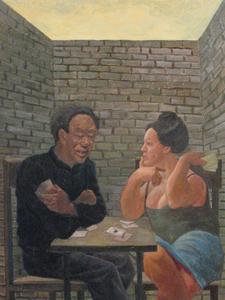 Each painting shows a family in a cramped recess, and as Bell noted, each figure has a distinct character. The light and backdrop differ for each family, a subtle indication that the favored families got the preferred northern part of the courtyard, Xiao said. Although one might expect the content to be politically charged and a commentary on Communism, it's surprisingly evenhanded. There's a humanity and ambiguity and dignity about each person.
Bell's work is more a continuation of longstanding themes. As the artist -- a professor at St. Ambrose University -- explained: "My subject is growing up, maturing, creating a personality for yourself or having it created for you, societal stereotypes as they interface with personal choice, and I've chosen to embody that humanly evolving process in women and girls, because it interests me more."
Xiao said these paintings "are more forthcoming than some earlier works" and bring forth "a sexual element that's always been there in his work."
That's most apparent in Woman at a Cave Entrance, in which the figure at the center of the work is lifting her skirt to expose herself. Her expression is matter-of-fact, not suggestive or even defiant.
It might seem strange for a man to make such a work, but Bell said his interest in female identity was a function of his first child being a girl: "Learning about parenthood through her. ... I was seeing so many things for the first time." He agreed with the assessment that his work aims for empathy rather than objectification, and noted that sexuality is a critical element of a person and can't be ignored or censored as an artistic theme.
Yet he acknowledged that the piece has made some viewers uncomfortable, particularly in the way that the subject appears to be showing herself to the audience.
"The kind of discomfort I would be proud to own is the kind that brings up a more open dialogue about the place of sexuality in society, the way it can be looked at as a gift, the way it can empower somebody ... ," he said. "I think there's too much showing of it and not enough talking about it."
Bell said the cave -- suggested through the framing of the woman -- is the real audience, with areas of indigo and other colors to the woman's right and left hinting at its own riches.
Woman at a Cave Entrance is the most direct painting in the group, but elsewhere one can see the theme of identity played out in different ways. Lost in the Process, for instance, shows a young woman in a painting studio, depicting her future self.
Family Photograph is a grouping of five women of various ages intermingled with a deer, a cartoon-ish bunny, and a teddy bear, with a transition from woods in the background to a domestic setting in the foreground. The female faces range from blue to pink to orange, yet nothing about those choices seems off.
"I like being able to control the psychological emotion" through color, Bell said.
"The value structure is always Les' strength to me," Xiao said. "I always struggled with the dark and light relation, and the color relation, and how the two can go together. When they went together, I considered it a stroke of luck. ... I really enjoy the way he has this great, natural sense of color proportions ... ."
Bell returned the compliment, saying that Xiao's "figures seem to contain light, and it just kind of glows inside of them."
The Peter Xiao/Les Bell exhibit runs through Wednesday, November 25, at Quad City Arts (1715 Second Avenue in Rock Island). For more information, visit QuadCityArts.com.