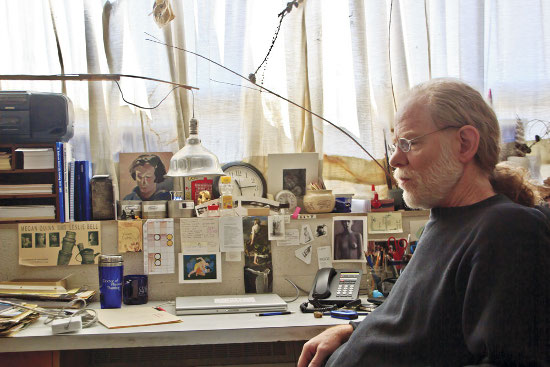 One minute, St. Ambrose art professor Leslie Bell is talking about his paintings - mostly allegorical scenes featuring women and girls. The next minute he's talking about his students - especially the female ones - without having shifted gears.
"On a really basic level, I'm trying to kindle a spark of quirky individuality in each person I paint," he said in an interview last week. "I don't want them to come across as generic. And ... through body language, environment, to a lesser extent facial expression - because my characters tend to be a little bit on the deadpan side - even fashion or dress ... I want to communicate a kind of self-made-ness."
He then says he doesn't want to be cheesy - the simplistic idea that girls can be carpenters or play chess: "I want it to be more what we deal with everyday in the studio, which is following what you're interested in, sort out the 'should' voice in you ... , acknowledge that there is peer pressure and that there are societal pressures and that there are laws, but then make as much use of the freedoms that you have to cultivate your interests, develop your interests, don't be ashamed to be an intellectual, fight me as a professor ... ."
One can see that shift happening even more quickly here, in a single sentence: "I want my work to be really affirmative of women's and girls' abilities to create themselves, to stick to their own ideals, to find ways of proving to whoever might be skeptical of what it is to be a woman artist or just a woman that there are as many paths to maturity as there are people attempting to mature."
This conflation is illuminating, as Bell's artistic interest in female experience and identity seems inseparable from his teaching responsibility to help young artists develop their own voices. He notes that well over half of the students in the St. Ambrose art department are women, and it's easy to infer that his painting is akin to homework, a way to develop empathy and connections with his female students. They're also a way of leading by example, of showing through art a path to authenticity.