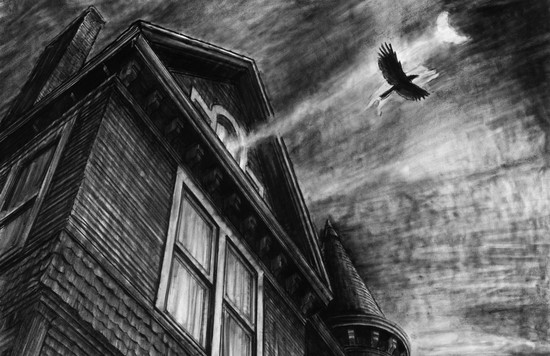 It is with a laugh that Bruce Walters says, "There's no lightness in me."
Walters, a professor of art at Western Illinois University, was at Quad City Arts discussing Halloween Flight, an imposing collection comprising five distinct bodies of work employing autumnal motifs: a story of drawings from which the exhibit draws its name; selections from his Changelings series of drawings of masked people; a pair of lenticular prints (which create the illusion of motion based on the viewer's changing perspective); 15-foot-tall banner paintings under the title Sentries; and the Vultus projected video of 100 mask photographs.
His next project? A series based on the Tibetan Book of the Dead.
Walters might claim that he's obsessed with the dark imagery associated with Halloween - with its origins in the change of seasons from summer to fall, the ancient belief that spirits could enter the world of the living during this transitional period, and fall celebrations of the dead.
Yet one only needs to look at the variety of themes invoked in the work to see that Walters is more interested in exploring the fullness of the holiday than one particular aspect of it, and that it's not all darkness. The Halloween Flight story is simple, nostalgic, and quaint - Walters called it "idyllic" - using a child's vocabulary of motifs (a black cat, the moon, a graveyard, a ghost, trick-or-treaters) in evocative, lovingly detailed drawings. At the other end of the spectrum is Vultus, quietly sinister in its sequence of stark, high-contrast photos of masks, disturbing in both its vividness and inscrutable blankness. (In addition to being shown inside Quad City Arts for this exhibit - which runs through November 19 - Vultus will be projected outdoors at the Figge, Quad City Arts, and three other locations over the next few weeks.)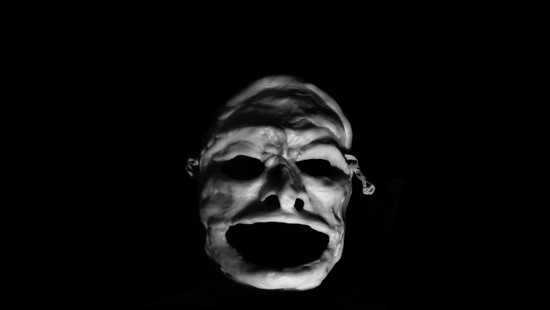 In between the tent poles of those comparatively large-scale projects is nuance. The handful of Changelings images shows the joy and freedom of costumes and dress-up along with the ability of masks to obscure and project identity and intent. The two Sentries in the Quad City Arts gallery are at once playful and forebodingly majestic, with the erect postures of the costumed guardians contrasted with the classic orange-and-black color scheme of Halloween. And in the two lenticular prints - in a style familiar to anybody who consumed much Cracker Jack as a child - the inherent kitsch of the medium is balanced by striking artistry and scale, while the content is similarly poised between gravity and fancy.

The 55-year-old Walters doesn't ascribe any deep meaning to his love of Halloween. "I liked it as a kid," he said. And he acknowledges that holidays generally and Halloween in particular aren't considered "noble" artistic subjects.
But Walters said he thinks that's an artificial construct of taste - of seeing holiday subjects and themes as lower-class or "common." "I've tried in my own way to not fall victim to that," he said.
The breadth and depth of the work in the Halloween Flight exhibit provides ample evidence of the richness of Halloween. Beyond the obvious touchstones of death, spirits, masks, harvest, night, and superstition, Walters excavates fresh ideas and concepts and clarifies familiar themes.
The Halloween Flight series starts with the black cat positioned with the moon, suggesting the classic yin-yang symbol. The series is not about light or dark, Walters said, but "how they're together to create a whole. It's life and death, it's the known and the unknown." Throughout the story, the cat and moon are shown in relationship to each other.
Portals are a recurring theme in the series, reinforced by the Sentries that flank Halloween Flight. After encountering a ghost, the cat leaps through a window and begins its flight, a narrative surprise that creates a tension between the overtly supernatural and Walter's realistic depiction of space (with many real Quad Cities locations meticulously re-created) and time (with the moon following its proper path over the course of the night). Transformation - implicit in the mask-related artwork - is here naturally integrated into an otherwise grounded series.
"I told a very simple story," Walters said. "What I wanted to do was create a story that had a lot of the maybe obvious things of Halloween in it - the black cats and that - and yet, if you look at the story, it at least hints at something deeper."
Halloween Flight treats its otherworldly elements in a matter-of-fact manner, and Walters has consciously avoided making the story in any way frightening. A cemetery is calm and peaceful - "I let the dead stay buried," Walters said - and while that conflicts with the contemporary horror bent of Halloween, it's appropriate to one of the holiday's roots as an occasion to honor the dead.
In its full form, Halloween Flight includes 30 images, and it took several years to plan and a half-year sabbatical to execute. "It took a focus that I've never had before," Walters said. "But I found such depth in the story - not just this story, but the whole Halloween thing."
Vultus is a different monster entirely, and its tone is in direct opposition to the comforting Halloween Flight. The often monstrous imagery - Walters calls a Michael Jackson mask the scariest - is amplified by the presentation and ambiguity; it's a compelling, provocative, and single-minded piece, but its purpose is gnawingly elusive.
All but three of the photographs have had the color removed, and the eyes of each mask have been lined up, creating a creepy sameness. The masks - from roughly a dozen artists and a dozen collectors - range from cultural to pop-cultural and include everything from tribal-style works to an unintentionally grotesque Mickey Mouse mask from the 1920s to creations by Slipknot's Shawn Crahan to a David Bowie life mask to a piece based on Killer Klowns from Outer Space. "We're not high-minded here necessarily," Walters said.
Vultus grew out of the Changelings series. Rather than only draw from photographs, Walters decided to use the photos themselves.
Masks are naturally powerful. Walters described the fleeting fear he felt with his son: "He put a mask on, and for one moment, there was a stranger in the room. And you didn't know what that person's thoughts were. And they'd walk toward you, and even if in your mind you knew who they were, there was this tendency to step back. There is something about a masked person that is frightening."
The name Vultus is Latin for face and faces, and Walters said he likes the double meaning, encompassing the singular and the plural. It speaks to the allure of masks, of temporarily changing who or what one is. "There's a persistence of a face behind the mask," he said. At the same time, "it's almost like these are the faces humanity wants to project. ... In many ways, we're saying who we are."
Bruce Walters' Halloween Flight exhibit at Quad City Arts runs through November 19, with a 7 p.m. reception on Friday, October 29. The show also features sculptures and masks by B. Thomas Lytle.
Vultus will be projected at the Figge Art Museum on October 28 (6 to 11 p.m.) and October 31 (6 to 8 p.m.); at Quad City Arts on October 29 (6 to 9 p.m.); at Iowa City's United Action for Youth Center from October 29 to 31 (dusk to dawn); at Macomb's West Central Illinois Arts Center from October 21 to 23 and October 28 to 30 (dusk to dawn); and at Peoria's Contemporary Art Center on October 29 (7 to 9 p.m.).
For more information on Halloween Flight and other Bruce Walters projects, visit HalloweenFlight.com and Bruce-Walters.com.