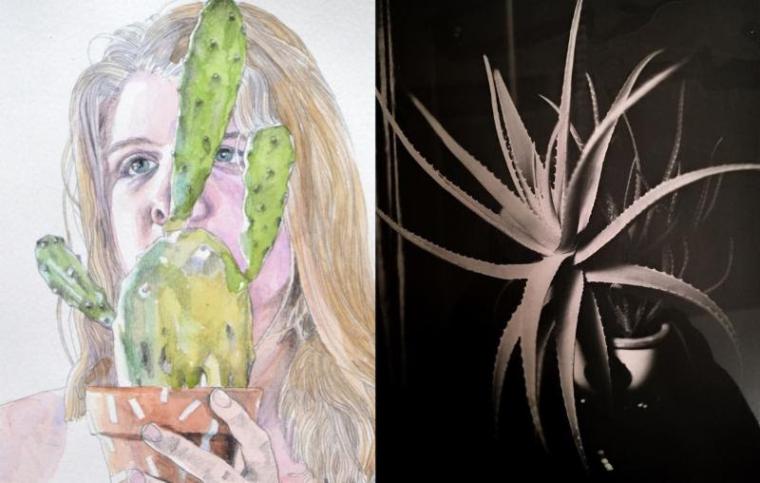 Saturday, December 1, through Thursday, January 31
Opening Reception: Friday, December 7, 6 – 9 p.m.
MidCoast Gallery West / The ARTery, 1629 Second Avenue, Rock Island IL
Works by a trio of exceptional area artists will be on display December 1 through January 31 at MidCoast Gallery West / The ARTery, with the Rock Island venue housing watercolors and drawings by Jeanne O'Melia, figurative drawings and paintings by Erica Parrott, and large-format photography by David Turner.
O'Melia previously studied art at Iowa State University, Augustana College, and The Clearing in Wisconsin, and as the artis states, "Art for me is an avenue through which I can bloom. Growing up on a farm, I learned to love nature and all her bloomings. Experiencing nature, being a part of it, caring for it, anchors me in the stream of life." While traveling extensively throughout the world, O'Melia makes ink line drawings or paints watercolors on location, and her drawings from travels and at home become her inspiration for cyanotype prints, acrylic paintings and found-object sculptures.
Additionally, O'Melia creates large figures in papier mâché, and about 20 years ago, began making sculptural figures from found objects by brazing metals together. As the artist states, "Sculpting with found metal objects is one way of caring for the earth. The ore has been taken from the earth. Fire, another member of nature's family, turns the ore into a tool or toy, which is consumed, broken, and ultimately, discarded. Its use a second time in sculpture is a gift to nature, a humble apology for the way our natural world continues to be misused. It is an expression of hope and possibility."
Erica Parrott's figurative paintings and drawings are informed by strong guiding principles about body politics and traditional standards of beauty. A graduate of the Milwaukee Institute of Art and Design, she believes that mass-media pressure distorts our sense of beauty. "What's real is the most beautiful," says Parrott. "Specific noses and chins that are passed from great-great immigrant uncles; bodies the sight of which ground us, clearing a space to step out of the marketers' projection and back into our lived reality."
For her MidCoast Gallery West exhibition, Parrott is teaming up her works with photography by David Turner, a recent transplant from Sioux City by way of Iowa City. She describes how her watercolors and his analog, large-format photography work together to create "vulnerable, unconventional portraits, elevated plants, earthy babies … . We even use the same models!"
New works by Jeanne O'Melia, Erica Parrott, and David Turner will be on display at MidCoast Gallery West / The ARTery from December 1 through January 31, with an opening reception for the exhibits taking place on December 7 from 6 to 9 p.m. Regular gallery hours are Wednesdays through Saturdays from 11:30 a.m. to 5:30 p.m., admission to the galleries is free, and more information is available by calling (563)424-1210 or visiting MidCoast.org.