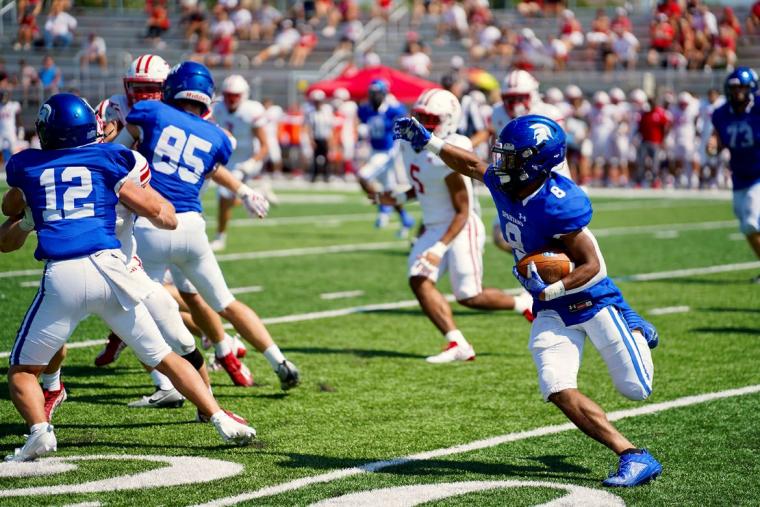 Through Friday, September 29
University of Dubuque's Bisignano Art Gallery, 2255 Bennett Street, Dubuque IA
Offering visitors the chance to experience what it's like being in the front row of Spartan athletics, the University of Dubuque's Bisignano Art Gallery will house Photo Finish: Sports Photography at UD through September 29, this special exhibit timed to coincide with the beginning of the new school year and, of course, the start of collegiate football season.
Photo Finish: Sports Photography at UD will celebrate men's, women's, and co-ed sports at the University of Dubuque with more than 80 images on display. Photographers include Hannah Bauch, a junior digital art and design major from Mount Carroll, Illinois; Noah Bullock (class of 2021), coordinator of the Bisignano Art Gallery; Mike Burley, of Mike Burley Photography; Brandon Heckendorf, graduate assistant for sports information; Alex McCombs (class of 2020), assistant director of sports information; and Paul Misner, director of sports information. UD is a member of the American Rivers Conference (A-R-C), the Midwest Lacrosse Conference, and the Northern Collegiate Hockey Association. The University competes in the NCAA Division III, which is the NCAA's largest division, with 433 active schools and 44 voting conferences.
Today, UD has more than 650 student-athletes and supports 23 sports, as well as two non-NCAA affiliated teams. The newest additions to athletics are women's wrestling and men's and women's hockey. Says gallery director Alan Garfield, "Sport is such an integral part of the University of Dubuque experience that I am just a bit surprised that it has taken this long for us, in the art gallery, to recognize the obvious – men and women playing sports at UD makes for some great photo experiences."
The mission of the Charles and Elizabeth Bisignano Art Gallery is: to serve University of Dubuque students, faculty, staff, and the surrounding community by bringing diverse exhibit to campus; to support the mission of UD by connecting visual arts to other disciplines via educational programming and collaborations; and to promote UD to the tri-state area and beyond by welcoming the public to attend (in person and virtually) the exhibits. The Bisignano Art Gallery is the programming arm and primary resource for the Digital Art and Design Department. The gallery features at least 10 original, in-house curated exhibitions per year. It also serves as the primary display space for students and faculty on campus, providing opportunities through juried student shows, Senior Thesis exhibitions, and faculty shows.
Photo Finish: Sports Photography at UD will be on display at the University of Dubuque's Bisignano Art Gallery through September 29, with regular gallery hours noon to 5 p.m. on Monday through Friday. The gallery is also open in conjunction with all major events held in the John & Alice Butler Hall of the university's Heritage Center. Admission is free, and more information is available by calling (563)589-3267 and visiting DArt.dbq.edu/gallery.