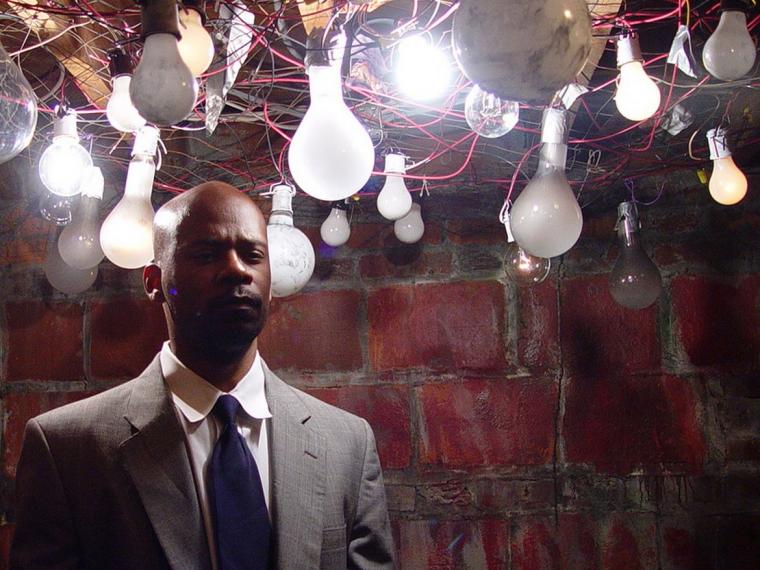 If you visit the Figge Art Museum to see Jefferson Pinder's exhibit Ghost Light (see our review here), the artist will be satisfied if you leave enlightened. Or thoughtful. Or angry. Or confused.
He'll also be okay if you see the neon sign reading "Colored Entranced" and choose not to enter the gallery.
"I've seen people walk to the front door of the exhibition, look at it, and walk right out without going in," the Chicago-based artist told me in a phone interview last week. "They're like, 'This ain't for me.' That is a reaction. That is just as legitimate as spending a few hours in the space."
Of course, Pinder hopes that people will walk through the gallery door and spend some time with the handful of works inside.
"It's really about what level of engagement people want to have," Pinder said. "How much do you want to get involved? ... Do you want to look at those individuals on the TV screens and spend time looking at each individual? And maybe begin to determine which ones are professionals versus the ones that are gang-bangers?"
He's referring to the piece Hairstyle, a collection of 16 television sets with each one showing a different individual who just got his hair cut at Joe's Barber Shop on Harrison Street in Davenport. "The best and worst come through that barbershop," Pinder said.
The prominence of Joe's Barber Shop in the exhibit – represented by Hairstyle but more obviously in the re-creation of Joe McLemore's barber station in the gallery space – illuminates Pinder's approach to the show.
"Initially, I wasn't quite sure if I was going to show some older work and some studio work," he said. "But it became obvious that they [representatives of the Figge] really wanted to do a project interacting with the community. ...
"It's a bit of a double-edged sword," he added. "On the one hand, you want to make something that's uniquely your own. But at the other extent, you also want to get to know the community a little better."
The problem, he said, was that "I knew very little about Davenport." He did online research for a couple of months, but his conception of the show "was kind of stagnant for a while. Something like this demands ... time in the community. ...
"Gradually, I met a couple gatekeepers – people in the community who seemed to really be well-informed. And I was like, 'You know what? This exhibition has to be different than what I would necessarily want to do. Rather, it has to be highlighting individuals in the community that are doing work.' It quickly shifted."
Pinder said he spent time with Virgil Mayberry, McLemore, and Gaye Shannon-Burnette – the last two of whom will be spotlighted in Ghost Light performances on April 1 and May 5, respectively.
"I wanted to put the emphasis on these individuals," Pinder said. "They've been around for a minute. ... And all of them can tell you various different things about what it's like to be black in the community. ...
"What is more important? Was it that Jefferson Pinder had a show in Davenport, Iowa? Or would it be more important if the people in the community had an exhibition that really was about them? That they could get on stage, and they would have a platform? ...
"I became a facilitator. ... I didn't feel that lessened my role at all. That was creating a context in which community voices could be seen in a different light. ...
"You want to know about blackness in this community, I'm not going to pretend to tell you I know. But I can tell you about Joe McLemore."
Those connections with people in the Quad Cities were "really beneficial," Pinder said. "I think everything began to change. But unfortunately I was running out of time. ... I began to really sink my teeth into what this community is all about, but that was [only] six months ago. ... It was showtime."
Given that Ghost Light deals with issues of race, "there's a strong social component to the work," Pinder said. "But on the other hand, I had to try to understand: Where can the poetry come into it?"
The combination of social issues and poetry is most obvious in that neon sign, Colored Entranced. Pinder said both Maybrerry and McLemore told him about segregation signs in the Quad Cities, although "there's this perception that they didn't exist here in Iowa."
But rather than simply placing a replication of one of those signs in an art museum to re-contextualize it, Pinder added the letter "d" to "entrance."
"I thought about this fascination with blackness," he explained. "I wanted the sign to be something that had a duality. On the one hand, if you weren't really looking at it, it was a 'Colored Entrance' sign. But you took a second, it's more about 'What is it like to find out about the other?'"
The alteration, he said, was intended as "a way of creating a bit of a buffer. But this history kind of comes into it and subverts the work itself, the piece."
History is also unavoidable in Invisible Flag, which seems to have a blunt political message by having the Iowa flag mostly cover a painted-white Confederate flag.
But Pinder's explanation of the work makes it richer and more nuanced: "That piece is inspired by a Confederate flag that hangs every day right off of Brady, ... [near] Green Thumbers. ... I asked some people about the flag, and nobody saw it. And I thought it was really kind of fascinating. So I'm in Iowa, and there's a Confederate flag hanging in a mixed neighborhood, and I went literally to the woman right next door to that house and I said, 'What do you think about that?' And she's like, 'What?' And I said, 'That flag.'" She'd never noticed it.
"And then I asked people at the museum. I said, 'Can you guys do me a favor and ... take a picture of the flag?' And they were like, 'We can't find it.' ... It drove me crazy. I kept pointing this out, and I was like, 'Maybe I'm the only one seeing it.'
"And then I began to see them a lot more. I see them on cars. ... I saw one on a Harley-Davidson. ...
"It's like there's a certain invisibility. Maybe folks aren't connected with it."
While Colored Entranced and Invisible Flag will, by their natures, create discomfort for both white and black patrons of the museum, Pinder's goal with Joe's Barbershop was to build a welcoming space for McLemore's April 1 performance.
The artist said: "I thought, 'Wouldn't it be great if we could take a barber shop and drop it in a museum?' The installation was: How can I make this as comfortable to Joe as possible? Because it is his space. I'm creating a space for him to be himself in the museum."
He said he started with a larger design, but "then I realized what was most important was Joe's chair." Working with Figge curator Andrew Wallace and local artist Steve Banks, Pinder created a chair that was "more a throne – somewhere between Captain Kirk's chair and some kind of monarchy throne. It had this presence."
All of the clippings and certificates on the mirror, he said, are reproductions from McLemore's shop. "This is all for the performance," Pinder said, adding that he was "just trying to capture the essence and not trying to disrupt that."
The museum setting is somewhat detrimental to the carefully crafted environment of Joe's Barbershop. The prohibition against exploring the installation – sitting in either of the chairs or just getting close enough to inspect the documents and pictures taped to the mirror – literally keeps visitors at a distance, and prevents them from truly feeling the space.
Ghost Light also suffers at times from an avoidable lack of context. Several pieces resonate without explanation, but the blank televised faces of Hairstyle were, to me, inscrutable. It's not clear from the piece (or the label) that these are customers at Joe's Barber Shop – a tiny bit of information that would have tied it to the barber-shop installation across the gallery and enlivened both works – without prescribing meaning.
Pinder said, however, that comprehension is overrated: "Too much value is put on if someone gets something. ... There are things that sometimes you don't understand, but that doesn't mean they have less value. And I think that's the premise of the show." But, he added, "you'll get it if you put the time into it."
Ghost Light's third-floor gallery also seems sparsely populated at this point – which is at least partly intentional. Audio will be added to the exhibit's entrance, Pinder said, and documentation of its three performances will also supplement works before the exhibit closes on June 4. (Pinder stressed that visitors shouldn't expect straight video recordings of those events: "A performance is just that. But the documentation I think we can be really playful with.")
The exhibit will evolve, he said: "That's why there's a closing reception, and not an opening reception. We wanted to allow the show to grow. ... At the end, hopefully it's going to be a different experience, and also people can see how it develops. ...
"There are empty spaces in that gallery that are going to be filled. We're still digging."