Saturday, June 23, through Thursday, July 26
Artist Seminar: Saturday, June 23, 10 a.m. - 4 p.m.
Artist Reception: Saturday, June 23, 4 – 6 p.m.
Bereskin Gallery & Art Academy, 2967 State Street, Bettendorf IA
Paintings and watercolors of richly beautiful nature images – and images found very close to home – will be on local display June 23 through July 26, as the Beréskin Gallery & Art Academy houses the recent works of a Fairfield, Iowa, artist in John Preston: Day by Day.
One of the Midwest's major landscape painters, Preston continues to find new and appealing scenes within one particular county in Iowa. His popular landscapes capture the features of fields, tree islands, fence rows, and ribbons of gravel curving over gently rolling prairie, and the artist has a particular interest in the expansive Iowa horizon. Preston came to the state from Maryland to study in Fairfield, where he earned his BFA in 1984 at Maharishi International University. He began his local painting with the expansive skies and fields of the Midwest, but is currently exploring its rivers, woods, and small towns. As a full-time painter, Preston has participated in many solo and group shows, and his works have been exhibited regionally, nationally, and as far away as Cambodia and Nigeria. They also hang in a wide range of collections, including those of Equitable of Iowa, Pioneer Hi-Bred International, Hubbell Realty, Iowa State Bank, Amoco Oil, and the Brunnier Art Museum at Iowa State University.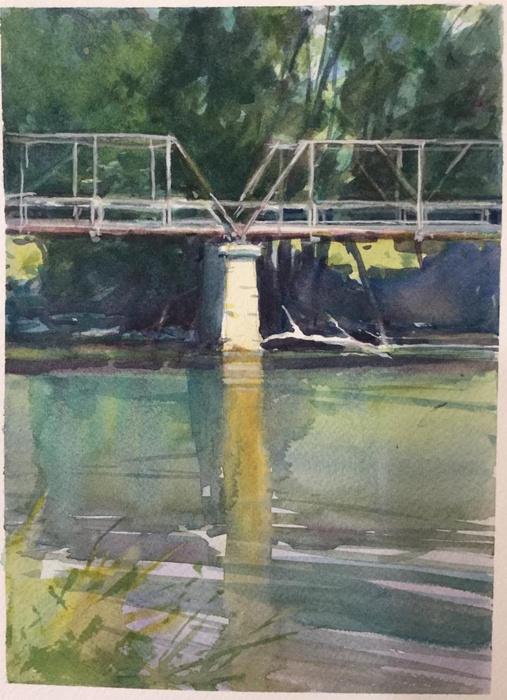 Preston himself will appear at the Beréskin gallery in a pair of June 23 events. From 10 a.m. to 4 p.m., the artist will lead a seminar titled "Sketching in Watercolor," a one-day workshop in which Preston teaches attendees how to record their days and surroundings with easily portable watercolor supplies in a process often called "urban sketching." The artist will also be on hand for the John Preston: Day by Day opening reception, taking place from 4 to 6 p.m.
Regular gallery hours are 11 a.m. to 6 p.m. Wednesdays through Saturdays. Admission is free, and more information on the venu's exhibits, events, and classes in available by calling (563)508-4630 or visiting BereskinArtGallery.com.