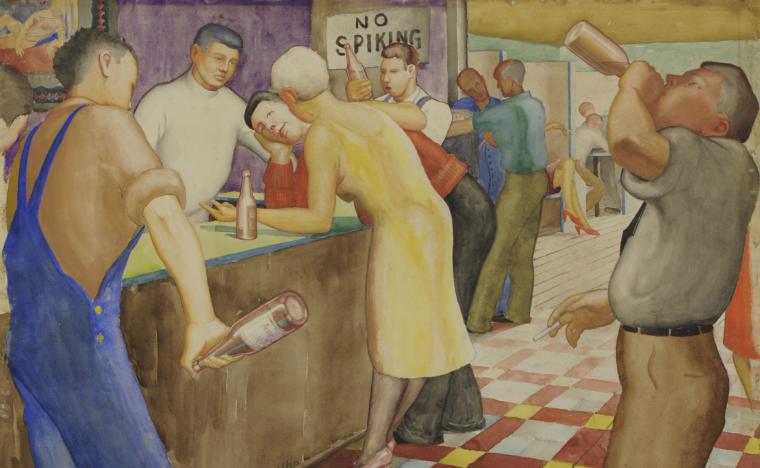 Thursday, March 29, 6:30 p.m.
Figge Art Museum, 225 West Second Street, Davenport IA
Connections between humanity, sustenance, and art will be explored in a March 29 "Thursdays at the Figge" presentation, with the University of South Dakota's Dr. Lauren Freese speaking on "Exploring the Visual Culture of Grains: Selections from Boiled, Baked, & Brewed," an event held in conjunction with the University of Iowa Museum of Art exhibition on current display at the Figge.
Curated by Freese and housed locally through Sunday, April 1, Boiled, Baked, & Brewed explores the visual culture of grains, specifically wheat, corn, and rice – three simple grains that are the foundation of diets around the world. From India to Africa and the Americas, the visual culture of grain production and consumption can illuminate aspects of daily life, technological change, and foundational cultural beliefs, and the visiting exhibit moves from seed to table (or cup), examining the relationship between art and agriculture. While food is often utilized as a marker of cultural difference, Boiled, Baked, & Brewed argues that, at their root, connections between society and agriculture cross geographic and temporal boundaries.
An Assistant Professor of Art History at the University of South Dakota, exhibit curator Freese received her 2011 BA in Art History and Business Administration from Minnesota's Hamline University, a 2013 MA in Art History from the University of Iowa, and her Ph.D. in American Art History from UI last year. Her teaching and research interests include American art history, 19th and 20th Century art history, social art history, interdisciplinary approaches, print and material culture, and food studies, and Freese's published works include Still Life at the Intersection: Louis Lozowick's Politics & Aesthetics and Feeding the Conscience: Philanthropic Food Distribution & Difference in the Popular Press. Her Boiled, Baked, & Brewed exhibition is supported by the Legacies for Iowa Collections-Sharing Project, as well as by the Matthew Bucksbaum Family.
Freese's March 29 presentation begins at 6:30 p.m. and is preceded by a 4 p.m. happy hour, with sandwich baskets available for purchase beginning at 5 p.m. Admission to the lecture is free, and more information on Boiled, Baked, & Brewed and the museum's other exhibits and events is available by calling (563)326-7804 or visiting FiggeArtMuseum.com.