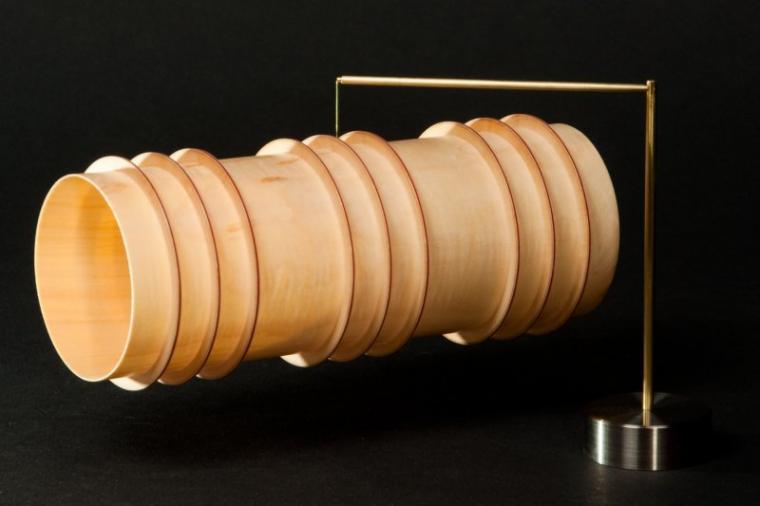 Saturday, February 17, through Sunday, June 24
Figge Art Museum, 225 West Second Street, Davenport IA
Highlighting nearly 30 examples of solo pieces, collaborations, and innovations within the art form, the Figge Art Museum's new exhibition Steve Sinner: Master Woodturner will, from February 17 through June 24, showcase the talents of the Omaha native and Bettendorf resident whose beautiful, hand-crafted works can be found in galleries and collections from California to Ohio to New York.
Having worked with wood as his primary medium for more than 50 years, Sinner has mastered the art of woodturning – the process of fastening wood to a lathe that rotates around a centralized axis, allowing artists to use a series of chisels, gouges, and other implements to carve away portions of the raw wood to create symmetrical forms. Traditionally, this process was used to create furniture legs, tool handles, and other household implements. Sinner, however, is one of a number of artists who use this technique to create finely crafted vessels that oftentimes have walls thinner than an eighth of an inch, transforming rough blocks of wood into elegant forms.
The surface of Sinner's vessels range from meticulously rendered geometric forms based on algorithms to figurative allegories, their designs created from a combination of mediums including acrylic paint, gold leaf, ink, and urethane. Other surfaces are embellished by selectively removing sections of the vessel, producing a screen of perforations that allow light to permeate the form. In addition to his independent work, Sinner seeks out local artists such as Katie Kiley and Joe Meirhaeghe with whom to collaborate, jointly crafting remarkable combinations of form, material, and surface decoration.
An opening reception for Steve Sinner: Master Woodturner will be held at 5:30 p.m. on February 22, with the artist delivering his presentation "An Improbable Journey" at 6:30 p.m., and regular museum hours are Tuesdays through Saturdays from 10 a.m. to 5 p.m. (open until 9 p.m. on Thursdays) and Sundays from noon to 5 p.m. For more information on this and other Figge exhibits, programs, and events, call (563)326-7804 or visit FiggeArtMuseum.org.