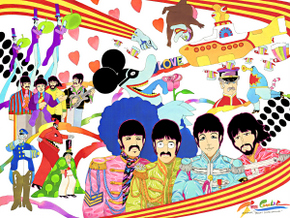 "When I was a child in Australia," says 75-year-old Ron Campbell, "the way you saw cartoons was you went to the movies on Saturday afternoons, which was the way the movie industry catered to the children's audience. We went to see Hopalong Cassidy and Roy Rogers and Gene Autry, but before all that bang-bang cowboy stuff, there were cartoons. And I remember thinking, when I was like seven years old, that Tom and Jerry were real, and were somehow behind the screen running around.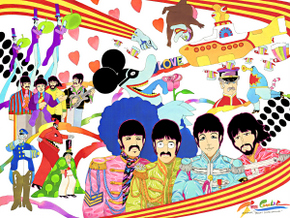 "And then, of course," says Campbell, "I learned that they were actually drawings, which, like all kids, was something I liked doing, too. 'You mean, I can do a drawing, or a number of drawings, and they can come alive?!' And that idea sort of captured my brain for the rest of my life."
Meanwhile, if you or your kids grew up with TV-cartoon characters capturing your own brains, you likely have Campbell to thank (and/or blame). Since arriving in America in the mid-1960s, animator/director Campbell has been an instrumental force on some of the most famed creations in animated-TV history - Scooby-Doo, The Flintstones, Winnie-the-Pooh, George of the Jungle, The Jetsons, The Smurfs, Rugrats - with additional credits on more than four-dozen others. He also worked on animated sequences for Sesame Street and the Emmy- and Peabody-award-winning series Big Blue Marble, and founded Ron Campbell Films, Inc., the studio that TV junkies of my generation have to thank for childhood memories of Nanny & the Professor.
Yet as an artist, Campbell is perhaps best known for his iconic work involving a certain fabulous four from Liverpool, England. Beginning in 1965, Campbell was tapped to direct nine episodes of ABC's Saturday-morning cartoon The Beatles, a half-hour of music and comedy that was the first weekly series to feature animated versions of actual celebrities. And then, in 1968, Campbell was hired by producer/screenwriter Al Brodax to help animate the legendary musical Yellow Submarine, a critical and box-office hit that boasted a Beatles soundtrack and the likenesses of John, Paul, George, and Ringo as its leads.
As evidenced by the excitement generated by the counterculture classic's 2012 DVD and Blu-ray restoration and simultaneous re-release in theaters, Yellow Submarine is perhaps even more beloved now than it was in 1968. And even though he's now retired, and the musicians disbanded in 1970, Campbell's association with the Beatles continues to this day. He now paints and exhibits new renderings of the Fab Four and his other celebrated cartoon figures at galleries worldwide, which Campbell will do during his area visit to Davenport's Bucktown Center for the Arts on July 17 and 18.
"It's really just something I do to stave off the final day that can't be staved off, you know?" says the Arizona resident with a laugh. "I mean, if I'm gonna paint in my old age, what am I gonna paint? Cactus? I like to paint characters. Characters that I worked on."
Cocky Young Lad
Born in the small Australian town of Seymour, Victoria, Campbell says that after his light-bulb moment involving Tom and Jerry, he began to truly apply himself in art. "The biggest praise I got from all the adults around me was how clever I was with drawing," he says. "I don't know, maybe all children are told that. But most kids just sort of grow up and stop doing it, and I never did."
After high school, Campbell says he spent two years studying at Melbourne's Swinburne Art Institute, "but not to get a degree in art. One needs a degree if one is going to be a teacher, but you certainly don't need one if you want a career in art. So I did a couple of years at art school, came out, and got a job at the one animation studio in Sydney."
Campbell says the key to getting that job, which was at the Australian studio of the American animation company Hanna-Barbera, was confidence - laced with a healthy dose of persistence.
"There'd been no call for animation in Australia at all until television came," he says. "And television came to Australia in, like, '56. We were certainly late in coming to television. It was just this magical box in the living room for all of us. And suddenly there was a demand for television commercials - that's how television functions, of course - and with the demand for commercials came a demand for animation. And who can do animation? Why, this bright young shithead just out of art school can!" Campbell laughs. "I was a cocky young lad, you know?
"So I banged on the door" of the Hanna-Barbera studio, "and they said, 'Sorry, we don't have enough work.' Then I banged on the door two days later. 'Sorry, we don't ... . Hey, you were here two days ago! What's the matter with you?!' Banged on the door again. I didn't let 'em go. I said, 'I gotta work here! You gotta hire me!' And oddly enough, they did.
"It's a process I suggest to all young people asking my advice about how to get a job," says Campbell with a laugh. "You know, 'I can't live without working here!'"
Beginning his career in 1958, Campbell was put to work animating, and later directing, commercials for Australian television, and within five years, he made the acquaintance of Yellow Submarine producer Brodax - which, the artist says, "really wasn't hard to do.
"I was already at the leading edge of animation in Australia," he says, "and Al Brodax's company King Features had a production demand for Popeyes and Beetle Baileys and Krazy Kats that they needed doing. They subcontracted to different studios around the world in order to get a bump on production, and they discovered that we were doing pretty nice animation in Australia. So they contacted the studio I was working with, and the studio assigned me to do Krazy Kat and Popeye and stuff."
Campbell amassed numerous animating and directing credits on those short-form cartoons. But Brodax and his company also had an even bigger project on tap: a weekly half-hour series titled The Beatles.
"As with everybody," says Campbell, "you get a job and you do well with it and you get moved up, and you do well with that job and you get moved up. So Al Brodax subsequently pegged me to direct the Beatles TV show because he liked the work that I had done. I'd already been directing commercials and Krazy Kat, and had been animating them, too, so I'd already paid some dues.
"But the big reason I got it [the Beatles job] was because directing in those days, in that place, was a lot more than directing is now in America, or even when I came to America. It was really also being a producer. I had to hire all the people, and calculate how many people were needed, and figure out what the budget would be - it was like doing everything. They were the halcyon days of simplicity, you know?"
Campbell's skill set consequently made him an ideal choice to oversee production on episodes of The Beatles, but the artist says that the original looks for the characters weren't his or his studio's design.
"Those came from London, actually," says Campbell. "King Features sent us a script, they sent us the designs of the characters, they sent us a voice track, and they sent us the Beatles music that was being used. So what we did was the storyboard and delivered to them, nine months hence, a cut workprint, a cut negative, and synched voice effects and music so they could make a release print in New York.
"So basically," he says with a laugh, "if I didn't deliver all this on time, ABC wouldn't have their film, and the shit would hit the fan, and my name would be mud. But in spite of the difficulty, I managed to get everything done correctly."
Many, many viewers would likely agree. Debuting on September 25, 1965, The Beatles earned an audience share of 52 percent - a record-setting rating for daytime television - and remained number-one in its time slot for the series' four seasons and 39 episodes.
"The ratings were incredible," says Campbell. "Through the roof. Every living, breathing child with blood pumping through their veins tuned in on Saturday mornings. And I still don't quite understand why."
Laughing, he says, "Sometimes I'll be doing a show in a gallery and they'll get some pirated prints of the series and run them while I'm there, and I just shudder. They were really low-budget affairs, you know? A way to make money out of children's television in those days. But people just loved it. And you certainly couldn't reproduce that - or anything like that - today, you know?"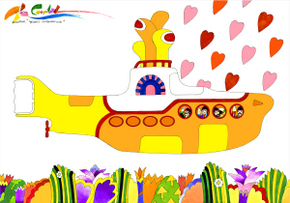 Blue Meanies
The Beatles' enormous success led to Campbell being hired by Hanna-Barbera co-founder Bill Hanna to join their production company in Hollywood. So in 1967, with his wife and young daughter in tow, Campbell says, "I came across the Atlantic with a suitcase and applied for American citizenship."
Campbell was put to work immediately on animated TV series including Moby Dick & the Mighty Mightor and The Adventures of Gulliver, "and we were actually working on the development of a show that I believe you've heard of called Scooby-Doo," says Campbell. "We were also working on George of the Jungle, and I was animating some commercials independent of Hanna-Barbera ... . And then I got a phone call in the middle of the night from Al Brodax.
"He said, 'We need some character animation for Yellow Submarine, and we're having some troubles.' They were producing the movie in London at the same studio that was the main contractor for the TV cartoon show. 'Can you help us out?' And I could. And I did."
Hired to create connecting sequences for the film that would result in about 12 minutes of Yellow Submarine's 85-minute running length, with nearly all of the movie's musical sequences already completed, Campbell worked primarily on scenes featuring the nefarious Chief Blue Meanie. (In other words, Campbell's the one you can blame if that shrieking blue dude gave you nightmares as a kid.) But as a work experience, says the artist, "the film project was totally different from the show.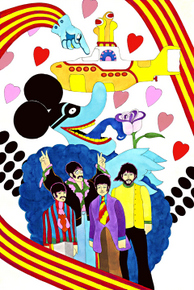 "For Yellow Submarine," he explains, "they sent us storyboards already developed, along with voice tracks. I animated, and some of the animation was also done by my good colleague Duane Crowther, who has now passed away. He was in some respects a better animator than me." With a chuckle, Campbell adds, "I could draw better than him, though.
"So we did key animation, we hired assistants for some of the in-between work, and we shipped pencil drawings back to England, where they inked and painted them, shot them, and slipped those scenes into the film. Almost all of the scenes we did were ones where the Chief Blue Meanie and Max interrelate. And of course, those are some of my favorite scenes.
"I love the final scenes at the end," adds Campbell, "where the Chief Blue Meanie gets surrounded by flowers and they pop out all over. And the sequence where they get older and younger - the 'sea of time' sequence - I did. And early scenes before the credits where the Blue Meanies invade and take the land ... .
"Basically," he says with a laugh, "if you're looking at Blue Meanies and they look great, that's us!"
Of course, part of what makes Yellow Submarine such a memorable animated achievement is that it doesn't just look great; it looks distinctive. Beyond the Beatles' music, most of the film's enduring appeal lies in its wildly colorful palette and psychedelic imaginings that, for many, now represent the signature visual style for animation in the 1960s.
Perhaps understandably, then, Campbell says that when he and his team first received their Yellow Submarine storyboards in 1968, "the design didn't seem unusual to us. The actual 'psychedelic look' had already been established in the mid-'50s by Milton Glaser of Push Pin [Studios] fame in New York. He was a graphic designer - he designed the 'I Love New York' logo - and sort of re-introduced that look from the turn of the century.
"Glaser helped it become popular again, and then it became associated with the hippie movement - 'Make love, not war,' you know. So that look for the film was not all that unexpected. It was brilliant of the English studio to employ it, though, because it's been a significant reason, among others, as to why Yellow Submarine has become associated with the '60s so vividly. And we liked working in that look." It's a look that Campbell, clearly, still likes working in.
Over the four decades between Yellow Submarine and his 2008 professional retirement, the artist has had a hand in some of television's most instantly recognizable animated shows and characters, and when asked if he has a favorite, he replies, "I have one answer to that question: I can't choose between Smurfette and Scooby-Doo, you know? I can't choose between George of the Jungle and the Rugrats. I tried, though my life, to always work on things I liked. Sometimes unsuccessfully - I worked too long on some shows I didn't like at all. But mostly, I've been lucky."
Yet as his continuing portfolio of Beatles-themed artworks attests, Campbell will always have a special fondness for the musicians who inspired his greatest early successes.
"I love the design work of it," he says of his present Beatles creations, "and the potential for really sharp-looking paintings, and for the bright and happy colors ... . You know, I like it when people who buy my paintings come back and tell me, as they frequently do, 'Every time I walk into the room and look at your picture on the wall, I smile.' That's one of the nicest things anybody can say to me."
Ron Campbell will be exhibiting and selling his artwork at Bucktown Center for the Arts (225 East Second Street, Davenport) on July 17 from 11 a.m. to 6 p.m., and on July 18 from 10 a.m. to 6 p.m. Campbell will also be painting new works on-site, and more information on the two-day event is available by calling (563)424-1210 or visiting BucktownArts.com.
For more information on Ron Campbell, visit BeatlesCartoonArtShow.com.