Recently at the Quad City International Airport art gallery, two travelers were bluntly musing about twisting sculptures cantilevered off the display wall. "Normally, this would be considered a pile of crap," one said.
I was taken aback and then chuckled at the comment. The sculptures of Matt Moyer, at first glance, do resemble aged industrial plumbing.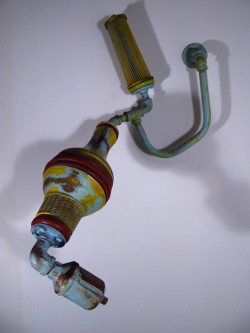 But closer inspection reveals something more. The airport visitors discussed the subtleties of these sculptures, discovering how the surface colorations simulate wear but are a bit too unblemished to be in a state of disintegration. The mechanical arabesques tease our eyes and raise questions about reactions to old objects.
Moyer's pieces are the attention-grabbers in the three-person Quad City Arts show running through June. In addition to the work of Moyer (from Columbia, Missouri) are mixed-media assemblages by Wayne Bertola (of Chicago) and photography by Marvin Thompson (of Clinton, Iowa). While their work is very different, all three artists explore the effects of time.
At a distance or in a less-well-lit setting, it would be easy to dismiss Moyer's works as merely old equipment. But each of his sculptures blends assembled real parts with one of his meticulously formed ceramic components to produce the illusion of an operating machine.
The stoneware contraptions certainly look like they once functioned. For example, Vent with Float is made up of steel pipe, an air filter, rubber gaskets, and a copper tank front, along with a stoneware "float" that mimics a corroded metal casing. Color surface treatments are skillfully balanced with the kind of sensitivity that finds iridescent beauty in an oily puddle. Cerulean turquoise and cadmium red sing out from the drab earth tones, suggestive of oxidized wear. Moyer's ceramic forms follow in the great tradition of trompe l'oeil technical artistry; they fool the eye with hyper-accuracy as they whimsically imitate the appearance of metal.
In all of his pieces, it's fun to decipher how he blended his found components with his ceramic creations. In Filtration with Purge Bulb & Harrison Loop, the red "pipe" that arcs through the air to connect the thingamajig to the thingamabob is actually a swimming-pool noodle.
Moyer's combination of industrial parts with industrial-looking hand-crafted ceramics calls to mind the notorious 1917 Fountain, a real urinal that was signed and thus declared as art by Marcel Duchamp. Moyer has a respectful but wry take on mechanization, and he writes in one text panel of "the expressive human qualities of efficiency, agency, and ingenuity that are captured in the mechanical systems that populate our daily lives." Duchamp's urinal was brand-new, however; Moyer has added considerations of longevity to those of craft tradition.
The artist's accomplished replication of deterioration was drawn from his background. In a recent e-mail, he wrote: "Both my father and grandfather retired from the Plumbers & Pipefitters Local 25 in Rock Island. ... I also worked for Local 25 out of undergraduate school at Illinois State University. It was during that time that I really began to refine and define my industry-themed artwork that was directly inspired by my time working in the union at John Deere manufacturing facilities, foundries, and the Rock Island Arsenal." Even though a considerable amount of manufacturing closed in the Quad Cities in the early 1980s, the region is still home to some fabricating companies. Industrial equipment might evoke potent memories for many people who made or make their living in those factories.
In his text, Moyer refers to "progress, change, time, and decay" - themes evident in the displayed works. Yet he adds that these sculptures refer to delivery systems for clean air and water. That aspect was not obvious to me, and I appreciated taking the extra mental step; the works are reminders that mechanical maintenance is a key environmental issue.
The assemblages of Wayne Bertola gather photographs, book illustrations, trinkets, and various bits and pieces of life, encased in weathered wood boxes. His exhibition text speaks of "symbols of the enigma of eternity haunted by mortality" and "memory beyond the limitations of linear time." Like the pioneer of assemblage boxes, Joseph Cornell (1903-1972), Bertola juxtaposes remnants of life's bric-à-brac in a gentle, mysterious manner. Each box is assembled and layered with care for compositional balance.
In the upper tier of the box titled 550, a metal circle is suspended in front of an image of an eye as if it were a lens to encourage closer observation of the minutiae. The lower tier includes a printed illustration of a man in old-fashioned attire, behind a fragment - the head - of a ceramic harlequin-figure knickknack suspended by heavy old wire. A tag across the middle reads "550."
The assemblage's elements are typical of those Bertola uses in this show: the outmoded (illustration), the commonplace (the ceramic head), and the ephemeral (what might be seen through a lens). Most of the artist's work in the exhibition has a low-key overall tonality, which can be a bit monotonous. The box 550 stands out, successfully, because of the contrast of the surprisingly shiny broken harlequin head against the other muted elements.
Bertola erases imagery as well as providing it. In Law of Reflection, we see a hand held up, palm toward us, but the rest of the figure is erased to obscurity within a silvery, mirror-like background. The foreground is outfitted with jumbled plain wire, a wire trellis, and a brooch. These elements throw shadows on the background, but some of the shadows seemed to be drawn in. This ambiguity of erased imagery and uncertain shadows forces the question of what is and isn't real. Handles are mounted on the sides of the box, and I wanted to pick it up and turn it to better examine the shadows and background, especially because the gallery lighting casts a strong shadow across the upper third of the assemblage.
While so much patient assemblage of disparate materials and images is impressive, it takes more than patience to discern any meaning in them beyond a general sense of nostalgia. When presented with so many reminders of the passage of time, you might want answers about life, the universe, and everything - but you'll have to provide your own meanings. One of Bertola's untitled works includes segments of empty wasp nests that might have been encountered investigating a deserted abode. I recalled that my curious brother was stung so many times for that youthful trespass ... . I had not thought about that in years. He developed a deep respect for nature ... .
Photographer Marvin Thompson shares the pleasure of fleeting "little discoveries" - in this case ice formations - displayed in two groups of six. Abstract beauty is found in flowing groundwater halted in a frozen state and in veins of crackled ice. With the use of different lighting, sometimes the ice appears as a white positive form, and sometimes it reverses as gray or black on a white background. There are views taken from the side, and others focused directly down on the etched, frozen layers. Edges echo in ripples and change course in new directions. These images may be documents of one day's puddle or pond surface, but they also register as timeless - a testimony to the strength of natural forces, whether conventional or cosmic.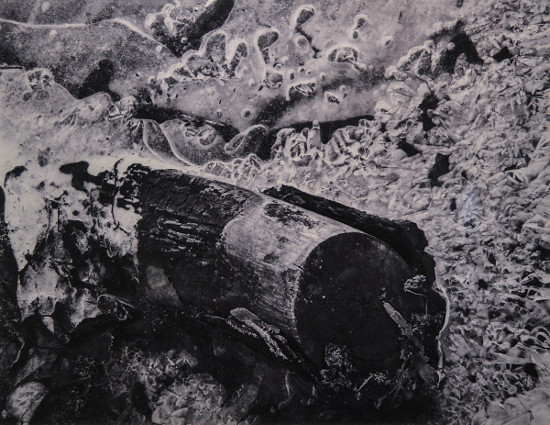 The presentation of Ice 7-12 is visually stronger than its counterpart Ice 1-6, with greater drama and a more dynamic play of tonal contrast. There is potential in these images, but as presented they're a bit wan for several reasons. Their surface tone doesn't match the powerful impact of original black-and-white photographs, lacking the gorgeous sheen and depth of classic silver prints. They're also everyday-sized digital prints, and a larger scale would envelop the viewer's full range of vision. Framing with wider mats would create a more sumptuous effect, buffering the images from their surroundings.
The gallery is located next to the seating area before airport security, and this exhibition merits viewing as part of your travels or as a destination in itself.
Sherry C. Maurer holds an MFA in painting, an MA in art history, and a BFA with a printmaking concentration. She was the director of the Augustana College Art Museum from 1983 to 2013. She can be reached at sherry_maurer@yahoo.com.