Wednesday, January 2, through Friday, January 25
Artist Reception: Friday, January 4, 5:30 p.m.
Beréskin Gallery & Art Academy, 2967 State Street, Bettendorf IA
The weather outside may be frightful, but the sights in the Beréskin Gallery & Art Academy's latest showcase will be delightful, with the January 2 through 25 exhibition Winter Wonderland celebrating the season and through new paintings by David Anderson and additional works by nearly two dozen of the venue's fellow artists.
The son of missionary parents, David Anderson was born in Bogota, Columbia, and lived 12 years in Venezuela. He attended the University of Nebraska then the American Academy of Art in Chicago, but after two years at the academy, he was drafted into the Marines and accepted into the combat artist program, where he became one of a select group of five combat artists serving in Vietnam. After returning from Vietnam, Anderson continued his studies at the academy and then moved to the Quad Cities to work in the John Deere advertising department. Having retired in the fall of 2010, he is now pursuing his lifelong dream of painting full time.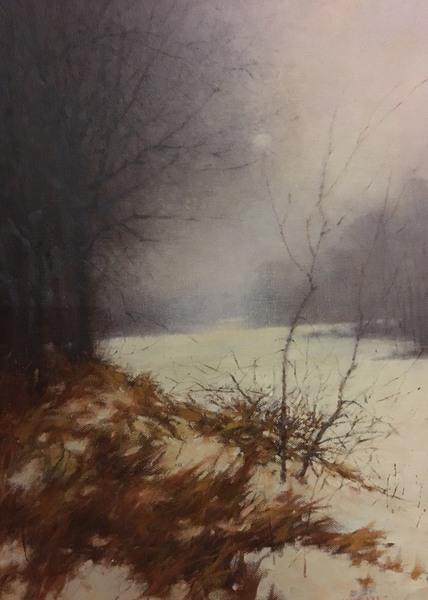 Along with new paintings by Anderson, Winter Wonderland will boast seasonally themed creations by many of the gallery's other resident artists: Les Bell, Brad Bisbey, Heidi Brandt, Karen Brinson, Larry John Davis, Joel Erikson, Bonnie Grebner, Evanny Henningsen, Lee Kimball, Dean Kugler, Joe Meirhaeghe, Larry Mendenhall, John Preston, Sam Schold, Dee Schricker, Rowen Schussheim-Anderson, Barry Sharp, Steve Sinner, Debora Stewart, David Zahn, Robert Zeidler, and gallery owner Pat Beréskin.
A 5:30 p.m. artist reception will be held at the Beréskin Gallery & Art Academy on January 4, and regular gallery hours are 11 a.m. to 6 p.m. Wednesdays through Saturdays. Admission is free, and more information on Winter Wonderland, along with other exhibits, events, and classes at the venue, is available by calling (563)508-4630 or visiting BereskinArtGallery.com.