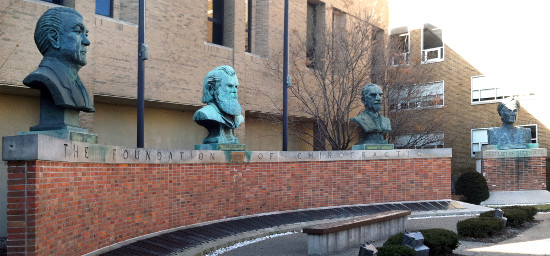 In the Heritage Court on the Palmer College of Chiropractic campus (at 1000 Brady Street in Davenport) are four large bronze busts. Sculptures of D.D. Palmer, his son B.J. Palmer, and his grandson David Palmer are placed symmetrically on a curved brick and stone wall with the incised words "The Foundation of Chiropractic." These men collectively presided over the Palmer College of Chiropractic for its first 81 years, beginning with its founding in 1897.
Slightly to the north is a bust of Mabel Heath Palmer, who is recognized as the "First Lady of Chiropractic" and was B.J.'s wife and David's mother.
Created by three different artists over a period of nearly 70 years, the sculptures are stylistically distinct. They are unified, however, by their consistency in height. Each bust is approximately five feet tall. Positioned on the two walls, they each reach a total height of about 12 feet. They also work together because of the consistent use of materials and conformity to a sculptural form from antiquity - the bust. During the Roman Empire, important families celebrated their achievements and honored their deceased relatives by displaying these sculpted portraits prominently and publicly.