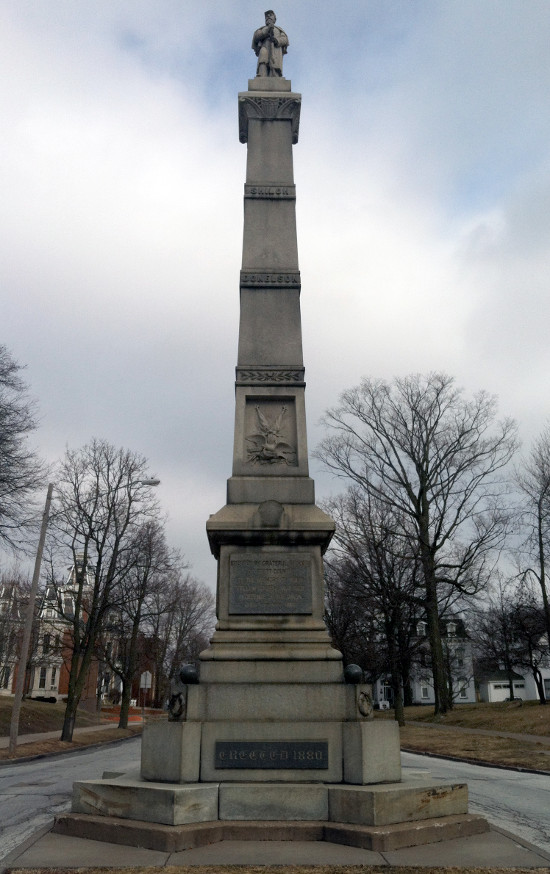 The Quad Cities have two prominent, highly visible Civil War monuments: the Rock Island County Soldiers' Monument in Rock Island and the Scott County Soldier's Monument in Davenport. Both were completed in the years following the war. It was not until 2003, however, that a monument to the Confederate soldiers who died at the Rock Island Arsenal was built.
The Rock Island County monument, located on the county-courthouse grounds near the Centennial Bridge, was unveiled on April 9, 1869 - the fourth anniversary of General Robert E. Lee's surrender at Appomattox. The memorial was designed by Leonard Wells Volk (1828-1895), who briefly lived in Rock Island before opening his studio in Chicago in 1857. Volk had the distinction of being the only sculptor to model Abraham Lincoln's features from life; casts of the future president's face and hands were made by Volk in 1860.
The Scott County Soldier's Monument, located in the center of the 1100 block of Main Street near Central High School, was dedicated a dozen years later, on July 4, 1881. Rodney Forsyth Carter (1838-1912) is credited as the monument's designer.