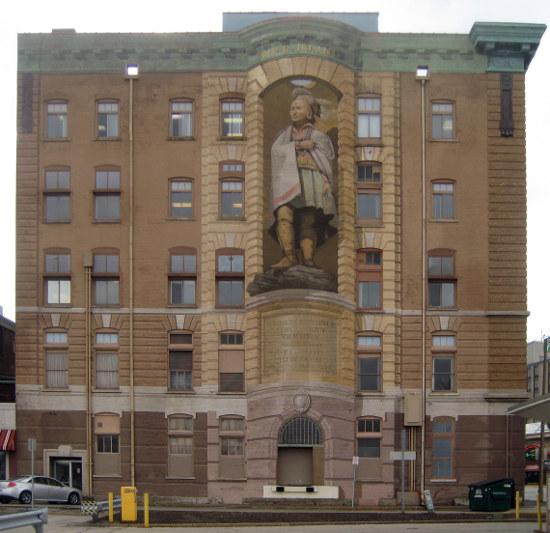 The height of the five-story Black Hawk mural in the Rock Island District is what first catches our eye. Our attention continues to be held as we begin to realize that much of the mural is a painted illusion of three-dimensional space - blended seamlessly with actual architectural forms. Its most compelling aspect, however, may be the clash of values between Native American culture and ours that can be discovered in the work.
The mural's story can be said to begin in December 1991, when its designer, Richard Haas, visited Rock Island to inspect the back side of the Best Building (built in 1908) at 1705 Second Avenue.
The New York artist had just been selected by the Face the River search committee to transform the appearance of the northern side of the building into a work of art easily viewable from the riverfront. Haas had already gained national recognition as an architectural muralist, having designed colossal murals on the façades of more than 50 buildings in major cities -including New York, Chicago, Miami, and Munich.
The majority of the mural -including the three-story figure of Black Hawk - was painted in the fall of 1992, with a second phase completed in 1993 when illusionistic architectural elements were added.
Many of the building's apparent architectural features are only paint - not just the arched niche where Black Hawk stands, but also the brickwork and roofline. It isn't until you walk up to the mural that you fully realize that some of the windows are paint on a flat surface. The illusion of depth and actual space is created by painted shadows and highlights, overlapped shapes, and forced perspective.
These details include a painted illusion of a plaque that credits the mural design to Richard Haas and three assistants: Gene Wesley, Mike Ting, and Ed Abrue.
Significantly, Haas selected Black Hawk as the Rock Island mural's centerpiece, with his commanding pose drawn from the renowned statue of Black Hawk created by David Richard a century before. This life-sized sculpture was originally located several blocks from the mural's location, but it was moved to the bluff overlooking the Rock River at the Black Hawk State Historic Site in 1954.
Words from Black Hawk's autobiography are also painted in the mural - on the pedestal on which the warrior stands: "We must continue throughout our lives to do what we conceive to be good."
I initially found the words tepid, shallow. They took on depth, however, when I learned that Black Hawk was reflecting on the 1816 treaty in which he unknowingly consented to give away his village.
The words gained even more power when I read his full thoughts: "We can only judge of what is proper and right by our standard of right and wrong, which differs widely from the whites, if I have been correctly informed. The whites may do bad all their lives, and then, if they are sorry for it when they are about to die, all is well! But with us it is different: We must continue throughout our lives to do what we conceive to be good. If we have corn and meat, and know of a family that have none, we divide them. If we have more blankets than sufficient, and others have not enough, we must give to them that want."
We celebrate Black Hawk's name - using it on hotels and helicopters, beer and battleships, a college, a bank, a hockey team. Everything. The warrior has become a recognizable, familiar figure, divorced from a genuine understanding of his significance.
Fort Armstrong was built on Arsenal Island (in 1816 and '17) following Black Hawk's defeat of American soldiers in two Mississippi River island battles in the War of 1812. The Black Hawk War officially ended at the fort in 1832 with another signed treaty - ending the last Indian war fought east of the Mississippi, and ending two centuries of armed conflict east of the river between the two cultures.
The mural reminds us of this: Black Hawk's gaze is toward this river, and also toward Arsenal Island, where Fort Armstrong once stood.
Bruce Walters is a professor of art at Western Illinois University.
This is part of an occasional series on the history of public art in the Quad Cities. If there's a piece of public art that you'd like to learn more about, e-mail the location and a brief description to BD-Walters@wiu.edu.