(Editor's note: This is part of an occasional series on the history of public art in the Quad Cities.)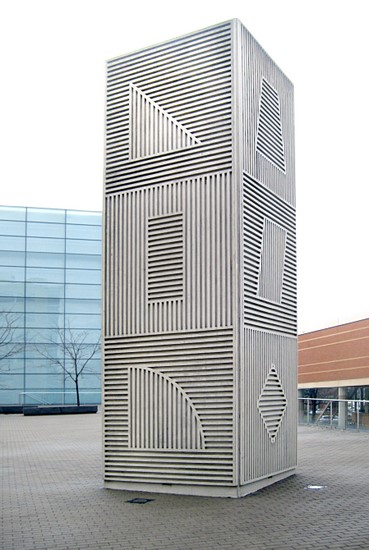 In 1984, a site-specific sculpture by the internationally renowned artist Sol LeWitt (1928-2007) was installed near the south entrance of the RiverCenter on Third Street in Davenport. Titled simply Tower, this sculpture was made of four 21-foot-tall slabs of concrete bolted to a framework of steel I-beams. These slabs, made of crushed marble and silica, were cast using more than a half-mile of Styrofoam strips.
Additional works by LeWitt, Wall Drawing #405 and Two Wall Drawings, were also installed in the center's atrium at this time. Longtime LeWitt assistant Anthony Sansotta worked with area art students to make these 18-foot-long drawings. In all, roughly 30 Quad Citians helped with the installations - including art students, plasterers, carpenters, painters, cement finishers, laborers, iron workers, crane operators, truck drivers, and electricians.
Don't look for these works at the RiverCenter, however. Tower was moved to the Figge Art Museum's plaza in October 2004. The original wall drawings were removed from the RiverCenter, and Wall Drawing #405 was redrawn inside the Figge at the top of the stairway leading to the second-floor galleries. LeWitt claimed this new drawing is not a re-creation but is still the original artwork. He regarded his wall drawings as impermanent and repeatable. And his work is intentionally unemotional.