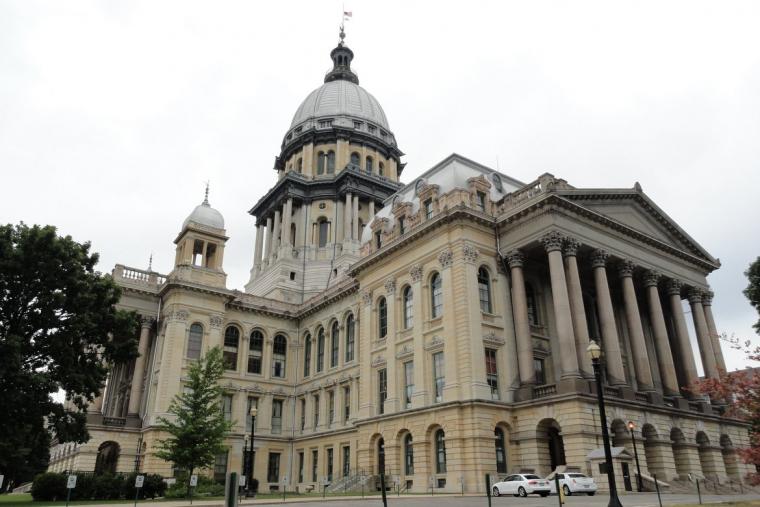 Before Governor Bruce Rauner's budget address last week, Senate Republican Leader Christine Radogno made a rare visit to the Senate Democratic caucus meeting.
Radogno assured the Democrats that she and her GOP caucus were working in good faith to achieve a bipartisan "grand bargain" in the chamber. Senate Democrats have been grumbling for weeks that the Republicans were playing Lucy with Charlie Brown's football; every time they think they're getting close, they're told the Republicans aren't ready to vote. It was a much-needed speech.
And then Rauner gave his budget address.
The governor's office had once again ignored protocol by failing to provide budget details to legislative staff the evening before, so legislators had no way of knowing during his speech that his budget included a projected $32.7 billion in revenues and $37.3 billion in spending. They also had no way of knowing that some of those projected revenues and perhaps hundreds of millions or even billions in projected savings weren't actually real, adding to the plan's admitted $4.6-billion hole.
But it's not like nobody expected this to happen. Rauner did the same thing last year when he proposed closing a $3.5-billion hole with magical words about "cooperation," and two years ago when he promised illusory savings from pension reforms and cutting unspecified waste. It's frustrating and might not be constitutional, but it's a given at this point.
Last week's speech wasn't really about the upcoming budget, however. Everybody was there to hear what he had to say about the Senate. As you likely know, the two Senate leaders began talking after Rauner announced in December that he would no longer host leader meetings because he said the Democrats were refusing to negotiate in good faith.
Rauner has been saying for a while now that he didn't want to weigh in on the Senate's plan for fear of messing up progress. But then Senate President John Cullerton said it might be helpful if Rauner publicly supported the plan.
Fittingly, as soon as Rauner began discussing his preferred parameters, his teleprompter broke. Attorney General Lisa Madigan, whom the governor has accused of trying to help her father create a crisis with a government shutdown, gamely offered the governor her paper copy. The print was too small, however, and he couldn't read it. Rauner then quoted Speaker Michael Madigan's joke that the Russians must've caused the malfunction. For a couple of minutes, the obvious tension and hostility in the House chamber eased. Democrats had been derisively laughing at the governor, but were now laughing with him. That didn't last.
Once the teleprompter issue was fixed, the governor laid out his demands. If the Senate was planning to pass a permanent tax hike, then – to win his support – it must also pass a permanent property-tax freeze. The House had already passed such a freeze, mainly because it's hugely popular and members figured the Senate wouldn't ever touch it because of the damage it would do to schools and local governments. Rauner risked knocking the Senate's progress off its tracks with that one. Some Democrats later alleged it was a deliberate poison pill. More evidence, they said, of Lucy yanking that football away from Charlie Brown.
Rauner did leave the door open just a tiny bit by saying that when the tax increase starts producing revenue surpluses, he wanted the tax hikes "stepped down" to dedicate the money to taxpayers.
So could he be open to a temporary tax hike in exchange for a temporary property-tax freeze? Republicans are saying that a couple of Senate Democrats have talked about possibly doing a "five and five" plan, which would both raise income taxes and cap property taxes for five years.
Rauner also demanded that the Senate abandon its plan to tax sales of food and medicine. He privately wants that replaced with a tax on sugary drinks, but Senate leaders say they cannot round up enough votes to pass it.
The Democrats went back to derisively laughing at Rauner when he claimed that "term limits get job creators excited." His demand that the Senate's workers' compensation reform match the Massachusetts model got little attention; Massachusetts is a "causation" state, which the Democrats have always said they will never agree to. That could be a big problem.
It's too early to tell whether Rauner did irrevocable harm last week. The fact that the Republican leaders in the House and Senate didn't rush to openly embrace his specific demands is a sign that people still want progress.
Rich Miller also publishes Capitol Fax (a daily political newsletter) and CapitolFax.com.