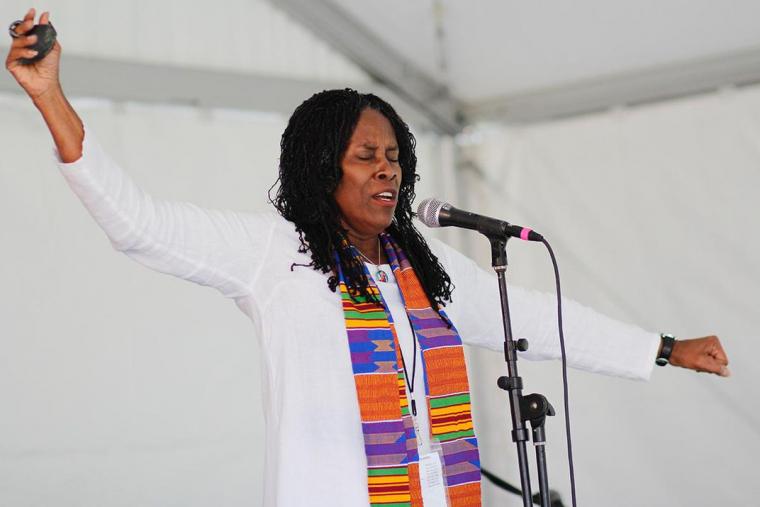 Thursday, February 22
LeClaire Community Library, 323 Wisconsin Street, LeClaire IA (4:30 p.m.)
Moline Public Library, 3210 41st Street, Moline IL (6:30 p.m.)
Friday, February 23
Butterworth Center, 1105 Eighth Street, Moline IL (7 p.m.)
One of the nation's most admired storytellers serves as the latest Quad City Arts Visiting Artist when Moline's Buuterworth Center hosts a February 23 public performance with Charlotte Blake Alston, whose talents have been enjoyed worldwide at the John F. Kennedy Center for the Performing Arts, the Smithsonian Institution, and the Women of the World Festival in Cape Town, South Africa.
Renowned for breathing life into traditional and contemporary tales of the African and African-American experience, which she does while incorporating instruments such as the djembe, mbira, and 21 stringed-kor, Alston has been a featured narrator for several orchestras and conductors including the Philadelphia Orchestra, the Saint Louis Symphony, and the Baltimore Symphony Orchestra. She represented Carnegie Hall in 2003 when she hosted a series of concerts in Miyazaki, Japan, with the Eddie Arron String Quartet and fellow storyteller Motoko, and currently performs as both pre-concert artist and host of Carnegie Hall's Family and Education Concert Series.
She was commissioned by the Huntingdon County Arts Council to craft and tell the story of the African American community of Mount Union, Pennsylvania – a commission that included a residency and performances for school and public audiences – and has received numerous honors including the prestigious Pew Fellowship in the Arts. Alston was also selected as Philadelphia Magazine's "Best of Philly" and was the recipient of the Commonwealth of Pennsylvania Artist of the Year Award (The Hazlett Memorial Award), which recognizes individual artists "for excellence in the Commonwealth." She holds two honorary PhDs and received the Circle of Excellence Award from the National Storytelling Association.
In addition to Charlotte Blake Alston's February 23 public performance at the Butterworth Center, the artist will share her storytelling gifts in two February 22 library engagements: at the LeClaire Community Library at 4:30 p.m., and the Moline Public Library at 6:30 p.m. Admission to all of her events is free, though donations are encouraged at Alston's Butterworth Center presentation, and more information on her area stay and the Visiting Artist Series is available by calling (309)793-1213 or visiting QuadCityArts.com.