Mississippi Valley Blues Festival
LeClaire Park
Friday, June 29, through Sunday, July 1
Well, I'm an idiot. I'd always believed Eddie Cochran when he sang "There ain't no cure for the summertime blues." Did you know there actually is one? His name is Drink Small, "The Blues Doctor," and he's one of the talents set to perform at this year's Mississippi Valley Blues Festival, June 29 through July 1. (More idiocy on my part: When I have the summertime blues, I thought I was supposed to drink large.) Two LeClaire Park stages will feature some of the nation's finest blues musicians, a few of whom boast some of the nation's finest monikers; what's not to love about a lineup that includes Willie "Big Eyes" Smith, Jimmy "Duck" Holmes, and Watermelon Slim? There will also be free workshops conducted by such blues greats as Jason Ricci and Catfish Keith - another great name! - and kids are welcome to attend the weekend's BlueSKool events, one of which will find David Bernston giving complimentary harmonicas to all kids in attendance. Free harmonicas, huh? I wonder if I can still pass as a student. (I have been told that I have a boyish appeal ... . Of course, I was told that 25 years ago ... .) More information on this year's Mississippi Valley Blues Festival, including a full schedule of performances and workshops, can be found at (http://www.mvbs.org).
Gaelic Storm
The Redstone Room
Saturday, May 26, 9 p.m.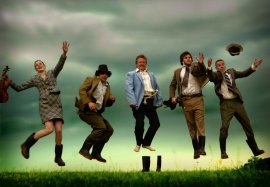 Sure, after the success of Titanic, everyone knew Kate Winslet's name. But how many of you know Patrick Murphy's? I assure you that Kate does; Murphy, along with fellow members of the band Gaelic Storm, performed the rousing Celtic numbers that got the steerage-class passengers giddy (and inspired Winslet to balance on her toes) in James Cameron's Oscar winner. Composed of lead vocalist Murphy, guitarist Steve Twigger, fiddler Ellery Klein, percussionist Ryan Lacey, and bagpiper Pete Purvis, Gaelic Storm performs at the Redstone Room on May 26, giving audiences a true taste of Ireland with their blend of original and traditional Celtic melodies, described by the group's Web site (http://gaelicstorm.musiccitynetworks.com) as "raucous sing-alongs, driving pipe sets, and spirited fiddle tunes." Their 2006 album Bring Yer Wellies debuted at number two on the Billboard World Chart, but don't think the group's fame has made them snotty; according to that Web site, "they still pride themselves on remaining as accessible as ever, and sharing a pint with fans whenever possible." You've been warned, Redstone Room. Better stock up on the Guinness now. More information on Gaelic Storm's concert is available at (http://www.redstoneroom.com).
Bix Beiderbecke Memorial Jazz Festival
Downtown Davenport
Thursday, July 26, through Sunday, July 29
"Jeff!" "Mike." "Can you believe all the research I did on this year's Bix Beiderbecke Memorial Jazz Festival? So much is happening between July 26 and July 29!" "I know, but Mike ... ." "I mean, there'll be performances by such groups as New Orleans' Creole Jazz Serenaders, St. Louis' Cornet Chop Suey, Chicago's West End Jazz Band, and our own Josh Duffee & His Orchestra ... ." "I see that, Mike ... ." "And they'll be taking place at four different Davenport venues - LeClaire Park, the Col Ballroom, the Danceland Ballroom, and the Clarion Hotel ... ." "Mike ... ." "But that's not all! There'll also be seminars by jazz experts Dr. Bruce Boyd Raeburn, Dr. Alex Haim, and Randy Sandke, and solo concerts with famed pianist Dick Hyman, and trolley rides to locales that Bix himself played at, and special hotel packages for your out-of-town guests ... ." "Mike, I know all this. It's in the Bix Beiderbecke Memorial Society's spring newsletter. I put it on your desk." "Oh, is that what that was ... ?" "You didn't just copy the newsletter information directly and pretend you actually did research, did you?" "Of course not, I ... ." "Mike?" "Yes. Yes, I did." For more information on this year's festival - and perhaps a spring newsletter of your own - visit (http://www.bixsociety.org).
The Floating World and Comics, Heroes, & American Visual Culture
Figge Art Museum
May through September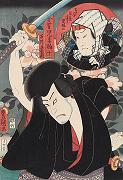 Pow! Bam! Zowie! No, I'm actually not providing sound effects for the accompanying artwork. Rather, I'm expressing my excitement about the Figge Art Museum's Comics, Heroes, & American Visual Culture exhibit, running from June 16 through September 9. Featuring 60 original paintings and drawings from the University of Nebraska's art gallery, the exhibit promises to be comic-book-fan nirvana, as it traces the development of this uniquely American art form through the work of such masters as Dick Tracy's Chester Gould, X-Men's Barry Windsor-Smith, and Batman's Sheldon Moldoff. Wham! Thwack! Kapow! As for the accompanying image, Actors from Konjuyakuji Tegashiwa, it can be seen this summer in another Figge exhibit - The Floating World: Japanese Woodblock Prints from the Collection. As they explore 18th and 19th Century Japanese culture, the 30 prints on display, according to the Figge's Web site, find their inspiration in "famous geisha, famous actors, sporting events, and famous sites." Kind of like People magazine, but without a Picks N Pans section. And about half as many geishas. The Floating World can be viewed between May 26 and July 1, and more information on all of the Figge's exhibits can be found at (http://www.figgeartmuseum.org).
Comedies and Dramas
June through August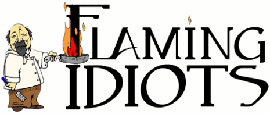 Lend Me a Tenor. You Can't Take It With You. Don't Dress for Dinner. Boy, the upcoming area-theatre season seems awfully bossy, doesn't it? (Granted, that first title isn't really bossy, but where's the "please"?) Regardless, here's the wildly diverse list of titles on the summer docket. The Timber Lake Playhouse delivers a spooky new Dracula (opening June 14) and Ray Cooney's slapstick Funny Money (July12), while the Clinton Area Showboat Theatre presents the aforementioned comedies Lend Me a Tenor (June 21) and You Can't Take It With You (July 26). The Circa '21 Dinner Playhouse makes the farcical request that we Don't Dress for Dinner (July 25), while the Playcrafters Barn Theatre introduces some Flaming Idiots (July 13). New Ground Theatre debuts a quintet of local works in Living Here: New Plays from New Ground (June 21), while the Richmond Hill Barn Theatre produces an acclaimed trio: the Over the Tavern sequel King o' the Moon (June 7), Aaron Sorkin's military drama A Few Good Men (July 12), and Tom Stoppard's Tony-nominated Arcadia (August 16). Finally, Genesius Guild's Lincoln Park season features the tragic Medea (July 7), a new take on Aristophanes' The Frogs (August 4), and Shakespeare's The Winter's Tale (July 21) and As You Like It (June 23). At last. A polite title.
Musicals
May through August
I hope that I didn't scare you off of summer theatre with that crack about the bossy play titles. The truth is that most of the season is quite lighthearted, as evidenced by the area's roster of upcoming musicals. Heck, the Timber Lake Playhouse is even celebrating the holiday season this summer, with Irving Berlin's White Christmas (opening July 26) joining productions of The Best Little Whorehouse in Texas (June 1), Bat Boy: The Musical (June 29), and Smokey Joe's Cafe (August 9). Eldridge's Countryside Community Theatre returns with The Fantasticks (June 22) and Seussical (July 20), while Genesius Guild and Opera@Augustana produce the Gilbert & Sullivan operetta Patience (June 9). The Circa '21 Dinner Playhouse gives another collaborative duo its due with Rodgers & Hammerstein's Oklahoma! (May 30), and presents a musical-comedy version of Goldilocks & the Three Bears (June 19). Three Broadway smashes grace the Quad City Music Guild stage: Thoroughly Modern Millie (June 8), Joseph & the Amazing Technicolor Dreamcoat (July 6), and Anything Goes (August 3). And the Clinton Area Showboat Theatre delivers Always ... Patsy Cline (June 7), Chicago (August 9), and I Love You, You're Perfect, Now Change (July 11). Wow. That's a pretty bossy title, too. Are we sure this musical isn't a play?
Polynesian Dance Festival
Veterans Memorial Park
Saturday, June 16, 4-7 p.m.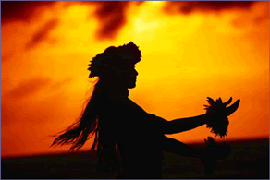 I recently received a flier for the Polynesian Island Family Dance Festival, taking place at the Bettendorf Bandshell in Veterans Memorial Park on June 16, and according to that missive, the festival will bring "the spirit of the South Pacific to the Quad Cities with music and dances from the islands of Samoa, Hawaii, Tonga, Fiji, Tahiti, New Zealand, and the Tokelau Islands." It sounded like a fun event to write about, except for one problem: I don't know anything about the music and dances of these islands. So I visited a Web site called The Tahiti Traveler (http://www.thetahititraveler.com), and here's what I learned. Among traditional Polynesian dances are the ote'a, the aparima, the hivinau, and the pa'o'a. Polynesian instruments include the to'ere, the tari parau, the 'ihara, the pahu, and the vivo. Himene are traditional polyphonic singings and religious hymns that include the tarava, the ru'au, and the 'ute. And if you type enough Polynesian words and phrases in a row, your spell-check goes absolutely berserk. The festival will also feature an island market, kids' activities, and what is termed "massages in paradise" (I am so there), and more information is available by calling (563) 322-8208.
Head Out East
Rock Island Brewing Company
Friday, May 25, 11 p.m.
In researching the rock band Head Out East - playing the Rock Island Brewing Company on May 25 - I found a good deal of information. A succinct analysis of their style, described by the All Music Guide's Gary Hill as an "intriguing and quite effective blend of hard melodic rock with progressive-rock tendencies and awesome vocal arrangements." An imposing list of previous gigs - some 5,000 concerts over the past 25 years. An impressive discography featuring more than a dozen albums. But then I landed on the band's online biography, and I'm now thinking that the history of Head Out East might make for the best VH1 Behind the Music episode ever. The band originally formed in 1969, and was composed of Roger and Larry Boyd, Steve Huston, John Schlitt, and Dan Piper. Soon thereafter, Huston and Schlitt left. Eight musicians took turns replacing them. Huston and Schlitt eventually returned. Then Piper left, to be replaced by Mike Somerville. Then Roger Boyd left, to be replaced by Dickie Harney. Then Harney left, to be replaced by the returning Roger Boyd. Then Larry Boyd left, to be replaced by Dan Birney. Then they released their first album. And that just gets us to 1975. Curious to learn the rest of the story? Visit (http://www.head-east.com).