Death Takes a Holiday
Richmond Hill Barn Theatre
Thursday, April 12, through Sunday, April 22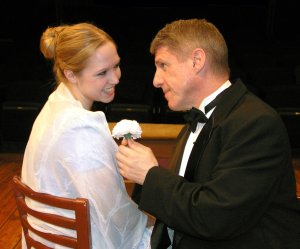 Death Takes a Holiday opens at the Richmond Hill Barn Theatre on April 12, and in addition to being excited about the production, I gotta admit I'm a little envious, because unlike the Reader staff, Death is allowed to take a holiday. (Can you believe that Todd keeps letting me get away with these cracks?) Even if you don't know Alberto Casella's classical romance - written for the stage by Walter Ferris - the cast alone would be reason to attend, as it includes a bunch of actors who have recently given wonderful Richmond Hill performances: John VanDeWoestyne and Molly McLaughlin (Cat on a Hot Tin Roof), David Rash (You Can't Take It With You), Diane Greenwood (A Bad Year for Tomatoes), Jackie Skiles (Another Part of the Forest), and Kevin Maynard and Miranda Lipes (Over the Tavern). As for the story, it finds Death himself falling in love with a beautiful mortal ... and yes, it served as the inspiration - if not the direct source material - for the 1998 Brad Pitt vehicle Meet Joe Black. "This is a show I've wanted to do for a long time," says Holiday director Tom Morrow, "because it makes you think, but just as importantly, it entertains." Hell, they're one up on Meet Joe Black right there. For tickets, call (309) 944-2244.
The Lion in Winter
The Capitol Theatre
Thursday, April 12, through Sunday, April 15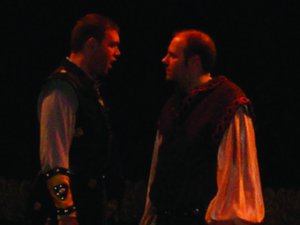 You think your family is royally screwed up? Meet the scheming clan of The Lion in Winter - they get to spell "royally" with a capital "R." In Scott Community College's production of James Goldman's historical fiction, being performed at Davenport's Capitol Theatre April 12 through 15, you'll encounter one of the theatre's great dysfunctional families: King Henry II of England and his wife, Eleanor of Aquitaine; sons Geoffrey, Richard, and John; Henry's mistress, Alais; and her brother, King Philip II of France. While the sons battle and back-stab one another for Henry's throne, the treachery of the play's characters may well determine the fate of England - or, at the very least, decide who's getting written out of the will. The play became a 1968 film that received Oscars for Goldman's screenplay adaptation and Katherine Hepburn's performance as Eleanor, but as acclaimed as The Lion in Winter is, I'm not sure that this clan is any more nuts than mine, especially once we've had a few drinks at Christmas. Oh, wait. The Lion in Winter takes place at Christmas, too. Fine. They win. Tickets are available at the Capitol, and more information on the show is available by calling (563) 441-4344.
The Ugly Duckling and Charlotte's Web
Black Hawk College and Circa '21
Opening Wednesday, April 11, and Tuesday, April 17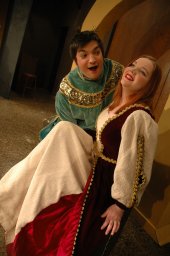 In 2003, I played the mischievous rat, Templeton, in Circa '21's Charlotte's Web, and when I heard that the theatre was reviving the show, I really began missing my days in children's theatre. Then I found out that Black Hawk College is not only producing its own family entertainment - The Ugly Duckling - but it opens within days of Circa '21's offering. Thanks, Black Hawk, for making me doubly jealous! In Black Hawk's rendition of A.A. Mile's funny and charming classic, running at the college from April 11 through 14 (with an April 18 performance at the Moline Public Library), the duckling is actually a princess whose true beauty is unseen by all but a kindly prince, so don't expect any talking animals in director Dan Haughey's production. For that, visit Circa '21 between April 17 and May 12, as director Tom Walljasper brings E.B. White's barnyard to life with a cast that includes Janos Horvath, reprising his 2003 role as Wilbur, and West Side Story's Megan Kelly as Charlotte. And playing Templeton this time around? Veteran Circa '21 performer Brad Hauskins, who was once my college roommate. That bastard was always stealing my stuff. For information on The Ugly Duckling, call (309) 796-5419; for Charlotte's Web tickets, call (309) 786-7733 extension 2.
The LoCash Cowboys
The Redstone Room
Thursday, April 12, 8 p.m.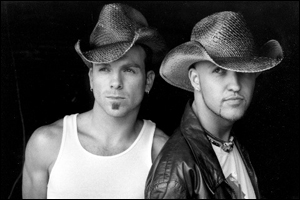 The online biography for the LoCash Cowboys opens with "LoCash - not just a band, a way of life!" So true. But enough about my Reader salary. Among more than 200 stops on the group's 2007 tour, the Cowboys' Preston Brust and Chris Lucas will perform at the Redstone Room on April 12 as part of the venue's "Nashville to You Showcase," and in an interview on the band's Web site (http://www.locashcowboys.com), Brust reveals that "LoCash" is more than a band and a way of life - it's also a sound. Explaining how their style has been classified as "southern rock, country, bluegrass, gospel, rock 'n' roll, straight-up rock, hip-hop ... ," the Arkansas native says, "I think it's, like, becoming it's own little thing - like the LoCash sound." With regular gigs at Nashville's famed Wildhorse Saloon and an ever-growing fan base, it seems as if the musical partners are really happy being the LoCash Cowboys, but they'd better enjoy it now; considering that the Cowboys' online store features everything from men's and women's apparel to office supplies to infant and toddler gear, there's a good chance they won't be LoCash for very much longer. For more information on the band, visit (http://www.redstoneroom.com).
Steal Away
First Congregational Church in Moline
Sunday, April 15, 4 p.m.
The press release for Steal Away - the Nova Singers' final concert of the 2006-7 season - reveals that the performance will feature beloved folk songs and spirituals, including renditions of such classics as "Amazing Grace," "Shenandoah," and the Revolutionary War anthem "Johnny Has Gone for a Soldier." Hmm. Well, don't ask, don't tell, right? Oh, come on! The Nova Singers would love that joke - their season-opener was entitled Music, Mirth, & Mischief, for Pete's sake! At any rate, the group's season-closer will take place on April 15 at the First Congregational Church in Moline, and if you enjoy the talents of this 20-voice, professional area ensemble, feel free to take them home with you; the singers' new Steal Away CD will also be available for purchase. It's the group's seventh recording thus far, and Nova Singers Director Laura Lane praises the work for its "marvelous clarity that allows you to understand every word and hear the resonance of every chord," and proudly states, "I believe that Steal Away will become one of the most popular CDs Nova Singers has made." Sounds like it'll be a huge seller. Just so long as people don't take the title literally. For tickets and more information on the group, call (309) 341-7038 or visit (http://www.novasingers.com).