Dona Nobis Pacem & Five Mystical Songs
Augustana College
Saturday, April 21, 8 p.m.
Translated from Latin, "dona nobis pacem" means "give us peace." And while that's a phrase I might routinely mutter at our weekly staff meetings, it would never dawn on me to sing it. That I leave to the Handel Oratorio Society, who will perform Ralph Vaughan Williams' Dona Nobis Pacem and Five Mystical Songs in an April 21 concert at Augustana College's Centennial Hall. With accompaniment by the 86 musicians of the Augustana Symphony Orchestra, the 186-voice chorus will give vocal life to Williams' poetic pleas for peace; Five Mystical Songs incorporates a quintet of religious works by poet George Herbert, while the inspiration for Dona Nobis Pacem was partially drawn by the Civil War poetry of Walt Whitman. And the evening's guest soloists should provide plenty of musical poetry of their own; baritone Philip Kraus has performed with the Los Angeles and Minnesota opera companies, and soprano (and Davenport native) Claire Kuttler will soon appear in a world-premiere opera based on the paintings of Edward Hopper. So how do you say "What the hell am I doing in this diner?" in Latin? For tickets to the Handel Oratorio concert, call (309) 794-7306.
Neal Bowers
Thursday, April 19,
through Saturday, April 21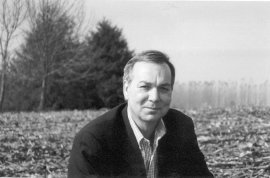 Author Neal Bowers - here as Quad City Arts' latest Literary Resident - recently wrote a nonfiction entitled The Bookstore Cat's Guide to the Care & Training of Humans, and the man certainly is no stranger to books these days; Bowers will participate in readings and discussions at the Moline and Bettendorf public libraries (April 19 and 21), as well as Quad City Arts and the Midwest Writing Center (April 20 and 21). Space doesn't permit a full listing of his credits, but if you visit (http://www.cortlandreview.com), you'll find a fantastically informative interview with Bowers conducted by J.M. Spalding, in which we learn that his poems have appeared in Harper's and The New Yorker, that he has occasional difficulty with criticism ("any negative remark makes me mad"), and that he got his start by writing limericks in high school ("usually in some semi-obscene context"). With those factoids in mind, permit me a creation of my own: "We've an author in town named Neal Bowers / He'll be reading and chatting for hours / Neal writes poems and prose / And nonfiction he knows / But don't piss on his work, or he glowers." New Yorker, here I come! For a schedule of Bowers' area appearances, visit (http://www.quadcityarts.com).
Entrepreneur's Film Fest
Capitol Theatre
Saturday, April 21
Occurring at Davenport's Capitol Theatre on April 21, the Entrepreneur's Film Fest will celebrate local filmmaking in a series of discussions and presentations with such area professionals as writer/director Max Allan Collins; Blubox Limited's Scott Beck and Bryan Woods; Silver Oaks Communications' Greg Martin; musician Scott Morschhauser; and cinematographer/editor Phil Dingeldein. But the highlights of the event, naturally, will be the filmmakers' works, especially if the critics are to be believed. Regarding Collins' Eliot Ness: An Untouchable Life, the River Cities Reader's Mike Schulz wrote that star Michael Cornelison "displays tremendous camera rapport and superb interpretive skills" and that "Collins lends the work a sharpness and clarity that's most unusual in the world of low-budget filmmaking." In his review of Beck's and Woods' The Bride Wore Blood, Reader critic Schulz described the movie as "suffused with memorable images and impressive visuals." And while Schulz has yet to see Martin's prize-winning short Man-Eating Dumpster, he's quoted as saying, "I knew a man-eating dumpster once. But I prefer not to discuss my dating life." That Schulz. It's always about him. For more information on the Entrepreneur's Film Fest, visit (http://www.eicc.edu).
The Geechy Guy
Penguin's Comedy Club
Wednesday, April 18, 7:30 p.m.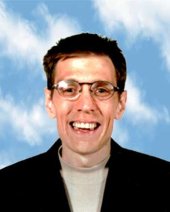 On April 18, Penguin's Comedy Club hosts comedian The Geechy Guy, and the man's stage moniker sounds exactly like what I say whenever I'm trying to make my six-month-old niece laugh. In actuality, though, The Geechy Guy has spent his career making others laugh. A frequent guest on radio's Bob & Tom Show - and currently visiting the program's affiliate cities in his "Every Station in the Nation" tour - TGG has been called "brilliantly offbeat" by the Las Vegas Review-Journal, and in addition to contributing gags to six of Bob & Tom's records, he's set a couple records of his own. Shortly after arriving in Los Angeles at age 19, the stand-up became a finalist on TV's Star Search - where he beat out Ray Romano - and went on to make 10 appearances on the televised talent competition, more than any comedian before or since. Yet that ain't nothin'; in 1993, The Geechy Guy made it into the Guinness Book of World Records for telling - get this - 676 jokes in an hour. That averages out to about 11 and a half per minute. Roughly one joke every five and a half seconds. Screw the comedy-club circuit; get this man a job at the White House! For Geechy Guy tickets, visit (http://www.penguinscomedyclub.com).
Fish & Fire Fundraiser
John O'Donnell Stadium
Saturday, April 21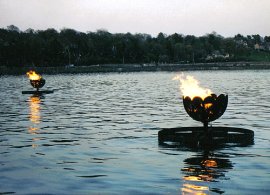 Earth Day is a celebration of all things green, and at this year's Fish & Fire benefit - an annual, ecological fundraiser and "friendraiser" - the event's sponsors hope you'll commemorate the occasion by getting high. Literally. On April 21, River Action hosts an afternoon and evening of Earth Day activities at the John O'Donnell Stadium, and from 3 to 5 p.m., ticket holders will have the opportunity to take a private tour of the energy-efficient "green roof" on the City of Davenport's new police station on Harrison and Fourth streets, the first construction of its kind in the Quad Cities. (And if you'd like to perform a little environmental protection of your own on Saturday, volunteers are needed to help River Action plant trees along the Mississippi from 2 to 5 p.m.) In addition to this field trip, Fish & Fire attendees will, as ever, enjoy the presentation of the annual Eddy Awards - recognizing individuals and groups dedicated to riverfront activity and development - and a mouth-watering, on-site catfish fry, courtesy of the culinary talents at the Iowa Machine Shed. So that's Fish & Fire. But I'm guessing the catfish themselves may be thinking of another four-letter word that starts with an "f." For more information and tickets to the event, call (563) 322-2969.