No More Kings
Rock Island Brewing Company
Saturday, April 28, 11 p.m.
Their group moniker comes from a Schoolhouse Rock ditty, their influences include Knight Rider and Peanuts cartoons, and their music video for "Sweep the Leg" is a tribute to The Karate Kid. Is it unseemly to propose marriage to an entire band? (I mean, come on - these guys reunited Daniel-san, Johnny Lawrence, and Sensei for God's sake!) Fellow children of the '80s - and you whippersnappers who enjoy the '80s in a kitschy-fun way - should be salivating for April 28's No More Kings performance at the Rock Island Brewing Company; what's not to love about a group whose frontman describes his band as "for anyone who's ever wanted a talking car"? Boasting a sound that he calls "somewhere between The Muppet Show and a kung fu movie," Pete Mitchell and the No More Kings musicians deliver what Amplifier magazine's Sean Canton praised as "a delightfully irreverent compilation of hooks, riffs, and butt-moving beats," with a repertoire that includes such pop-culture meditations as "Leaving Lilliput," "About Schroeder," and "Zombie Me." Oh, man, they sing about zombies, too? That's it. I'm buying a ring. No More Kings shares Saturday's bill with The Warmth, and more information is available at (http://www.ribco.com).
Chance
St. John's Lutheran Church in Rock Island
Saturday, April 28, 7 p.m.
In choosing the final performers for Quad City Arts' 2006-7 Visiting Artist season, the organization has taken a Chance. In fact, they've taken 'em all over the freakin' place. Performing what the musicians' Web site calls "a hybrid musical form that springs from classic chamber music, folk, and jazz," Ed Willet and Cheryl Leah - collectively known as Chance - will present a public concert at St. John's Lutheran Church on April 28, the final stop in a busy week that also finds them at Black Hawk College (April 26, 11 a.m.) and the Butterworth Center (April 27, 2 p.m.). The duo's musical stylings were first heard nationally on TV's Northern Exposure in the early '90s; led to collaborations with the likes of Herbie Hancock, Robert Goulet, and composer John Williams; and have enraptured audiences and critics alike. The Los Angeles Times described the pair as "polished and passionate," while L.A. Weekly raved that Chance "zeros in on your emotions, and is supported by wonderfully unique instrumentation." St. John's Lutheran Church is located at 4501 Seventh Avenue in Rock Island, and will host - I kid you not - Chance's 32nd area performance during its 13-day tenure. Jeez. Talk about northern exposure. For more information on the group, visit (http://www.chanceworld.com).
Tuesdays with Morrie
ComedySportz
Saturday, April 28, through Sunday, May 6
After a run of adults-only offerings that has included Closer, Oleanna, The Pillowman, and the Dingo Boogaloos, take one guess as to what subversive entertainment My Verona Productions has lined up for theatre fans these days? You guessed it: Tuesdays with Morrie. Okay, so maybe you didn't guess that. But the company is indeed presenting this adaptation of Mitch Albom's beloved nonfiction book, running from April 28 through May 6 at Rock Island's ComedySportz venue. Directed by My Verona co-founder Tristan Tapscott, the show (as millions of readers are aware) focuses on the touching father-son relationship that developed between Albom and his former sociology professor, diagnosed with Lou Gehrig's Disease. Interestingly, Tuesdays with Morrie's stars, Adam Lewis and Ray Gabica, have educational ties as well: Gabica was one of Lewis' grad-school theatre professors at Western Illinois University. As Lewis related to me, "My relationship with Ray is very much like the relationship Mitch has with Morrie. Except, um, the death part ... and we pretty much kept in touch after I graduated. ... Okay, our relationship is pretty much nothing like Mitch and Morrie ... ." Damn. That quote was gonna make such a nice capper to this piece. For tickets, call (309) 786-7733 extension 2.
Quad Cities Steel Guitar Show & Jam
The Col Ballroom
Saturday, April 28, 10 a.m.-11:30 p.m.
When I first read the flier announcing "Quad Cities Steel Guitar Show & Jam," my immediate thought was, "From whom?!" (My second thought was, "And why steal jam?") I eventually put on my glasses and realized my mistake, but the event still sounds pretty damned exciting. On April 28, Davenport's Col Ballroom hosts the 16th-annual gathering of local and national steel-guitar players, in a daylong party featuring uniquely designed instruments, plenty of food and drink, and, of course, the finest in pedal-steel-guitar music. A whopping 21 performers will share their talents, and in addition to more than a dozen players from Iowa and Illinois, the jam will showcase the gifts of Tennessee's Albert Svenddal, Oklahoma's James Moorehead, recording artist Ron Elliott - a frequent performer with the Grand Ole Opry - and St. Louis-based steel-guitarist DeWitt "Scotty" Scott, who helped launch the first National Steel Guitar Convention in 1971 and, in 1992, was inducted into the Steel Guitar Hall of Fame. Actually, I have an acquaintance who's in that. But again, it's "steel" spelled with "ea." I don't like to talk about him. For more information on the Quad Cities Steel Guitar Show & Jam, call (563) 324-5583.
Stuff Happens
Augustana College
Friday, April 27, through Sunday, May 6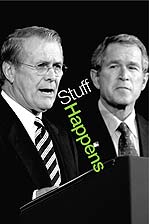 Will those of you who miss Donald Rumsfeld kindly vocalize your support by yelling, "Aye!" Oh, stop. Please. You're deafening me. Nonetheless, the former secretary of defense and a few other politicos you may have heard of - including George W. Bush, Dick Cheney, Condoleeza Rice, Colin Powell, and Tony Blair - will find themselves at playwright David Hare's mercy in Stuff Happens, running April 27 through May 6 in Augustana College's Potter Hall. Its title taken from Rumsfeld's infamous response to the April 2003 looting in Baghdad - "Stuff happens. ... Freedom's untidy, and free people are free to make mistakes and commit crimes and do bad things" - Hare's work dramatizes the conferences, public addresses, and (speculative) diplomacy that led to the invasion of Iraq. The Guardian's Michael Billington called Stuff Happens a "totally compelling play," and in his author's notes, Hare makes clear that the work is "not a documentary." He does, though, admit to copious amounts of research, writing, "Nothing in the narrative is knowingly untrue." Just like my asides in these calendar articles. (That sound you hear is my editor, Jeff, laughing his ass off.) For tickets to Stuff Happens, call (309) 794-7236.