Larry Mendenhall and Kim McCool
Mississippi Valley Welcome Center
Friday, August 18, 7 p.m.
On August 18, the MidCoast Fine Arts Gallery at LeClaire's Mississippi Valley Welcome Center will host an opening reception for Larry Mendenhall's and Kim McCool's current art exhibition, running through August 31. The evening will feature music by Jordan Danielsen, hors d'oeuvres, and wine, and therein lies the reason I generally don't attend opening receptions - a few too many glasses and I start writing checks for every piece of art I see. Considering Mendenhall's and McCool's talents, you may want to, as well. Mendenhall is a landscape photographer whose output boasts intensely vibrant colors; the hues in his Smoky Mountain Sunset and Daybreak pieces are particularly extraordinary. (See for yourself at http://users.mcleodusa.net/l/larrym.) And McCool - whose talents can be appreciated at (http://www.porcelainpainters.com) - creates finely designed artworks in porcelain and is a charter member of Porcelain Painters International. Both artists' works should make for a memorable night, and if you do attend the reception, be sure to watch yourself on the vino, or you'll experience unpleasantly close proximity to another kind of porcelain. For more information, contact MidCoast Fine Arts at (309) 732-1354.
Ember Swift and Congress of Starlings
Theo's Java Club
Monday, August 21, 7 p.m.
The musicians playing Theo's Java Club on August 21 are described in a press release as "two innovative, activist-driven, style-merging groups," and that latter part certainly seems to be true. Singer-songwriter Ember Swift - performing alongside bandmates Lyndell Montgomery and Adam Bowman - has earned a loyal following throughout the U.S., Australia, and Swift's native Canada through the group's blend of folk, funk, reggae, and South African-influenced pop; on the Ember Swift Web site (http://emberswift.com), their sound is said to suggest "the bilingual love child of Paul Simon and Laurie Anderson who is being raised by Joan Jett." (Art Garfunkel est-il conscient de ceci?) And the Chicago-based duo Congress of Starlings - featuring the powerful vocals of Aerin Tedesco and Andrea Bunch - uses a wide variety of sounds and instruments to create what their Web site (http://www.congressofstarlings.com) calls "music that swings from thunderous electronic rants to breathtaking acoustic ballads," forming a genre that the musicians describe as "anti-folk." I've also been described as "anti-folk," but really, you just have to get to know me. For more information on the evening, call Theo's at (309) 788-5282.
Ya Maka My Weekend
The District of Rock Island
Friday, August 18, and Saturday, August 19
Rock Island will soon be abuzz with the sights, sounds, and smells of the Caribbean, as the 15th annual Ya Maka My Weekend festival entices District crowds on August 18 and 19. The smells will emanate from the delicious food and beverage options, including such Jamaican delicacies as jerk chicken, shrimp with coconut sauce, and blue mountain frappucinos. Caribbean sights will be plentiful, as the District will be decorated with live palm trees and more than 400 tons of sand; a more thematic Caribbean sight will be the festival's wooden pirate ship, at which kids can hurl water-balloon cannonballs. (Ten bucks says that'll be a Johnny Depp routine in Pirates 3.) As for the sounds, they'll come from the event's great roster of reggae, calypso, and funk musicians; on this year's lineup are The Ark Band, the Reggae Cowboys, Yabba Griffiths & Traxx, Gizzae, Baaro, the Roots Rock Society, Public Property, Mikey Gitz, Hammered Steel, Rude Punch, and the acronymous OD TAPO IMI, which stands for Oil Drums That Are Pounded Out Into Musical Instruments. Perhaps you didn't need to know that, but I rarely get to use the word "acronymous." For the weekend's band schedule, see page 22; for more information on Ya Maka My Weekend, visit (http://www.ridistrict.com).
Harper
Blueport Junction
Monday, August 21, 8 p.m.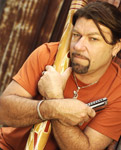 Australian blues artists Harper will perform at Davenport's Blueport Junction on August 21, and have, for more than a decade, thrilled international audiences with their soulful vocals and original compositions. Blind Pig Records' Jerry Del Giudice stated, "Harper's unique and heartfelt approach reaffirms my faith in the power of music," a sentiment that has been echoed in the honors the band has received; they earned a Song of the Year citation at the 2004 Australian Blues Awards, and the online guide BluzHarp (http://bluzharp.tripod.com/)  bestowed upon Harper "The Sweet Harmonica Award" and "The Nasty Harmonica Award." The accolade doesn't specify, but I'm guessing that the Nasty Harmonica honor was inspired by some of the songs on Harper's latest CD, Down to the Rhythm - the group's Web site reveals that their "Last Cup of Coffee" is a "sinister" take on a broken relationship, "I'll Follow You" digs into "the unstable mind of a stalker," and "Something Happened Here Last Night" describes "a binge-drinking bout that goes terribly wrong." Nice to find an Australian group that Americans can totally relate to. Tickets for Harper's Blueport Junction concert are $8, and more information on the band is available at (http://www.harper.biz).
Ballet Under the Stars
Lincoln Park, Rock Island
Friday, August 18, through Sunday, August 20, 8 p.m.
Ballet Quad Cities' Joedy Cook promises that this year's Ballet Under the Stars - occurring in Rock Island's Lincoln Park August 18 through 20 - will be "just fabulous," and while you'd expect such an endorsement from the organization's executive director, Cook's description of the event definitely backs up her claim. A collaboration with Opera Quad Cities and Genesius Guild, Ballet Under the Stars, says Cook, will be highlighted by a performance set to Mozart's Three Little Pigs score, featuring "all-original choreography by Erika Attwood," and giving family audiences "a wonderful introduction to dance and opera." But the evening's professional and student dancers will also perform three pieces choreographed - "to snappy violin music" - by Jennifer Weber, and a dance piece from June's One River Mississippi event ("the one on the barge, with the red and yellow costumes"). Cook adds that the ballet's sponsors are RiverStone, R.J. Lee & Associates, and Merrill Lynch, and that - in honor of the Mozart piece - the first 50 kids attending each performance "will get a free pig nose." As Hormel is not a sponsor, I'm assuming that's a fake pig nose. For further information, call Ballet Quad Cities at (309) 786-3779.