The Fourth featuring Tim Stopulos
The Redstone Room
Thursday, December 21, 8 p.m.
Isn't it sad how our dreams of life post-college never match up to reality? Consider the plight of Tim Stopulos. The Bettendorf native recently graduated from North Carolina's Wake Forest University with a major in music, and in the department's quarterly newsletter, Stopulos described his goals: "I plan to pursue a career of writing and performing my own music. After graduation, I am going home to Iowa to start playing shows with my band there." How unfortunate that Stopulos' hopes were ... hey, wait a minute! He's actually doing that! On December 21, Davenport's Redstone Room presents Stopulos and his band, The Fourth, with their eclectic, electric blend of pop, blues, jazz, and classical stylings. Featuring Chuck Berry on guitar, Adam Berns on drums, Bill McGibony on bass, and Stopulos himself on piano and acoustic guitar, the band spent the summer wowing Midwestern crowds, and I'd be happier about Stopulos' success if I weren't totally envious. Come on - whose collegiate dreams actually come true? I mean, after graduation, all I wanted to do was go to the movies and the theatre and have someone pay me for it, and instead ... . Oh, never mind. For more information, visit (http://www.redstoneroom.com).
Hurricane on the Bayou
Putnam Museum & IMAX Theatre
Opens Friday, December 22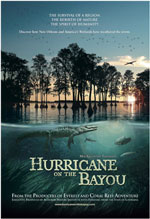 There's serendipitous, and there's downright spooky. In early 2005, Greg MacGillivray traveled to Louisiana to film a documentary that would show how the progressive loss of the state's wetlands made New Orleans particularly vulnerable to a large-scale hurricane. MacGillivray began preparations to re-create the effects of a Category 5 storm - and then Hurricane Katrina hit. The resulting movie, Hurricane on the Bayou, opens at the Putnam Museum & IMAX Theatre on December 22, and is filled with scenes of actual destruction. The Los Angeles Times' Mark Olsen wrote that "the now-familiar imagery of the devastation of New Orleans and other areas takes on a new resonance," and that the film "brings into sharp focus the scope of wetlands being lost." But don't expect a relentless downer with Hurricane on the Bayou; MacGillivray also presents the hopeful stories of two New Orleans musicians - Amanda Shaw and Tab Benoit - and treats audiences to several invigorating musical numbers. And if that's still too much of a holiday bummer for you, hit the other IMAX presentation opening December 22: Happy Feet! Dancing penguins! Everything's better now! For show-schedule information, visit (http://www.putnam.org).
Mark Gross
Penguin's Comedy Club
Thursday, December 21, through Saturday, December 23
Check out the accompanying photo. Gross, huh? No, I'm serious. That's comedian Mark Gross, who is performing at Penguin's Comedy Club December 21 through 23. And before you accuse me of making an unfair crack at the gentleman's surname, know that Gross would probably be the first to do the same. A visit to the comic's Web site (http://www.markgrosscomedy.com) gives you a plethora of Gross things to experience, and they're handily labeled: In the "Get Gross" section, you can see his extensive résumé, which includes appearances on The Tonight Show with Jay Leno and Comedy Central's Premium Blend, and his long-time writing gig for Politically Incorrect. "Gross Out" provides links through which you can purchase his comedy CD, Meet Mark Gross. "Gross Pix" gives you ... well, exactly what you'd expect. And the site also gives you samplings of Mark's anecdotal musings in an online newsletter entitled GrossWorld, which the comedian describes as "a place where the meek inherit the earth - then suffer from buyer's remorse." That's why you always keep a receipt. For more information, visit (http://www.penguinscomedyclub.com).
Winter Classical Music Concert
Galvin Fine Arts Center
Thursday, December 21, 7:30
During a Russian winter, the temperatures can fall to around minus-60 degrees Celsius, which an online conversion chart tells me is about minus-76 degrees Fahrenheit. So despite our frequently brutal Midwestern weather, you can understand why Russian musician Anatoly Sheludyakov might want to spend the holidays here. The famed pianist will be making his fourth annual area appearance on December 21, performing in St. Ambrose University's Winter Classical Music Concert at the Galvin Fine Arts Center. With 16 CDs and a host of awards to his credit, the classical pianist will enchant audiences with compositions by the likes of Beethoven and Strauss, and will be accompanied by noted violinist Daniel Kaplunas. Like Sheludyakov, the much-lauded Kaplunas has toured the world - bringing his virtuosity to such countries as Denmark, Germany, and Holland - and, being a native of Vilnius, Lithuania, is similarly here to escape the winter chill of his homeland. Again using my conversion chart, it turns out the average temperature in a Lithuanian winter is ... 40 degrees Fahrenheit? Hell, let's go there for the holidays! Tickets to the concert are $5, and more information is available by calling (563) 333-6172.