Webb Wilder
Rock Island Brewing Company
Saturday, December 30, 9 p.m.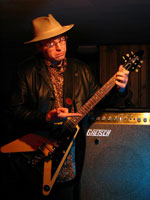 As you can imagine, the composition of these calendar articles requires that I read a lot of musician biographies on Web sites. But until I landed on the site for Webb Wilder (http://www.webbwilder.com) - who performs at RIBCO on December 30 - I'd never encountered a bio that did all my work for me. Seriously, this one has it all. A pithy description of his style ("we play both kinds of music - rock and roll") combined with colorful detail ("songs with potent doses of rustic wit and character, transcendent meditations, incantations, and codes by which to live"). Critical raves (The Houston Post calls Wilder "full of wit and personality") and self-effacement (Wilder's credo: "work hard, rock hard, sleep hard, eat hard, grow big, wear big glasses if you need 'em"). Clever phrasing ("guitarchitecture," "uneasy listening") and witty descriptions ("Fess Parker on thorazine"). Even a Twin Peaks reference! There's nothing left for me to do here but mention that Webb Wilder's opening act at RIBCO is the band Done by Nine, who begin performing at nine. That's gonna be a really short set. For more information, visit (http://www.ribco.com).
Kwanzaa Feast
The Coffee Artist Café
Wednesday, December 27, 6:30 p.m.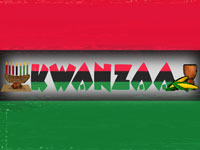 During the week-long observance of Kwanzaa, the traditional daily greeting is "Habari Gani?" - Swahili for "What's the news?" So let me tell you. This celebration of African-American heritage will be observed in style on December 27, when Ruby Nancy and Mona Ritemon invite you to join in a Kwanzaa Feast at their Coffee Artist Café (located at 1711 Fifth Avenue in Moline). All ages and ethnicities are welcome to this seasonal ceremony, which will include many elements of a traditional Kwanzaa observance, among them a candle-lighting ritual, libations, a program on African and African-American culture and traditions, and inspirational music, with Ritemon herself performing on the djembe drum. Plus, of course, there will be the feast itself, a five-course meal that Ritemon says will feature a date-and-peanut, black-eyed-pea salad, and Moroccan chicken with a honey glaze. So what's Swahili for "I'm now drooling on my keyboard"? Suggested attire, according to Ritemon, is "formal but casual," tickets are $21.95 each, and reservations can be made by calling the Coffee Artist Café at (309) 743-0088.
YPN New Year's Eve Bash
The University Club
Sunday, December 31, 7 p.m.
"May I ask a question, Moneypenny?" "Of course, James." "Do you have any plans for December 31?" "Nothing that can't be changed. Why?" "I was hoping you'd accompany me to the Young Professionals Network New Year's Eve Bash at Moline's University Club." "Why, James Bond! Are you asking me on a date?" "Apparently so." "Well, we're hardly young professionals ... ." "Ah, but the event is in my honor. It's titled '007 in 2007.'" "Will there be dinner?" "Of course. You've always been mad for chicken breast in Poulette sauce and roast pork with au jus, yes?" "Will there be drinks?" "Beer, a cash bar, a champagne toast ... whatever your heart desires." "Will there be dancing?" "I'll sweep you off your feet." "Oh, James!" "It's a formal event, and we're invited to attend dressed as our favorite figures from my adventures. I was thinking of arriving as Goldfinger, or perhaps Dr. No." "Who should I dress as, James? Honey Rider? Jenny Flex? Pussy Galore? Xenia Onnatop? Holly Goodhead?" "Well ... ." "Why, James Bond, you look positively stirred." "Shaken, actually." Reservations to the "007 in 2007" bash should be made by Wednesday, December 27, and tickets - $50 apiece for YPN members, $55 for non-members - are available by visiting (http://www.ypnqc.org).
BT & John Betz, Jr.
Penguin's Comedy Club
Thursday, December 28, through Sunday, December 31
For the venue's final 2006 offering, Penguin's Comedy Club is headlining BT December 28 through 31, perhaps because the moniker fits so nicely on a marquee. But I'm guessing that the comedian's Penguin's gig was secured more through talent, as this honest-to-God "Oakie from Muskogee" has taken his high-energy stylings to 43 states and three countries, has performed on MTV, BET, and Comedy Central, and is developing a healthy acting career, having appeared in HBO's tele-film Suckers and the Sci-Fi Channel's Black Scorpion series. Impressive, yet I'm finding myself equally intrigued by the gentleman sharing the stage with BT this weekend. John Betz Jr. isn't just a comedian, you see; he's also a high-school math instructor. And while I didn't think my geometry teacher was all that funny, my classmates certainly disagreed, especially when he repeatedly pointed out my placement at the bottom of the grade curve. So break a leg, Mr. Betz, but while I'm not advocating heckling, by all means, let's hope your audiences are filled with less high-school resentment than I am. For prices and showtimes, including information on the New Year's Eve performances, visit (http://www.penguinscomedyclub.com).
The Harlem Globetrotters
The Mark of the Quad Cities
Monday, January 1, 2 p.m.
The Harlem Globetrotters bring their legendary talents to the Mark of the Quad Cities on January 1, yet despite the team's worldwide reputation, I'm not sure that younger basketball fans realize just how cool this team is. Sure, they might know about the Globetrotters' hilarious, gravity-defying prowess on the court. They might know that former players include Wilt Chamberlain, "Meadowlark" Lemon, and even Bill Cosby. But unless you were an avid TV viewer in the late '70s and early '80s, you wouldn't know that they're also superheroes. The Saturday-morning cartoon The Super Globetrotters saw the team face off against such über-villains as Tattoo Man and Bullmoose, and in 1981's The Harlem Globetrotters on Gilligan's Island, our heroes end up in a climactic game against robots, for Pete's sake ... and end up kicking their electronic asses! Ordinarily, I would never consider surrounding myself with 6,000 cheering sports fans on New Year's Day, as the sound of one loud person is usually enough to send me into a state of hangover-fueled madness. For the Globetrotters, I'd absolutely make an exception. For more information on the game, visit (http://www.themark.org).