The Lloyd Dobler Effect
Rock Island Brewing Company
Thursday, February 15, 10 p.m.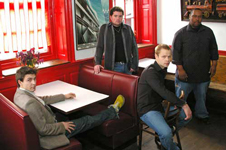 Most women, I'd guess, would consider the most romantic man in movies to be Lloyd Dobler, John Cusack's kickboxing, boombox-hoisting character from 1989's Say Anything. (At least women who've seen the movie would say that, and you really don't want to hang with anyone who hasn't.) Smart, then, of Phil Kominski, Chris Bruno, Donnie Williams, Patrick Hughes, and Rusty Williams to name their band The Lloyd Dobler Effect - audience empathy is baked right in! This D.C.-based rock outfit, whose sound is often likened to the Steve Miller Band's, has performed more than 1,200 gigs in 39 states and eight countries, and a visit to the band's Web site makes them appear as sincere and sweet as the guy they're named after. "We not only enjoy meeting, greeting, and getting to know our fans as friends," the site states, "but we understand how important you are to our success. We love our fans." The Lloyd Dobler Effect performs at RIBCO on February 15, so remember, guys: If your girlfriends spontaneously decide to make Thursday "girls' night out," at least you'll know where to find them. For more information on the group, visit (http://www.lloyddoblereffect.com).
Marty Stuart
The Redstone Room
Thursday, February 15, 8 p.m.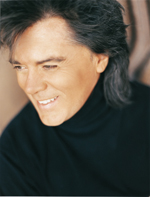 If you're a country-music fan, chances are you're familiar with Marty Stuart, performing at the Redstone Room on February 15. Over the course of three decades, this famed singer/guitarist/producer has amassed six top-10 hits, five gold records, and one platinum LP. He's performed with Johnny Cash, Bob Dylan, and Travis Tritt. He's received four Grammy Awards and, with his Live at the Ryman CD, scored a 2007 Grammy nod for Best Bluegrass Album. Yet do you know about the Marty Stuart Collection? Stuart has spent years gathering items previously owned by country-music legends, and currently has more than 20,000 in an aggregation that includes costumes, instruments, artworks, manuscripts, and even personal correspondence, such as a clothing order written by Patsy Cline a week before her death. Reportedly, a national tour of the collection will kick off in Memphis in 2008, and I swear, if Stuart has Johnny Cash's '50s-era "Man in Black" suit, I'm absolutely making a trek to Tennessee. Oh wait ... it says here that he does. Uh oh. Hey, Jeff? If I took a trip to Memphis, the Reader would totally pay for it, right? Uh ... Jeff... ? For more information on Stuart, his music, and his memorabilia, visit (http://www.martystuart.net).
Stomp
Adler Theatre
Tuesday, February 20, and Wednesday, February 21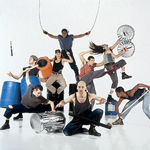 On the Web site for the theatrical extravaganza Stomp (http://www.stomponline.com), it says that, in a typical week, this musical dance troupe goes through 200 liters of water, 12 boxes of matches, and eight bananas. Hey, I do, too, so what's the big deal? Well, of course, Stomp is a very big deal. With a wide variety of found objects at their disposal - including wooden poles, garbage cans, brooms, hubcaps, and Zippo lighters - the performers of Stomp will bring their high-energy, percussive symphony to Davenport's Adler Theatre on February 20 and 21, allowing local audiences to experience the one-of-a-kind musical sensation that has elicited critical raves for more than a decade. The New York Times called Stomp "a sure-fire crowd-pleaser ... banged, tapped, swished, clicked, and clomped with an entrancing charm and a rock-and-roll heart." The New Yorker praised the group's "high-voltage virtuosity." The Vancouver Sun enthused that "the art of performance doesn't get any better." And London's Time Out magazine wrote that "Stomp does for rhythm what Freud did for sex." I'm assuming that doesn't mean that Stomp will take all the fun out of it. For further information and tickets, visit (http://www.adlertheatre.com).
Arsenic & Old Lace
Richmond Hill Barn Theatre
Thursday, February 15, through Sunday February 25
Back in high school, the biggest laugh I ever received came when I stood in front of 200 people and announced, "I'm a bastard!" Yeah, high school was hell. But the laugh was actually an intentional one, as it came from a line delivered by my character - Mortimer Brewster - in a production of Arsenic & Old Lace. On February 15, the Richmond Hill Barn Theatre opens its production of this classic Joseph Kesselring comedy, one that has delighted audiences for nearly 70 years and became a beloved Frank Capra film starring Cary Grant. In this inspired farce, directed for Richmond Hill by John VanDeWoestyne, a pair of doting, elderly sisters put lonely men out of their misery by poisoning their wine, and the spinsters are just the tip of the play's dysfunctional-family iceberg; there's also a brother who thinks he's Teddy Roosevelt, and another whose reconstructive surgery has turned him into a Boris Karloff lookalike. And the character of Mortimer Brewster? He's a snide theatre critic with commitment issues who thinks his family is freakin' nuts. Nice to see how far I've progressed in two decades. For tickets to Arsenic & Old Lace, call (309) 944-2244.
Tommy & Shelby Chong
Penguin's Comedy Club
Thursday, February 15, through Saturday, February 17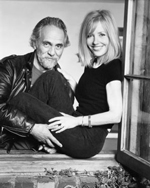 Beginning February 15, Penguin's Comedy Club presents three nights with the legendary Tommy Chong and his comedienne wife, Shelby, and during their performances, the joint is sure to be killer. Tommy flowers on stage with chronic, dope material; you'll give a big thumb up, and root for superlatives, after seeing this Grammy-winner smoke through his set. (Your best buds are sure to be grass-and-leaf-green with envy.) As for Shelby, she's no one-hit wonder, having appeared in - and associate-produced - Cheech & Chong's The Corsican Brothers, Things Are Tough All Over, and Nice Dreams; she'll bowl you over with her blunt comedy method and nuggets of homegrown comic insight. The buzz is that even your Gram, your Aunt Mary, and your sticky-icky cousin Mary Jane would be high on the Chongs' show, chief. So get off the pot, go for the gold, and shake your way to Penguin's - and if you don't want to order hooch, feel free to ask for tea. Texas tea. (Sorry about all the references. Weed have cut them, but just couldn't hemp ourselves.) If you want 420 more reasons to visit Penguin's, its number is (563) 324-5233.