The Scandinavian Rhythm Boys
The Redstone Room
Monday, March 5, 7 p.m.
On March 5, the Redstone Room presents the American debut of the Scandinavian Rhythm Boys, and I was all set to provide you with great information from their Web site (http://www.rytmich.dk) ... but it's in Danish. Yet I'm tenacious - not to mention half-Danish myself - so let's see: It states that "Scandinavian Rhythm Boys blev atableret i 1997." That seems clear enough; they formed in 1997. "Instrumenterne betjenes af: Robert Hansson, Hans Jørgen Hansen, Paul Waters, and Michael Bøving." So those are the band members - awesome! "Besæ tningen er unik med en instrumentering der rummer: trompet-bassaxofon-klarinet-sopransaxofon-kontrabas-quadro-banjo and sang." Okay, I've figured out ... well, most of those instruments! And what's this at the top of the Web page? "Blues-Ragtime-Stomp-Dixieland-Spiritual and Gospel." Wow! Understanding Danish is easy! This acclaimed European ensemble, whose style is inspired by Bix Beiderbecke's, takes the stage after sets by the John Deere Middle School Jazz Band and Josh Duffee & His Versatile Five; Duffee himself, who helped organize the Boys' visit, calls them "a very cool group." Despite my limited grasp of Danish, I do know the response to that: Fortrinlig! Tickets are $5, and are available at (http://www.redstoneroom.com).
Hanz Eric & the Hims
Rock Island Brewing Company
Friday, March 2, 10 p.m.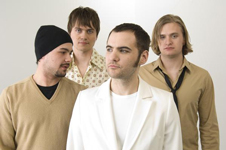 Hanz Eric & the Hims make their debut at the Rock Island Brewing Company on March 2, but Eric, for one, is no stranger to the club scene. He previous headlined the band HanZsolo, which released a CD entitled Closet Pop in 2003; Mish Mash Music Online called it "the underground pop album of the year," and the St. Paul Pioneer Press wrote that "there are thousands of college girls out there waiting to discover this, their favorite new record." So things were looking bright for the Minneapolis-based group ... until Lucas Licensing sent the band a cease-and-desist e-mail, saying they were infringing on the Han Solo trademark. But Eric and his retitled outfit are back with a new CD, Copay, and are even more determined to wow audiences with their high-energy, electric rock with classic soul flavorings. According to a recent press release, Eric and bandmates Stein Malvey, Erik Naslund, and George Marich are excited about their current Midwestern tour, and dedicated to "bringing smart pop to those who are ready for something fresh." Sounds like an ad campaign for Sprite! (Oh, great. Now Sprite's gonna send us a cease-and-desist.) For more information on Hanz Eric & the Hims, and future RIBCO concert events, visit (http://www.ribco.com).
The Roaring '20s Return II
The University Club
Saturday, March 3, 6 p.m.
At the Alternatives for the Older Adult's second-annual 1920s-themed fundraiser - titled "Roaring '20s Return II," and occurring at Moline's University Club on March 3 - you are encouraged to dress in your finest flapper and gangster regalia. But not only will the event enable you to look like someone else; it will, for the right price, enable you to be someone else. In an evening filled with cocktails, hors d'oeuvres, mock casino gaming, demonstrations of the Charleston, and live jazz by Josh Duffee & His Versatile Five, the highlight may well be what Alternatives' public-relations manager Ann Nicknish calls the "Behind the Scenes Auction." The night's highest bidders will be able to experience a whole new profession: Among numerous opportunities, you can spend a day soda-jerking (and sampling treats) at Lagomarcinos Confectionary, or enjoy being a marine biologist (and feeding the Beluga whales) at Chicago's Shedd Aquarium. Last year's Roaring '20s event raised some $10,000 for family caregivers of older adults, and if I had my choice, I know exactly who I'd want to be for a day: a musician for Josh Duffee & His Versatile Five. You guys made it into two Reader calendar pieces in one week! You rock! For more information, visit (http://www.4olderadults.org).
Dublin's Traditional Irish Cabaret
Circa '21 Dinner Playhouse
Tuesday, March 6, 1 p.m. and 7:15 p.m.
Howya, me ould segotias! I'm here to blather about the shenanigans at the Circa '21 Dinner Playhouse, where you'll be suckin' diesel at a deadly craic on March 6. For the third time in four years, the theatre is jammy to present Dublin's Traditional Irish Cabaret to all ya fine things 'n' flahs, a hooley so grand you're sure to shout, "Janey Mack!" Comedian Noel V. Ginnity will be actin' the maggot, as the header tells bold and rapid tales of blarney - you'll think he's gone in the head! Tenor Paul Hennessy will make birds swoon with class renditions of "Danny Boy" and "I'll Take You Home Again, Kathleen," and a gift group of colleens will twirl and tap to tunes on the accordion, pipes, and piano. The show's suitable for babbys, boyos, and chisellers, and if you're off the drink, feel free to order cha - otherwise the Circa pub can get ya bolloxed, fluthered, langers, and stocious. (Be wide drivin' home, though, or the guards'll get ya in the midst o' your holy show.) But don't be foostering - the place'll be jammers, so cop on! Bolt for seats, or you'll feel like an eejit for dodderin' 'n' lettin' the shower o' savages beat ya to 'em! For an English translation to this piece, visit (http://www.irishabroad.com); for tickets to Dublin's Traditional Irish Cabaret, call (309) 786-7733 extension 2.
10 Questions for the Dalai Lama
Putnam Museum & IMAX Theatre
Monday, March 5, and Tuesday, March 6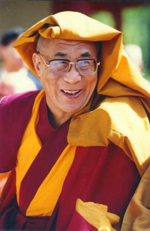 When filmmaker Rick Ray agreed to make the 2002 documentary The Soul of India, he had a clause placed in his contract entitling him to a personal meeting with the Dalai Lama. (Jeez ... most people just attach riders for snacks or a personal trainer ... .) The meeting never transpired, but Ray pursued his goal of conversing with the deposed Tibetan ruler, and the results of that quest can be seen on March 5 and 6 in 10 Questions for the Dalai Lama, the Putnam Museum & IMAX Theatre's latest World Travelogue Series presentation. The feature-length movie, which DVDTalk.com's Geoffrey Kleinman says is "destined to become the definitive film on the Dalai Lama," is filled with insight into one of the world's most influential pacifists, as Ray probes into the Tibetan's philosophies through such questions as: "Why do the poor often seem happier than the rich?", "How do you reconcile a commitment to nonviolence when faced with violence?", and "Must a society lose its traditions in order to move into the future?" I won't spoil the other seven for you, but if you're thinking the same thing I was, it turns out that one of the questions is not "So what's Richard Gere really like?" Further information on 10 Questions for the Dalai Lama is avalaible by visiting (http://www.putnam.org).