The Ragbirds
Rock Island Brewing Company
Saturday, January 20, 10 p.m.
The Ragbirds land at the Rock Island Brewing Company on January 20, but after hitting the group's Web site (http://www.theragbirds.com), I'm not sure if the New England-based Ragbirds are going to drive, fly, or perhaps simply beam their way here. Scanning the reviews for this band that blends roots folk, world groove, and pop sensibilities, I noticed an intriguing theme. Cheryl Wilson, in The Uncommon Sense Magazine, wrote, "The Ragbirds have gestated a sound and experience so unlike anything you've seen in these parts, you may begin to wonder if you've teleported to another land." Jamie Bradish, in the Ypsilanti Courier, wrote, "Their music is not only inspiring and powerful, but a successful experiment in teleportation, as well." And taking a less sci-fi approach, the Ann Arbor Observer's Alan Goldsmith described the Ragbirds as suggesting "a well-worn suitcase covered with travel stickers of world-music styles." The Web site goes on to detail the group's recording policy, and while "unauthorized sale, duplication, and/or distribution is strictly forbidden," the Ragbirds "encourage the taping and trading of our live shows. Taping is a great way to preserve a favorite show and re-experience it at home." How cool of them. If I accidentally stumble upon a time-travel device, I'm letting the Ragbirds use it first. For more information, visit (http://www.ribco.com).
West Side Story
Circa '21 Dinner Playhouse
Wednesday, January 17, through Saturday, March 24
West Side Story opens at the Circa '21 Dinner Playhouse on January 17, and really, what else is there to say? By this point, no one needs to be told of the show's importance in musical-theatre history, or of its entertainment value - you'd probably go (or not) to Circa '21's version even if you didn't know that it was being directed by Ann Nieman (Irving Berlin's White Christmas, Grease, Joseph & the Amazing Technicolor Dreamcoat), and that it starred returning performers such as Mishi Schueller, Andrea Moore, Jenna Kantor, Andrew Parker Greenwood, and Tom Walljasper. So I went to Wikipedia (http://en.wikipedia.org/wiki/West_Side_Story) for some obscure facts about the show, and stopped when I landed upon the "Basis Upon Tritone" entry, which is like a grad-school thesis paper in just more than 200 words. It begins with "The work is notable for being largely based upon the interval of a tritone, also known as an augmented fourth or diminished fifth" - music that "represents tension or unrest" - and ends with "Only in the final bar is the C chord allowed to remain uninterrupted, thus creating a very last-minute release of tension." Damn. And all these years I thought I'd been crying 'cause everyone was dead. For West Side Story tickets, call (309) 786-7733 extension 2.
Quad City Cat Club Show
Moline Holiday Inn
Saturday, January 20, and Sunday, January 21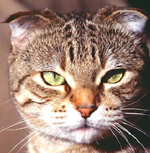 Don't get me wrong; cats are terrific, and my parents have owned several that I adored while growing up. But every time I look at a cat - whether it appears sweet or malicious - its gaze reflects the same question I'm reading from the cat pictured on the left: "What the hell are you looking at?" Maybe that look comes from always being looked at. On January 20 and 21, the Moline Holiday Inn will host the annual Cat Fanciers' Association's Quad City Cat Club Show, where guests can gaze at the more than 200 pedigreed cats expected to compete, in such breeds as Siamese, Persian, and Devon Rex. (I landed upon a Google photo of the latter creature and found it too terrifying for print; man, those Devon Rexes have big ears ... .) Breeders will happily answer any questions you have about their felines, while vendors will offer a wide variety of toys and kitty-related products for purchase; rumor has it there might even be some kittens for sale. And according to the event's Web site (http://www.cfamidwest.org/quadcity.html), which describes the rules for entry, litter and water will be provided, but I'm assuming that's just for the cats. For more information, call Dale Belanger at (309) 755-9839 or Gary Amundson at (309) 786-5237.
Mike Armstrong
Penguin's Comedy Club
Thursday, January 18, through Saturday, January 20
In the past, whenever I've been pulled over for some traffic violation - and, I swear, it hasn't happened more than six or seven times - I've always tried to make the situation less uncomfortable by making some kind of good-natured joke. The officers never laughed. But I'm betting Mike Armstrong would've. Performing at Penguin's Comedy Club January 18 through 20, Armstrong is a police-officer-turned-comedian who seems like a really sweet guy; on his Web site (http://www.mikearmstrong.com), he reveals, "I'd stop cars and warn the speeding drivers about the speed traps up ahead." Since his retirement from the force, Armstrong has appeared in the movie A League of Our Own, has performed on Comedy Central and radio's Bob & Tom Show, and has released a comedy CD titled Comedy Police, and during his routines, Armstrong shares recollections of his days as a cop, such as this tidbit: "I think that when I quit the police department, three other cops lost their jobs. They simply didn't need that many Internal Affairs officers anymore." Hey, I said he seems like a really sweet guy. For more information, visit (http://www.penguinscomedyclub.com).
Gary W. Moore
Barnes & Noble and Zion Lutheran Church
Friday, January 19, and Saturday, January 20
A few weeks back, in my movie-review column, I listed some film titles guaranteed to turn me into a sobbing wreck. Wanna know a few more? Schindler's List, Field of Dreams, A Midnight Clear, The Natural, and The Pianist. So I'm guessing the planned film version of Gary W. Moore's Playing with the Enemy - which explores both World War II and baseball - is gonna positively kill me. The author of this critically acclaimed novel will appear at Davenport's Barnes & Noble at 6:30 p.m. on January 19 and at Davenport's Zion Lutheran Church (1216 West Eighth Street) at 2 p.m. on January 20; Moore will sign and discuss Playing with the Enemy, a novel based on the author's grandfather, Gene Moore, and his experiences as both a rookie for a major-league ball team and a guard for German POWs, whom he eventually taught the art of baseball. The film adaptation, by the way, is to be produced by Oscar-winner Gerald Molen, and is expected to star Gene's grandson Toby, which would find the young actor playing his grandfather in a work originally written by his father. How cool is that? And since ... wait a minute ... be right back ... damn ... why don't I keep tissues on this desk ... ? For more information on Moore and his Quad Cities appearances, visit (http://www.playingwiththeenemy.com).