Augustana
Augustana College
Saturday, January 27, 8 p.m.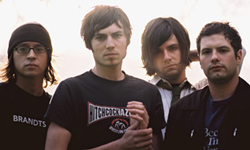 As a proud alumnus of Augustana College, I'm always delighted to get my alma mater's name in print. This piece, however, may be pushing it, as - in a masterful example of synergy - Augustana presents the band Augustana in a January 27 Centennial Hall concert. Celebrated as "You Oughta Know" artists on VH1, Augustana recently performed on Late Night with David Letterman after earlier appearances on The Tonight Show and Jimmy Kimmel Live, and their hit song "Boston" - off the group's All the Stars & Boulevards CD - has won them legions of fans; the college's Rita Gustafson, in fact, said that her daughter "almost had kittens when she heard they were coming." But in case you wondered if the band's moniker was inspired by a certain Rock Island institution, it wasn't - Augustana bass player Jared Palomar told the Associated Press that the group "just liked the word." Palomar added that choosing band names is often a painful process: "If you can find one you don't hate, you go with it." Which is exactly how I wound up attending Augustana College. Kidding, Augie! Kidding! Who loves ya more than I do?! Augustana tickets are $10, and are available by calling Augustana College at (309) 794-7306.
Oleanna
ComedySportz
Saturday, January 27, through Sunday, February 4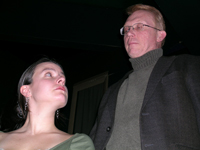 In 2005, My Verona Productions opened its theatre season with Patrick Marber's Closer, a biting, vicious look at modern-day relationships. In 2006, the season-starter was Martin McDonagh's The Pillowman, an intense creep-out set in a totalitarian police state. This year, the company's first offering is David Mamet's Oleanna, a terse exploration of sexual-harassment politics, and easily one of the 20th Century's most divisive dramas. Jeez, My Verona - like a production of The Pajama Game would kill ya? Thankfully, though, Mamet's two-person drama, set in the world of academia, can also be a remarkably good time. Oleanna is filled with the playwright's trademark acerbic wit; the show is guaranteed to have you talking about it long after it ends; and it's a terrific showcase for fine actors, which My Verona has certainly secured for their production. The play's college professor is portrayed by Chris Browne, who was both frightening and funny in The Pillowman, and his student is Jamie Em Johnson, last seen locally fending off a suitor-turned-stalker in New Ground Theatre's thriller Boy Gets Girl. Now she's in Oleanna. Talk about someone who must be dying for a nice musical-comedy ... . For tickets, call (309) 786-7733 extension 2.
Bascom Hill
Rock Island Brewing Company
Thursday, January 25, 10 p.m.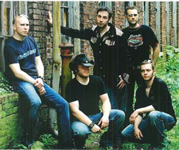 Wisconsin-based roots rockers Bascom Hill - performing at the Rock Island Brewing Company on January 25 - haven't been on the music scene for very long, but they already know how to make an explosive video. Literally. On the band's Web site (http://www.bascomhillband.com), you'll be able to see the "home movie" made when Bascom Hill was on its way to a gig, smelled smoke coming from the back of its van, and pulled over to discover the vehicle's undercarriage on fire. (Quick-thinking drummer Craig Walker pulled out his video camera and managed to preserve the moment of explosion for posterity.) Maybe the event was symbolic, as the group itself seems positively ablaze these days. Its music - with Bascom Hill's sound self-described as "Jack Johnson meets U2" - has been heard on MTV and America's Top Model; the performers recently contributed to the soundtrack for the independent film Dear Mr. President; and reviewers have been enthusiastic, with Wisconsin's The Capital Times praising the group's "tight harmonies, affecting lyrics, and breezy sound." Where the hell was that breeze when their van was on fire, huh? For more information, visit (http://www.ribco.com).
Mark Rubben
Penguin's Comedy Club
Thursday, January 25, through Saturday, January 27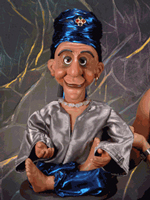 "Greetings and namashkaar! I am The Swami. I spend much of my time telling fortunes for Carnival Cruise Line passengers, and will soon be spending six weeks in Grand Cayman, Cozumel, and Montego Bay. Before that, though, I'll be appearing at the Penguin's Comedy Club January 25 through 27, and some special friends are joining me for a series of unforgettable comic performances. You'll be able to enjoy the raspy ramblings of crotchety old Max, the booze-fueled ravings of the tattooed redneck Cletus, the blissed-out recollections of the Jamaican hipster named The Rastamon, and, of course, my awe-inspiring psychic skills. And all of us also tell racy jokes that have been known to make audiences laugh 'til their sides ache, which you can experience through our live-concert CD The Midnight Show, available at (http://www.dummytalk.com). We're thrilled to be making this Midwestern appearance and certainly hope to see you at Penguin's, but when you come, make sure you ignore the stiff-lipped guy who's always sitting next to us. That bastard's been stealing our paychecks for years." For more information on ventriloquist Marc Rubben and his knee-high pals, visit (http://www.penguinscomedyclub.com).
Champagne on the Rocks
The Outing Club
Saturday, January 27
"Jeff!" "Mike." "Here's your piece on the WQPT-TV fundraiser 'Champagne on the Rocks.' Sorry it took so long to write." "Uh huh." "I was on the station's Web site for, like, five hours." "I noticed." "But this one required some extra research." "Just let me read it - ." "I mean, WQPT's annual fundraisers always feature a great dinner, and dancing, and a fun theme - this year's is Mardi Gras, you know ... ." "I see that." "But the items in the live and silent auctions are amazing this year! There are vacations to Massachusetts and Acapulco and the West Indies - ." "Mike ... ." " - and dinner for 14 at Biaggi's and a two-year AOL subscription and a home-theatre system - ." "Mike ... ." " - and a gym membership and an acoustic guitar and Steamwheelers tickets - 100 items with a combined value of - ." "$32,476." "Right!" "That figure didn't come from a press release, right?" "No, but - ." "You came up with that figure, right?" "Well, yes, but - ." "Mike, did you just spend five hours looking at auction items and adding up their cash value to avoid doing real work?" "Of course not, I - ." "Mike?" "Yes. Yes, I did." For reservations to "Champagne on the Rocks," call (309) 796-2424.