J-san & the Analogue Sons
The Redstone Room
Friday, January 5, 9 p.m.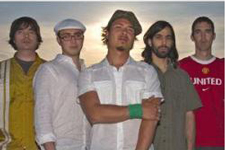 Everyone and their mother seems to have a blog these days (my three-month-old niece has one, for Pete's sake), so being skeptical about blog raves is understandable. For instance, T. Stoddard of (http://blogcritics.org) calls J-san & the Analogue Sons "the next level of reggae" and "a perfectly blended tribute to every reggae artist who came before." So why should I believe some random blogger? Who is this guy? Well, based on the other raves this New York-based group has amassed, I'm guessing he's a very astute guy. For the past decade, J-san & the Analogue Sons - performing at the Redstone Room on January 5 - has blended classic sounds of the '70s with hip hop, funk, and reggae, and the results have certainly impressed music critics. The Ithica Journal tells us that "J-san drips soul with virtually every note he sings." Vice Magazine praised the band's "Jamaican sound system blended with shotgun backwoods soul music." And Time Out New York exclaimed that the group's recent, self-titled debut CD featured "mighty, heartfelt songs sure to land college radio and the clubs internationally." So blog away, Mr. Stoddard. I'll never doubt you again. For more information on the group, visit (http://www.jsanmusic.com).
Jeanne Tamisea Tribute Exhibition
Midcoast at Bucktown
Wednesday, January 3, through Friday, February 23
This past July, the Quad Cities lost a vital member of its artistic community with the passing of Jeanne Tamisea, who taught art at Black Hawk College for 18 years, and whose own works in airbrush, oils, and computer illustration - among other media - were inspirational to students and peers alike. At this autumn's Riverssance festival, Tamisea was the posthumous recipient of the prestigious Harley Award, and her local legend is sure to grow further with MidCoast at Bucktown's tribute exhibit of Tamisea's works, on display from January 3 through February 23. The artist's passionate, vibrant offerings run the gamut of styles and subject matter - everything from the literary ("The Miller from Chaucer") to the lunatic ("The Seven-Legged Flying Roller-Skating Pig") - yet her talent and soulfulness remains a constant, and will likely inspire artisans for years to come. In a September Reader article, local artist Bill Hannan said of Tamisea, "Her influence probably won't be known for another 20 years," but it's heartening to know that organizations such as MidCoast are ensuring that her works, at least, will be. For more information on the exhibition, call the Bucktown Center for the Arts at (309) 737-2066.
Explore the World: Africa
The Family Museum of Arts & Science
Saturday, January 6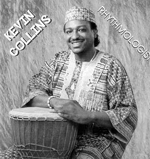 For the venue's new program in the "Explore the World" series, the Family Museum proudly hosts a noted celebrity from Flint, Michigan. No, not Michael Moore. "Explore the World: Africa" features percussionist Kevin Collins, a Flint native who, on January 6, will enthrall Family Museum guests with a day's worth of entertaining, educational, and interactive presentations. The museum's program will introduce kids to the history and culture of such African nations as Mali, Ghana, Guinea, and Senegal, with hands-on activities and art projects scheduled throughout the day. But kids of all ages should thrill to the talents of Collins, who will demonstrate his skills on such African instruments as the djembe drum, and who has developed a national following for his spirited percussive stylings; Collins has toured with musical legends Ronnie Laws and Allan Barnes, owns and operates his own production company, and has released two CDs. And to think it all started at age six, when Collins practiced his skills on the pots and pans in his mother's kitchen. Remember when your own mother used to yell at you for that? Turns out she was preventing you from having a great career. For more information on the "Explore the World" series, visit (http://familymuseum.org).
Little Marsh Overflow
Bent River Brewing Company
Saturday, January 6, 10 p.m.
In researching the Wisconsin-based Little Marsh Overflow - which makes its area debut at the Bent River Brewing Company on January 6 - I learned a lot. Their sound appears to be an unclassifiable blend of funk, rock, blues, jazz, soul, pop, reggae, and hip hop. (What, no polka?) They've been nominated for Madison Area Music Awards for Best Jam Band and, for The Causeway Effect, Best Jam Album. They have cool monikers - "Chicago Bob" Gregory, Wade "The Crusher" Coisman, "Cobra" Kai Anderson, and "Grillin'" Mark Webber. But despite my research, the band's name still puzzles me. Are we talking about the overflow of a little marsh, or just a little bit of marsh overflow, or is "little marsh overflow" a good thing, as in "There's little marsh overflow for this time of year?" Music critics, though, don't seem to care; writing on (http://www.kyndmusic.com), Stephanie Music called LMO's sound "captivating ear ecstasy," and in the Wisconsin periodical Rick's Café, Patrick Stutz wrote that their single "Wilma" is "pure bliss ... the kind of tune best served with the lights out, sprawled out in a La-Z-Boy." Add a gin and tonic, and that's not just ear ecstasy; that's total ecstasy. For more information, visit (http://www.littlemarshoverflow.com).
Mike Toomey
Penguin's Comedy Club
Thursday, January 4, through Saturday, January 6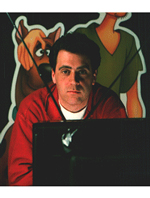 On his Web page, Mike Toomey - who performs at the Penguin's Comedy Club January 4 through 6 - states that his adult life was profoundly shaped by watching television as a child. To which I say, "Oh, whose wasn't?" But on this subject, at least, the comedian isn't kidding. For Chicago's Apollo Theater, Toomey created and starred in the one-person show TV & Me (the Chicago Tribune called its star "one of the funniest and most talented performers to ever work in Chicago"), and his comedy CD Mike Toomey: TV & Other Stuff features routines such as "S.S. Minnow," "Mr. Rogers & the Liar," "How the Grinch Stole Chanukah," "Batdance," and "An American Werewolf in Mayberry." Don't think, however, that Toomey's TV obsession makes him a one-trick pony. His successful stand-up career has landed him on MTV's Half Hour Comedy Hour and A&E's Comedy on the Road; he's been the opening act for the likes of Wayne Newton and Reba McIntyre; and even that CD of his ventures beyond the tube, with routines entitled "Garbage Can," "Taste This," and "Toenails." Yeah, I'm now kinda wishing he'd stick to TV humor, too. For more information on Toomey, visit (http://www.lossano.com/toomey).