Michael Warren
The Redstone Room
Thursday, February 1, 8 p.m.
Michael Warren, an up-and-coming singer of R&B, rock, pop, and funk, will perform at Davenport's Redstone Room on February 1, and I must admit that I feel an immediate kinship with the man. According to his tour schedule, the 21-year-old will, on Valentine's Day, play a gig at McHenry County College, located in Crystal Lake, Illinois. Oddly enough, I myself performed at McHenry County College - albeit in a production of Look Homeward, Angel - when I was 21 years old. (That probably sounds like something I made up, but I swear to God, it's true.) So I was curious whether Warren and I shared anything else in common. Let's see ... he's released two CDs so far ... his performances have earned raves in more than 10 states ... he recently received an invitation to perform on a nationally televised fundraising concert for the United Negro College Fund ... he's opened for B.B. King, Gladys Knight, and Taylor Hicks ... and last spring, he performed USO shows for American troops in Europe. Yup. Just as I thought. We're totally the same. For more information on the artist, visit (http://www.michaelwarrenmusic.com).
Red Priest
St. Ambrose University
Friday, February 2, 7:30 p.m.
I always feel mildly guilty about letting artists' Web sites do my work for me in these calendar pieces, but apparently, I'm not the only writer who takes such short cuts. On February 2, acclaimed baroque musicians Red Priest will perform at St. Ambrose University's Galvin Fine Arts Center, and when I landed on the group's Web site (http://piersadams.com/redpriest), Red Priest's "Questions & Answers" link was referenced as "a useful resource for visiting journalists." (Damn, I thought. They're on to me.) It was there that I learned all about the virtuosity, stagecraft, and worldwide popularity of this esteemed ensemble that seems to give "Early Music" a thrilling, modern-day relevance, and began to understand why Red Priest has been called "nothing short of electrifying" by the Denver Post and "a barrel of fun and almost invisibly subtle" by the Washington Post. And this is a bit off-topic, but I gotta say that I'm digging the synergy that's been occurring between musicians and local schools these days; last week, Augustana College presented the band Augustana, and now, Priest is coming to St. Ambrose. Ball's in your court, Black Hawk. For Red Priest tickets, call Galvin at (563) 333-6251.
Enchanted Museum
The Family Museum
Saturday, February 3, through Sunday, April 29
In a press release for the traveling exhibit Enchanted Museum - opening at Bettendorf's Family Museum on February 3 - the interactive offering is described as "an invitation to unlock the science hidden in a work of art." But just in case your kids think you're tricking them into attending something educational, know that the exhibit also sounds like lots of fun. In the Painting Gallery, visitors can compose visual landscapes by layering and mixing colored pixels, creating artworks that will come to life on the gallery's projection screens. In the Scultpure Garden, you'll use a self-contained hammer system to actually feel the impact of a sculptor's tools on stone. In the Rainbow Maze, described as "a larger-than-life labyrinth of color," pinspot lights will produce shimmering patterns and shapes, culminating in an experience that "explores the paradoxes of vision." And since certain friends of mine will no doubt read this and say to one another, "Oh, du-u-ude, you know what we have to do this weekend?!" allow me a personal message: I know what you're thinking, guys. But remember - it's the Family Museum. Try not to be too obvious about it. For more information, visit (http://familymuseum.org).
Raven
Penguin's Comedy Club
Thursday, February 1, through Saturday, February 3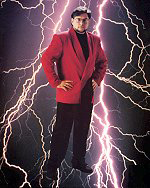 The Penguin's Comedy Club Web site (http://www.penguinscomedyclub.com) often provides links to their entertainers' sites, which is where I learned about psychic hypnotist Raven, appearing at Penguin's February 1 through 3. If you visit this site, notice how it performs a bit of hypnotism of its own. For instance, you'll read that "Raven will tell people what they are thinking, move objects with a look, and even project his thoughts into the audience," which is immediately followed by the caveat "At no point during the program does Raven claim any supernatural powers." You'll read: "Volunteers from the audience join Raven on stage for an exploration into the world of hypnosis," and then you'll read: "At all times the participants are treated with respect and dignity." Subliminal messages received: No mean-spirited devil-worship here! Bring the kids! Also included on the site are plaudits from the Cleveland Morning Journal and the Quad-City Times, plus what I hope is a rave from an outdoor Raven performance: "Not only was I dumb enough to get into a truck with a blindfolded man, but I let him drive ... he's amazing!" Hmm. Maybe you'd better think twice about letting Raven near your kids. For similarly amusing anecdotes, visit (http://www.ravenonline.com).
Havana Daydreamin'
The RiverCenter
Saturday, February 3, 7 p.m.
February 3 marks the third annual Havana Daydreamin' benefit at Davenport's RiverCenter, where - by the grace of Jimmy Buffett - the Quad City Parrot Head Club practices its famed "partying with a purpose" in an exuberant fundraising effort for area organizations. In 2005, Parrot Head clubs worldwide raised and donated approximately $2.7 million to charitable groups, and this year's "tropical casual" evening (with grass skirts and coconut bras welcomed) will again feature a cash bar and food, a live auction, and music by Buffett tribute band The Boat Drunks, whose Web site (http://www.boatdrunks.com) reveals that the guys really enjoy razzing one another. Bassist Mike Miller, for instance, proudly states that he's "the second-oldest member of the band, thanks to Howie [Golub]." As always, the Havana Daydreamin' proceeds benefit worthy area organizations, and at least 90 percent of this year's funds will go to Alternatives for the Older Adult and the Generations Area Agency on Aging, both of which, I understand, Howie Golub is soon to be well-acquainted with. Hey, Howie, don't blame me! Miller started it! For more information, call (888) 945-9159 or visit (http://www.qcph.com).