Tea Leaf Green
Rock Island Brewing Company
Tuesday, July 18, 9 p.m.

Tea Leaf Green. Indeed. And bread-stick beige, but what's that got to do with anything? All kidding aside, San Francisco rockers Tea Leaf Green will play the Rock Island Brewing Company on Tuesday, July 18, giving the band a momentary reprieve from the summer-festival circuit. The group's relentless schedule has included recent appearances at the Bonnaroo, Wakarusa, and High Sierra music festivals, where their classic sound - conjuring the spirits of Bob Dylan, The Faces, and early Elton John - has wowed sold-out crowds nationwide; reviewing the band at last month's Kansas-based Wakarusa festival, State of Mind Music Magazine's Michael Davoli and John Flanigan called their sets "spectacular," and wrote, "Tea Leaf Green spent the last year building up expectations wherever they went ... then far exceeded them every step of the way." Described on their Web site as "a band of youthful gypsies with an abundance of both rock and soul," the group also received enthusiastic notices for their 2005 CD Taught to be Proud. Sounds like you'll love Tea Leaf Green. And when at RIBCO, make sure to catch their opening act: Bath Mat Pink. (Sorry. It's just so much fun.) For further information, visit (http://www.ribco.com).
One Flew Over the Cuckoo's Nest
Playcrafters Barn Theatre
Friday, July 14, through Sunday, July 23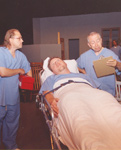 I have a friend in Ohio who, last month, performed in the legendary One Flew Over the Cuckoo's Nest, which the Playcrafters Barn Theatre will produce July 14 through 23. To amuse himself during the run of this comedic mental-hospital drama, he created a game he called "Cuckoo's Nest Survivor"; once a day, whenever a cast member did something that annoyed him, he'd figuratively vote that person out of the show. (He had a spreadsheet and everything, and said the game was a blast until the cast discovered he was playing it.) In real life, though, Cuckoo's Nest survivor Chris White refused to be voted off the island. On June 29, White - who plays Jack Nicholson's famed McMurphy character in Playcrafters' version - was riding his motorcycle on his way to rehearsal when he was hit by a truck; White suffered numerous cuts and scrapes, a dislocated shoulder, and on July 5, had surgery on his right wrist. Yet Cuckoo's Nest director Jeri Benson says that her cast has been happy to attend extra rehearsals to get White up to speed, and that the "amazing" actor is, indeed, going on with the show. A decision like that takes dedication, guts, and probably a great sense of a humor - sounds like White could be a perfect McMurphy. For tickets, call (309)762-0330.
Oliver!
North Scott High School
Friday, July 14, through Saturday, July 29
You know how some middle-aged men will bore you with tales of their glory days in high school, when they played quarterback the year their team won the state championship? I'm totally one of those guys. Of course, I didn't play football. But I did play Fagin in a school production of Oliver!, and it remains a career highlight. So I'm psyched to see the Countryside Community Theatre's production of this Tony-winning musical, running at Eldridge's North Scott High School July 14 through 29. Adapted from Charles Dickens' Oliver Twist, the show was the basis for 1968's Oscar-winning film - the last musical to win Best Picture until Chicago came along - and boasts a strong book, suitably shady characters, and a tuneful score filled with such time-tested favorites as "Consider Yourself," "Food, Glorious Food," and Fagin's show-stopping "Reviewing the Situation." I haven't seen a stage version of Oliver! since viewing it from stage, so I can't wait for CCT's take on the material. And just in case I've now made the actor playing Fagin nervous - yes, I thought I was good. At that time, though, I also thought that Duran Duran was cooler than the Beatles, so what the hell did I know? For tickets, call (563)285-6228.
The Goran Ivanovic Group
Bent River Brewing Company and The Mill
Friday, July 14, and Wednesday, July 19

The Goran Ivanovic Group - playing Moline's Bent River Brewing Company on July 14 and Iowa City's The Mill on July 19 - combines eastern-European folk tunes with jazz-influenced compositions, and their reviews have been sensational; the Los Angeles Times praised their "relentlessly innovative work," Downbeat Magazine extolled that the group "interacts on a heady and passionate musical plane," and All About Jazz raved, "Put Goran Ivanovic Group in your CD player, then sit down quickly and hang on to your seat." Yet a visit to the Goran Ivanovic Group's Web site hints that they're as personable as they are talented. Guitarist Ivanovic provides a list of "records I've been enjoying lately," young bassist Matthew Ulery details his love of folk music, drummer Michael Caskey reveals his nickname to be "Bunny Patootie" (awww ... ), and sax player Doug Rosenberg even includes his favorite recipe, for Tofu Marsala. If the group's music is as appealing as the band members seem to be, their local performances should be amazing. And if it wasn't for the fact that it's for Tofu Marsala, I would absolutely try that recipe. Enjoy visiting their Web site at (http://www.goranivanovicgroup.com).
Louie Bellson's Birthday Spectacular
The Redstone Room
Wednesday, July 12, 7 p.m.
You know what I'm planning to do for my 82nd birthday? As little as possible. Louie Bellson, though, is a better man than I. Hell, anyone referred to by Duke Ellington as "the world's greatest drummer" is a better man than most. Over the span of his remarkable career, Bellson has performed on and/or recorded approximately 200 albums and has published more than a dozen books on percussion; you'd think he'd be ready to do as little as possible, but instead, the musician continues to educate and entertain at venues nationwide, and on July 12, will even perform at his own birthday party. Louie Bellson's Birthday Spectacular, being held at Davenport's Redstone Room, will see the 82-year-old (and Quad Cities native) playing with the Manny Lopez Big Band, which puts that group in the same company as Count Basie, Benny Goodman, Tommy Dorsey, Ella Fitzgerald, Sammy Davis Jr., Louis Armstrong, and hundreds of other talents Bellson has shared a stage with over the years. And, oh yeah, Bellson has also made the second-highest number of White House appearances; only Bob Hope accumulated more. If Hope were around today, I bet he'd be watching his back - Bellson isn't done by a long shot. For more information on the evening, visit (http://www.redstoneroom.com).