The Adorno Ensemble
Black Hawk College and Capitol Theatre
Monday, March 19, and Saturday, March 24
The late Theodor Adorno - namesake of noted chamber musicians the Adorno Ensemble - once wrote, "Every work of art is an uncommitted crime." If that is indeed true, then the Adorno Ensemble is guilty of uncommitting tons of crimes! Hmm. That sentence makes no sense. But I think you get my point. The latest performers and educators here as Quad City Arts Visiting Artists, this exceptional team of young musicians has been lauded for bringing a unique and contemporary spin to their performances - the San Jose Mercury News' Richard Scheinin described them as "a group that plays with conviction and vitality and blows the dust off classical music" - and among numerous area appearances during their stay, they'll be performing at Black Hawk College on March 19 (in Building 4, Room 115, at 7 p.m.) and the Capitol Theatre on March 24 (7 p.m.). By the way, if you're unaware of who Theodor Adorno was, the group's Web site (http://www.adornoensemble.org) succinctly describes their inspiration as "a German sociologist/philosopher in art aesthetics, cultural awareness, and musicology." Kinda like me at the Reader, right? Right? Uh ... hello ... ? For more information on the group's area appearances, visit (http://www.quadcityarts.com).
Deep Sea 3D
Putnam Museum & IMAX Theatre
Friday, March 16, through Thursday, September 13
A new movie debuts this Friday featuring the talents of Johnny Depp and Kate Winslet, and perhaps for the first time in either of their careers, they won't be the most beautiful things onscreen. Granted, that's partly because you won't be seeing them. In the IMAX edu-tainment Deep Sea 3D - beginning its run at the Putnam Museum & IMAX Theatre on March 16 - we land-lubbers will view extraordinary oceanic sights, as noted underwater explorer Howard Hall directs an up-close (really close) look at the symbiotic relationship between the denizens of the sea and their aquatic environments. But come on, we know what we're all really hoping to see: sharks in our faces! Expect not to be disappointed: The Los Angeles Times' Kevin Crust stated that "the entire film envelops you in an incredible array of fascinating sea life," and the New York Times' Laura Kern wrote that during the 40-minute presentation, "adults will be made into giggling children, and children into aspiring marine biologists." As for Depp and Winslet, they provide Deep Sea 3D's narration, so the movie is kinda like Finding Neverland, but less depressing. And not so dry. For showtimes and more information, visit (http://www.putnam.org).
Tres Vidas
Galvin Fine Arts Center
Monday, March 19, 7:30 p.m.
Salma Hayek, eat your heart out. In Tres Vidas, a unique theatrical experience being performed at St. Ambrose University's Galvin Fine Arts Center on March 19, Cuban actress Georgina Corbo not only portrays Mexican painter Frida Kahlo (a role for which Hayek received an Oscar nomination), but also Salvadoran activist Rufina Amaya and Argentinian poet Alfonsina Storni ... and unlike Corbo, Hayek, didn't have to sing! Sponsored by St. Ambrose's Women's Studies program and the Department of Languages & International Studies, this three-act evening melds narrative and theatre with chamber-music performances on cello, piano, and percussion, as Corbo enacts - through monologue and traditional folk songs - the inspiring, frequently tragic experiences of three of the 20th Century's most notable women. As for Corbo, she's acted both on- and off-Broadway, appeared on Law & Order and New York Undercover, and performed at the Kennedy Center and the Russian International Theatre Festival. If I were Hayek, I'd begin securing the rights to her life story. Proceeds benefit Davenport's Humility of Mary Housing and Ecuador's Casa Maria Amor, and more information on Tres Vidas is available by calling (563) 333-6100.
The Don't Be Brothers
Rock Island Brewing Company
Saturday, March 17, 5 p.m.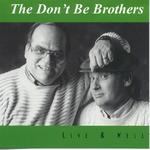 Faith and begorrah! I'm here to spread a wee bit o' blarney about ... oh, crap. I did the Irish-dialect thing in a calendar article just two weeks ago. I can't believe I didn't save that gag for a St. Patrick's Day piece ... what the hell was I thinking? Of course, the Don't Be Brothers don't really need my help to convince you of their musical leanings; Larry Kernagis and Larry Diemer, who are playing the Rock Island Brewing Company on March 17, have a repertoire that contains, according to Kernagis, "enough Irish songs to choke a leprechaun." A little backstory: Both hail from Chicago, but they first met in Galesburg. Both are gifted string musicians - Dieman on the guitar, and Kernagis on the banjo. Both share an affinity for not only Celtic but bluegrass tunes, as their CDs Live & Well and Born to Play demonstrate. And both entered the seminary in their youth with the intention of becoming priests, but Diemer says they left because "there were no women to chase," and he, personally, "decided that celibacy was not for me." Don't Be Brothers indeed. Fathers either, for that matter. The performers' RIBCO set starts at 5 p.m., before evening performances by The Warmth and Orangadang!, and information is available at (http://www.ribco.com).