Coles Whalen
The Redstone Room
Thursday, September 14, 8 p.m.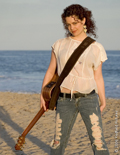 When I heard that Coles Whalen was a competitor on NBC's Star Tomorrow - a series described by the singer as "vaguely similar to American Idol" - I was set to be all snotty with this piece, because really ... why support involvement with another show that's "vaguely similar to American Idol"? But, to be honest, Whalen sounds really cool. Since the release of her debut CD, EP, the guitar- and piano-player has earned stellar reviews; in Denver's The Independent, Malcolm McCollum wrote, "Her pitch and articulation - vocal and instrumental - are flawless," and the Indie Music Reviews' Monica Younge raved that her "enchanting voice is soulful, powerful, and straight from the heart." But what impresses me most is Whalen's determination - following EP's release, she traded her apartment for a camper, embarking on a rigorous solo tour spanning 10 states and more than 150 venues, and after 2005's Gee Baby CD, she averaged four to five gigs per week. Whalen is clearly self-motivated and dedicated; I'm glad that she's a Star Tomorrow contestant. And if navigating the show's Web site (http://www.startomorrow.com) wasn't so torturous, I'd vote for a Whalen win, too. For more information on Coles Whalen's Redstone Room appearance, visit (http://www.redstoneroom.com).
Henrik Ibsen Celebration
St. Ambrose University
Friday, September 15
Norwegian playwright Henrik Ibsen is widely admired, yet frequently incorporated as a punchline; the author of such weighty, wrenching dramas as A Doll's House, The Wild Duck, and Hedda Gablar isn't exactly known for a lightness of spirit. (Regarding some piece-of-fluff trifle, I've personally said, "Well, it ain't Ibsen" on more than one occasion.) But on September 15 - in conjunction with the 100th anniversary of his passing - St. Ambrose University celebrates Ibsen's non-depressive side. In the Allaert Auditorium, the exhibit From Norway to America: Tradition & Transition examines Norwegian mythology, textiles, and history; in the Galvin Fine Arts Center, the Trunk Show explores what Norwegian immigrants once needed to survive in America. And at 7:30 p.m., Galvin presents The Peer Gynt Project: The Lie, an imaginatively visual spectacle based on Ibsen's 1867 supernatural fantasy Peer Gynt. Combining wildly physical mask-performance traditions and music that spans from gospel to cabaret, The Lie features brilliant wit rooted in Scandinavian folklore, and looking at the stills of the show that were sent - including the above photo - I'm not depressed in the least. I'm freakin' terrified. For more information on the day's events, visit (http://www.sau.edu/galvin).
Farewell June
Augustana College
Saturday, September 16, 8 p.m.

MTV has often succeeded in lifting our spirits. Is the cable channel now aiming for our literal spirits? Christian rockers Farewell June will perform a free concert in Augustana College's Centennial Hall on September 16, and the band's PureVolume.com page (http://www.purevolume.com/farewelljune) reveals that MTV is currently licensing songs from Farewell June's 2005 CD 1939 for use on Road Rules, The Real World, and Extreme Celebrity Challenge. Now it may seem odd that the music channel would latch on to a Christian rock group, but Farewell June does have a sizable hipness quotient; their sound has been compared to Eric Clapton, Blues Traveler, and Carbon Leaf, and two of their tunes will be heard in a film debuting at the 2007 Sundance Film Festival. PureVolume.com also reveals that the band has been in much demand since 2004, performing not only 200 gigs but experiencing "three North American tours, one transmission, two trailers, and now a new motor for our van." All of a sudden, Farewell June seems a perfect fit for Road Rules, The Real World, and Extreme Celebrity Challenge. Saturday's concert begins at 8 p.m., and more information on the band is available by visiting (http://www.farewelljune.com).
Dark Water Rising
Putnam Museum / IMAX Theatre
Monday, September 18, and Tuesday, September 19
Among the horrifying stories told in the aftermath of Hurricane Katrina, one that was given little attention was the story of how more than 50,000 dogs and cats were left behind in New Orleans. Filmmaker Mike Shiley, though, gives the subject its due with Dark Water Rising: Hurricane Katrina Animal Rescues, opening the Putnam Museum/IMAX Theatre's World Travelogue Adventure Travel series on September 18 and 19. The film follows a team who braved toxic floodwaters, sledgehammered doors, and dodged corrupt cops in an attempt to rescue trapped animals, and tells uplifting stories of hope as some pets reunite with their owners, and others find loving new homes. And if this description strikes you as a little too sentimental, Dark Water Rising's early reviews suggest otherwise; the Portland Tribune's Anne Marie DiStefano called the movie "tough and straightforward," and the Willamette Week's Becky Ohlsen wrote, "What could've been a sob-fest is instead an unflinching look at the determined characters who volunteered to search." Those are great endorsements. But I'd bring some tissues anyway. You know ... just in case. For more information on Dark Water Rising and the World Adventure Travelogue Series, visit (http://www.putnam.org).
Out of Sight, Out of Murder and Murder in the Double Wide
Playcrafters Barn Theatre and The Lodge
Friday, September 15

Two local theatrical institutions will make a killing this Friday. Several killings, actually. The It's a Mystery Players begin their season at Bettendorf's The Lodge with the interactive whodunit Murder in the Double Wide, which involves a trailer-park celebration that leads to murder, and features suspects with such names as Pooter Ann, Cousin MoRon, and Pastor Prime. (Imagine The Mousetrap as written by Larry the Cable Guy.) Audiences try to guess the outcome, but even if you get it wrong, who cares - you're treated to dinner at The Lodge regardless! Meanwhile, the Playcrafters Barn Theatre presents Out of Sight, Out of Murder - running through September 24 - with such recognizable local performers as Joshua Kahn, Cal Taylor, and Ashley Hoskins (pictured above with John Donald O'Shea). The play concerns a novelist whose fictitious characters come to life and embroil him in an actual murder, and the list of suspects includes a dauntless hero, a lovely ingénue, a trusty butler, a wily lawyer, and a feisty older woman - a crew that sounds suspiciously like the Reader staff. I won't reveal who's who, but if you're guessing that I'm the lovely ingénue, I won't say you're wrong. Reservations for Murder in the Double Wide are available by calling (563) 359-1607; for Out of Sight, Out of Murder tickets, call (309) 762-0330.