There's a short list of games that I think every PlayStation 3 owner should play. One of those is 2007's Uncharted: Drake's Fortune, a treasure-hunting adventure that feels like being in an adventure movie. While there were a number of shortcomings -- dodgy controls and a short story -- it was still an excellent exclusive game for the PS3. The newly released Uncharted 2: Among Thieves does something rare for a sequel: It fixes all the mistakes from its predecessor and really goes the extra mile with new features, including competitive and cooperative modes.
Players return to the role of Nathan Drake, a treasure hunter with a shady past involving high-profile thieves. The game opens in dramatic style as Drake wakes up in a derailed train with a bullet in his stomach, and he struggles to escape the wreckage. As he passes out, he recalls how everything came to be, starting with a museum heist in Nepal. After finding an artifact formerly belonging to Marco Polo, Drake discovers a clue to the location of Shangri-La and the Cintamani Stone. From there, the story is a linear roller coaster with the standard movie mix of action, mystery, romance, betrayal, humor, exotic locales, and of course an explosive ending. Any fan of Indiana Jones or National Treasure will quickly appreciate the story and adventure of this game.
The experience is amplified with the simply amazing presentation of the gameplay. Lots of titles have cinematic scenes that look great and gameplay that looks blotchy, but both Uncharteds bring a cinematic quality to the gameplay itself. The first title made water and jungle scenery look amazingly realistic while only using about 40 percent of the PS3's processing power. Uncharted 2 shows the full power of the PS3 with an attention to detail like no other. Snow will dampen the parts of Drake's attire that it touches and cake around his pants as he walks through it. Cities and skies are so beautifully detailed they can easily distract you. This is the best-looking game I have ever seen.
Gameplay is a fine balance of duck-and-cover gunplay against hordes of enemies and platforming as Drake leaps across wide gaps and climbs using any handholds he can find. As previously mentioned, the controls have been improved in the sequel, with better aiming and a bit more flexibility in the game engine when making those long jumps for a ledge, helping to avoid falling to a quick death. The controls are set up to handle the platforming and shooting simultaneously without difficulty, and really immerse a player in the action. It's a true edge-of-your-seat experience when you're running and jumping across buildings as quickly as possible while having bullets and missiles shot at you from a chopper.
The first Uncharted story only lasted about eight hours with no real replay value -- a disappointment to say the least. Uncharted 2's story runs about 10 hours, but the new multiplayer components extend that significantly. Players can compete in five-on-five death matches, with victory going to the highest-scoring team, or in variations on Capture the Flag and King of the Hill. Friends looking to play together can cooperate in three-player missions designed to make you rely on your teammates to cover you or boost you to certain areas to complete objectives. Given the poor controls from the original Uncharted, multiplayer sounded like a gamble, but the improvement in that area and steady online play help make it a terrific experience.
The only real complaint about the game is that there's nothing original about it. The story feels like an Indiana Jones movie, the gameplay is almost identical to Infamous (minus the electric superpowers), and the multiplayer modes are very similar to what can be found in almost any shooter today. It takes no risks, using styles and themes that have already been successful in the past.
But because it assembles and polishes those into a gorgeous package, it's hard to find fault while you're playing it.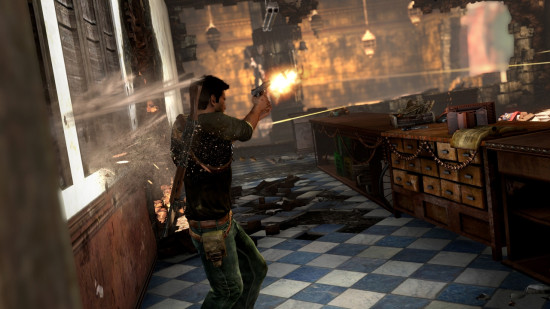 Uncharted 2 is a must-own for PlayStation 3. The story sucks you in and makes you lose all track of time, the multiplayer delivers a fantastic experience, and don't even get me started again on how good it looks. This is a sure candidate for Game of the Year, and it will certainly remain one of the the best games available for years to come.
Uncharted 2 is available for PlayStation 3 for $59.95. For this review, the author completed the story on "hard" difficulty and played several online multiplayer matches.
Luke Hamilton is a buyer, creative designer, and online coordinator for Video Games Etc. He can be reached at ssj_4luke@hotmail.com.