The Diplomats of Solid Sound featuring The Diplomettes
Rock Island Brewing Company
Saturday, April 19, 10 p.m.
The Iowa City soul ensemble The Diplomats of Solid Sound has released songs titled "Bullfrog Boogaloo," "Alligator Boogaloo," and "Grease Monkey," so I assume that PETA's kinda thrilled. Of course, others titles in the group's discography include "Hurt Me So," "Plenty Nasty," and the CD Aphrodisiac, so I assume that PETA's also kinda concerned.
Playing the Rock Island Brewing Company on April 19, the band performs in the classic style of soul icons James Brown, Booker T & the MGs, and The Ventures, and has jazzed festival and club audiences nationwide with its tight, energetic blend of saxophone, organ, and drums.
Though formed in 1998, it wasn't until 2006 that the Diplomats expanded their boys' club to include vocalists Sarah Cram, Katharine Ruestow, and Abbie Sawyer as The Diplomettes - described by the Kansas City Star as "three gifted soul sirens." And since then, the musicians have toured Italy, France, and Spain, contributed music to the TV series Reaper, and released the CD The Diplomats of Solid Sound Featuring The Diplomettes, which the group's MySpace page says is "guaranteed to groove its way into your head and your ass."
I actually came up with about a dozen different punchlines for that quote. None of them were suitable for print.
The ensemble's RIBCO gig begins at 10 p.m., and more on the group is available at (http://www.thediplomats.org).
Pippin
St. Ambrose University
Friday, April 18, through Sunday, April 20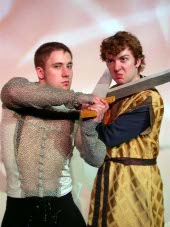 It was 20 years ago this month that I appeared in a college production of the Stephen Schwartz/Bob Fosse collaboration Pippin, and on April 18, St. Ambrose University debuts its own version of the long-running Broadway smash. I'm thinking they could've just celebrated the anniversary with a nice party and some video montages of my work, but hey, I'll take this, too.
Set during the reign of Charlemagne, circa 780 A.D., Pippin is a highly fictionalized, highly energetic musical-comedy celebration of the Holy Roman Empire (not a lot of them around ... ), and the show's 1972 debut made a stage legend of Ben Vereen, whose performance as The Leading Player earned him a Tony Award for Best Actor in a Musical. The song-and-dance spectacular also received Tonys for Scenic Design, Lighting Design, and both Director and Choreography for Fosse, and plenty of crowds had the opportunity to witness his genius; with a total of 1,944 performances, Pippin - which has yet to be given a New York revival - is currently the 27th-longest running musical in Broadway history.
I have to say, I'm looking forward to St. Ambrose's take on the material, as I haven't seen the show on stage since I was the Leading Player's understudy in college, and ... .
Hey, quit laughing! I ain't Ben Vereen, but I got skills, baby!
For tickets to Pippin, call the Galvin Fine Arts Center box office at (563) 333-6251.
Genesis Gala: Casino Royale
Davenport RiverCenter
Saturday, April 18, 5:30 p.m.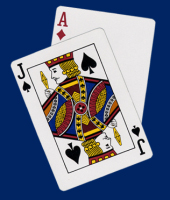 "Miss Moneypenny?"
"Yes, James?"
"I have a favor to ask."
"Yes, James?"
"Would you accompany me to a fundraising gala at the Davenport RiverCenter?"
"Why, James Bond! I'm flabbergasted! When is the gala?"
"April 18."
"And what is it a fundraiser for?"
"For the Genesis Medical Center's newly expanded neonatal intensive-care unit, and scholarships for students entering the nursing profession."
"Those seem very worthy causes, James."
"Indeed. The event is themed 'Casino Royale.'"
"Like your last adventure!"
"Exactly. There will be games of chance, raffle prizes, Ed Franks' tribute show 'The Sinatra Tradition' ... ."
"I do love Frank Sinatra ... ."
" ... and live and silent auctions with items including a week's stay in Florida, a Mississippi River cruise for eight, and an electric guitar autographed by Miley Cyrus."
"Is that one of your arch-nemeses, James?"
"No. Apparently, she's some sort of pop singer."
"I see. Is the affair black-tie?"
"Optional."
"Well, I've never been much of a gambler, James ... ."
"There's also dinner and dancing, Moneypenny."
"Oh, James! I would love to accompany you! After all, you only live once!"
"Twice, actually."
For more information on the Genesis gala, call (563) 421-6861.
Fresh Heir
Bent River Brewing Company
Friday, April 18
As the members of the "nu jazz" ensemble Fresh Heir perform regularly in their native St. Louis, are scheduled to play this summer's Iowa City Jazz Festival, and hit the Bent River Brewing Company on April 18, it's a little dispiriting to learn that the group's Nick Savage, Ben Roig, Desi Reichold, Tim Siskey, and Ryan Marquez are only seniors at St. Louis' Webster University; they're making me feel guilty for comparatively squandering my college free time.
Oh, wait ... I've just learned that Marquez isn't a senior at all. He's a junior. Now I feel loads better.
Performing on bass, guitar, trumpet, saxophone, organ, and percussion, the quintet has released several underground recordings, is currently at work on its first album, and has already racked up a music-critic admirer in Jambase.com's Brian Heisler, who caught Fresh Heir's set at 2007's 10,000 Lakes Festival and raved about the band's "energy and fresh sound" while "fusing jazz, funk, salsa, and a little bit of playfulness." (Their Minnesota appearance, Heisler added, "marked an important date in festival history, as they became the youngest band ever to appear on a 10,000 Lakes stage.")
And as if all these youthful accomplishments weren't enough to dishearten me, I'm even vaguely put off by the band's moniker, as I can now never use the headline "Fresh Heir" for a review of Oedipus Rex. Damned clever kids.
For more on the group's Quad Cities appearance, visit (http://www.bentriverbrewery.com).
Kerri Webster
Augustana College
Thursday, April 17, 7 p.m.
On April 17, Augustana College presents its final guest author in the school's 2007-8 "Lit Wits" series: poet Kerri Webster, a current writer-in-residence at Washington University, and the author of 2005's book-length collection We Do Not Eat Our Hearts Alone. Although I haven't read the work, I'm here to tell you that we certainly don't ... not if we can eat them with some fava beans and a nice Chianti.
But I digress. Webster's pieces have appeared in such publications as American Poet, the Boston Review, and the literary journals Pleiades and VOLT, and the Indiana University graduate has found literary critics nearly rhapsodic in their praise, with Slope magazine raving that "Webster multiplies image, subject, and persona the way a scientist splits atoms."
Yet the author's evocative works have also captured the attention and respect of her fellow writers, as evidenced by the enthusiastic response to We Do Not Eat ... ; Spirit Cabinet author David Wojahn calls Webster's debut collection "energetic, surprising, and witty," The Rest of Love's Carl Phillips writes that the book is "refreshing and disarming in its frankness," and Elizabeth Robinson, author of Apprehend, says the work is "full of wily and delicate power."
All accolades that my co-workers and I use to describe the Reader. And then we la-a-a-augh ... !
Webster will read from and discuss her works at 7 p.m. in Augustana's Wallenberg Hall; for more information, call (309) 794-7823.