Music
Jon Wayne & the Pain
Rock Island Brewing Company
Thursday, December 17, 10 p.m.
According to the online publication MinnPost.com, the reggae/ska syncopations of Jon Wayne & the Pain "not only propel you onto the dance floor," but "do so with a positive message about the struggles of life." Of course, speaking personally, I find that propelling myself onto the dance floor is one of the struggles of life.
The lead singer of this Minneapolis-based band, though, certainly knows from actual struggles; at one point, while battling addiction in his early 20s, the now-26-year-old (and sober) Wayne found himself pawning his guitar, homeless, and routinely begging for money at a Minnesota highway exit. Yet as Rock Island Brewing Company patrons will discover during Jon Wayne & the Pain's December 17 concert, the group's front man found a way to turn his tales of hardship into thoughtful, melodious, and intensely danceable songs of survival and redemption.
Performing alongside bandmates Chris Hicks and Chuck Torgerson, Wayne celebrates triumph over adversity through such original compositions as "Karma Farmer," "One More Trip," and "Blues Janitor," and at ThePier.org, the group was lauded for its ability to "weave a generous balance of reggae, acoustic blues, and a little bit of everything else into a tantalizing mix." Congrats to Jon Wayne & the Pain on its success, though the band might be proving a bit too inspirational - our publisher has taken to calling staff meetings "Todd McGreevy & the Pain." Any chance he means it as a compliment?
Jon Wayne & the Pain performs at 10 p.m. with opening act On Distant Shores, and more information on the night is available at RIBCO.com.
Music
Rachael Price
The Redstone Room
Saturday, December 12, 7 p.m.
The latest performer in Quad City Arts' Visiting Artist series is jazz vocalist Rachael Price, who delivers a public concert at Davenport's Redstone Room on December 12, and who boasts a rather staggering list of professional credits and plaudits.
At age 17, the Tennessee-based vocalist performed with the Grammy Foundation's touring National High School Jazz Choir, became the youngest semi-finalist in Europe's Montreaux International Jazz Vocal Competition and Thelonious Monk International Jazz Competition, and recorded a collection of jazz standards - 2003's Dedicated to You - that led MGM-musical legend Kathryn Grayson to proclaim, "No one around can touch her voice or style."
Price earned a degree in jazz studies from Massachusetts' esteemed New England Conservatory, was an award recipient in the annual John Lennon Songwriting Contest, won the 2006 Independent Music Award for Best Gospel Song, and has earned standing ovations at jazz festivals throughout the United States, Brazil, and Panama.
The Washington Post wrote, "Price has the talent to match her enthusiasm." The Los Angeles Times raved about the vocalist's "warm sound and buoyant sense of rhythm." The Boston Herald extolled, "Price is right for jazz stardom."
And no, in case you were wondering, that's not an old picture of her. Price is 24. Way to make the rest of us feel like slackers, Rachael.
Tickets to Rachael Price's Redstone Room concert are $15 for adults and $8 for students, and more on the artist is available by visiting QuadCityArts.com.
Theatre
Birth
Harrison Hilltop Theatre
Thursday, December 10 through Sunday, December 13
Allow me a moment to publicly congratulate Harrison Hilltop Theatre Executive Director Chris Walljasper and area performer Annie Shortridge, as the pair got married three months ago. And if you'd care to, feel free to congratulate them personally this weekend, when Annie will describe what the childbirth process was like!
Wait, wait, wait ... that came out all wrong. The new Mrs. Walljasper won't be describing her personal birthing experience. Instead, under Mr. Walljasper's direction, she and other talents will detail the birthing process in general in the area debut of Karen Brody's Birth, running at the Harrison Hilltop December 10 through 13.
Culled from over 100 interviews that Brody conducted with mothers across the country, the play is a blend of monologues and dialogues exploring childbirth amongst low-risk, educated women in modern society, and features dramatic, touching, frightening, and frequently humorous insights on such topics as - close your eyes, men, if you're irrationally squeamish - home-births, epidurals, and emergency C-sections.
Described by Metroactive.com as "eye-opening" and "a springboard for passionate discussion," the Harrison Hilltop's production of Birth is a fundraiser benefiting Friends of Iowa Midwives, and joining Annie Walljasper (née Shortridge) in the cast are Wendy Burrows, Lisa Kahn, Kasey Kelly, Keri Manning, Lisa Thomas, Alecia White, and Josh Scharback and Bryan Woods. No word on which childbirth monologues Scharback and Woods might be performing, but I'm dying to find out.
Birth performances are at 8 p.m. Thursday through Saturday and 2 p.m. on Sunday, tickets are $15, and more information is available by calling (309)235-1654 or visiting HarrisonHilltop.com.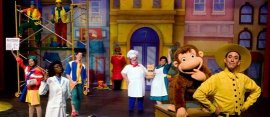 Theatre
Curious George Live!
Adler Theatre
Tuesday, December 29 and Wednesday, December 30
Hey, parents, would you mind calling over your grade-school-aged children for a moment? Grab yourself a cup of coffee or something. Thanks a lot.
Kids! You're not gonna believe it. Curious George is coming to town! I know!!! He's gonna be in Davenport, starring in the brand-new musical Curious George Live! It's playing at the Adler Theatre December 29 and 30, and it's a funny, exciting adventure about George traveling to Rome, Italy, to win the Golden Meatball Contest! Doesn't that sound fun?! The show is 90 minutes long and is filled with gigantic sets and colorful costumes, and along with everyone's favorite monkey, it features all of George's friends - the dachshund Hundley, and the cat Gnocchi, and even the Man with the Yellow Hat!
Now I know you may not have thought to ask your parents for tickets, so here's what you do. Tell them that you've been learning Italian in school, and have decided that what you want for Christmas, more than anything, is a trip to Rome. They'll probably tell you it's too expensive, and that's when you get a little teary-eyed and say, "Well, can I at least go see Curious George Live!? He gets to go to Rome!" Trust me, those tickets will be yours! Have fun at the show, kids - you can tell your Mom or Dad that the computer's all theirs again.
Welcome back, folks! So the Adler is hosting a new touring production in a couple weeks, and ... . What's that? Your kids are singing "Finiculì, Finiculà" at top volume? Man, that's weird ... .
Curious George Live! will be performed at 10:30 a.m. and 7 p.m. on both Tuesday and Wednesday; for tickets, call (800)745-3000 or visit AdlerTheatre.com.
Event
Creative Christmas
Adler Theatre
Friday, December 18 through Sunday, December 20
"Happy Holidays, Jeff!"
"Happy Holidays to you, Mike."
"So I had an idea. I'm doing a What's Happenin' piece on this year's Creative Christmas presentations by the Quad Cities' Heritage Church, and I thought that in their honor, I could get a little creative myself!"
"How so?"
"Well, you know that Creative Christmas is an annual family production in which favorite secular and non-secular holiday tunes are sung, in a wide variety of styles, by a bunch of incredible local talents. This year, for instance, the performers include Steve Abel, Kerry Gomez, Shauna Learn, Matt Podschweit, and Kim Wiseman, with Andrea Kapusinski delivering a climactic rendition of 'The Little Drummer Boy.'"
"Right."
"And you know that in addition to storytelling and dancing, Creative Christmas also features dazzling multimedia effects."
"Mmm-hmm."
"So here's what I thought we could do. You know how they have musical birthday cards? We make musical editions of the Reader, and when you open the paper to the What's Happenin' spread, you'll hear a song that's being performed at Creative Christmas!"
"Uh ... huh ... ."
"Some issues will play 'Winter Wonderland' or 'Frosty the Snowman' or 'Jingle Bells.' Some will play 'O Holy Night' or 'Deck the Halls' or 'Angels We Have Heard on High.' And maybe we could even have tiny little Christmas lights flashing around the What's Happenin' article! And a candy cane taped to it! How much do you think all that would cost?"
"Several hundred thousand dollars, I'd think."
"Or, you know, we could just leave the creativity to the professionals ... ."
This year's Creative Christmas performances will take place on December 18 at 7 p.m. December 19 at 3 and 7 p.m., and December 20 at 3 p.m. Tickets are $14.50 and $18.50, and are available by calling (800)745-3000 or visiting AdlerTheatre.com.
What Else Is Happenin'... ?
MUSIC
Thursday, December 10 - Big Bad Voodoo Daddy. Holiday show featuring the California-based contemporary swing band. Englert Theatre (221 East Washington Street, Iowa City). 8 p.m. $34-$41. For tickets and information, call (319)688-2653 or visit Englert.org.
Saturday, December 12 - Sawyer Brown. Holiday concert featuring the award-winning, Florida-based country band. Riverside Casino & Golf Resort (3184 Highway 22, Riverside). $35-$45. For tickets and information, call (877)677-3456 or visit RiversideCasinoAndResort.com.
Saturday, December 12, and Sunday, December 13 - Handel's Messiah. Annual concert performances, featuring the Augustana Choir, the Handel Oratorio Society, and four professional soloists. Centennial Hall - Augustana College (3703 Seventh Avenue, Rock Island). Saturday 8 p.m., Sunday 2 p.m. $16. For tickets and information, call (309)794-7306 or visit Augustana.edu/tickets.
Sunday, December 13 - Blind Boys of Alabama. Holiday show featuring the Grammy Award-winning gospel group. Englert Theatre (221 East Washington Street, Iowa City). 7 p.m. $10-$38. For tickets and information, call (319)688-2653 or visit Englert.org.
Friday, December 18, and Saturday, December 19 - A Nova Christmas. Annual holiday concert by the Nova Singers, under the direction of Dr. Laura Lane. Friday - Davenport's St. Paul Lutheran Church (2136 Brady Street, Davenport). Saturday - Galesburg's First Lutheran Church (364 East Water Street, Galesburg). 7:30 p.m. $10-$15; students free. For tickets and information, call (309)341-7038 or visit http://DeptOrg.Knox.edu/novasingers.
Sunday, December 20 - Saalik Ziyad. Jazz vocalist performs as part of Polyrhythms' Third Sunday Jazz Matinée & Workshop Series. The Redstone Room (129 Main Street, Davenport). 3 p.m. all-ages workshop - $5/adults, children free; 6 p.m. concert - $10-$15. For information, call (309)373-0790 or (563)326-1333, or visit Polyrhythms.org.
Saturday, December 26 - The Grass Roots. Concert with the platinum-selling rockers of "Let's Live for Today," "Temptation Eyes," and "Midnight Confessions." Quad-Cities Waterfront Convention Center (2021 State Street, Bettendorf). 7:30 p.m. $15-$25. For tickets and information, call (800)843-4753 or visit Bettendorf.IsleOfCapriCasinos.com.
Wednesday, December 30 - Mannheim Steamroller. Multimedia holiday concert featuring the famed touring musicians. i wireless Center (1201 River Drive, Moline). 7 p.m. $35.50-$55.50. For tickets, call (800)745-3000 or visit iwirelessCenter.com.
THEATRE
Saturday, December 12, through Sunday, December 20 - Scrooge. Davenport Junior Theatre's student production of Charles Dickens' holiday classic. Nighswander Theatre - Annie Wittenmyer Complex (2816 Eastern Avenue, Davenport). Saturdays 2 and 7 p.m.; Sundays 2 p.m. $5 at the door. For information, call (563)326-7862 or visit DavenportJuniorTheatre.com.
Wednesday, December 16, through Sunday, December 20 - The Santaland Diaries. David Sedaris' one-man holiday comedy about a disgruntled department-store elf, directed by Tristan Tapscott. Harrison Hilltop Theatre (1601 Harrison Street, Davenport). Wednesday through Saturday 8 p.m., Saturday and Sunday 2 p.m. $13-15. For tickets and information, call (309)253-1654 or visit HarrisonHilltop.com.